It has been a general perception that Snapdragon chips are superior to low cost Mediatek SoCs designed for budget Android phones targeting Asian markets. But, Qualcomm hasn't successfully transitioned to 64 bit hardware. The Snapdragon 810 has been plagued with issues since prior to its launch, So much that LG has opted for seconday Snapdragon 808 variant for its next flagship.
Have the tables finally turned? Is MediaTek for the first time in a better position in the increasingly competitive Smartphone Midrange segment? Let's take a look.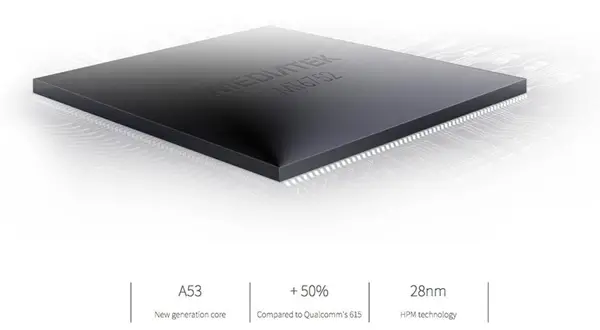 Snapdragon 615 and MT6752 Configuration
Both of these chipsets include 2 clusters of 64 bit ARM Cortex A53 cores containing 4 cores each. In MT6752, both clusters are clocked at 1.7 GHz, While Snapdragon 615 clocks one cluster at 1.7 GHz and the other at 1 GHz for some battery conservation. If the load demands all 8 cores can be active simultaneously.
Thus, basic core configuration is same for both MT6752 and Snapdragon 615, and MediaTek has a performance advantage which is realized under heavy loads as all cores are clocked at 1.7 GHz. This leads to better core utilization and efficiency during multi-threading operations or when several background process are active simultaneously.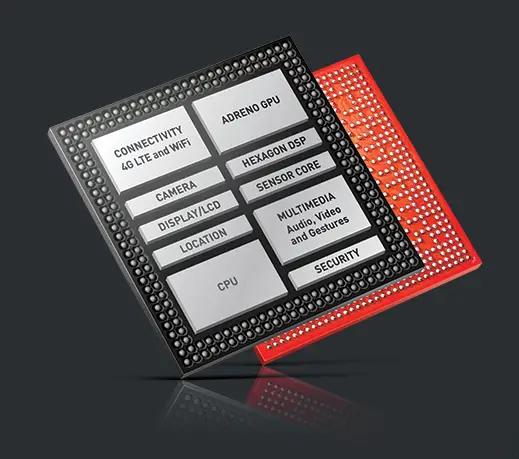 Configuration
| | | |
| --- | --- | --- |
| Compare | Snapdragon 615 | MediaTek 6752 |
| ISA | ARMv8 (A32, A64) | ARMv8 (A32, A64) |
| CPU Structure | RISC | RISC |
| CPU | 1.7 GHz quad-core cluster +  1 GHz quad-core cluster | 1.7 GHz Octa Core |
| Process | 28 nm LP | 28 nm HPM |
| GPU | Adreno 405 | Mali T760MP2 |
| OpenGL ES 3.0 | Yes | Yes |
| Multimedia | 1080p60 Playback using H.264 and H.265 (HEVC), 1080p30 capture with H.264 | H.265 Ultra HD video playback |
| Camera | 21 MP | 16 MP |
| Video decoding | 2160p | 1080p |
| Display Resolution | 2560 x 1600 pixels | 1920 x 1200 pixels |
| Integrated WiFi | WiFi 802.11ac | WiFi 802.11n |
| 4G LTE | 4G LTE Cat 4 | 4G LTE Cat 4 |
In other area's Snapdragon 615 leads. It includes better DSP, support for higher resolution displays, WiFi ac and bigger camera sensor. But there is another difference.
Why Snapdragon 615 heats more?
Till last year, Qualcomm had its own Krait architecture for midrange and high end SoCs, but Apple's sudden transition to 64 bit had put pressure on Qualcomm to run at a faster pace. As a result, the chipset maker has licensed and picked ARM architecture off the shelves, something which MediaTek has been doing for several years.
Both chipsets include ARMv8 cores, but Snapdragon 615 has been formed on 28nm LP (Low power) process, and MT6752 has been formed on TSMC's superior 28nm HPM process which offers better performance and lower leakage for conserving battery life. Apparently this is the reason for inordinate heating issues in Snapdragon 615. MT6752 has smaller die size which means it is more energy efficient and consumes less power. Qualcomm's choice to go with 28 nm LP process (similar to low end chips like Snapdragon 410) isn't ideal.
According to a rough test we performed on first and second generation Snapdragon 615 chipsets, we discovered that heating issue hasn't been resolved much, but power efficiency has certainly improved.
Snapdragon 615 Review, Heating Test, Battery Drop Rate on Yureka, Mi 4i
Performance
Benchmarks scores for both processors are very close. Both Adreno 405 GPU and Mali T760 GPU in Snapdragon 615 and MT6752 are also great for day to day usage. Adreno 405 leads in benchmark scores, but since Android doesn't have many apps to test these GPUs to their limits, MediaTek chip does fine even with advanced gaming. In fact, 8 Cores clocked at 1.7 GHz aid intense gaming performance.
Battery Efficiency
Subjecting HTC Desire 820s and Xiaomi Mi 4i to the same load revealed that Snapdragon 615 in Xiaomi Mi 4i was gulping power at a faster rate as compared to HTC Desire 820s. The fact that Xiaomi Mi 4i has double resolution, and HTC Desire 820s has bigger 5.5 display complicates the situation, but we also found Xiaomi Mi 4i to be more efficient than 5.5 Inch HD Display employing Yu Yureka with 1st Gen Snapdragon 615. This puts MT6752 in better position. Even in extensive day to day testing, we have found MT6752 phones to be slightly more power efficient.
Snapdragon 615 VS Mediatek MT 6752 Comparison, Heating, Performance, Battery Drop
Conclusion
MediaTek has indeed got a better product this time. Both Snapdragon 615 and MT6752 are extremely potent chipsets, but in mid-range devices in Indian and Asian markets, MT6752 makes more sense. Besides, MT6752 is cheaper and sans any heating issue and thus, will empower OEMs to put a more competitive price on smartphones.