An important part of switching your phone is to take all your contacts with you. This enables you to smoothly continue with the original and basic phone functionality, i.e. cellular calling. If you are switching from an Android phone to Windows, iOS or another Android phone, here is how you can proceed.
Android to Windows Phone
To transfer contacts from Android to Windows phone and wise versa, using Gmail is the best tool. The process is simple and takes around 5 to 10 minutes.
Step 1: Go to Android Phone >> Settings>> Accounts
Step 2: Tap on the Google account and enable contact sync
Step 3: To setup your windows phone, you will need a Microsoft account. Use the same Gmail account to register for your Microsoft account.
Step 4: Login and you are done. Synch contact option is checked by default.
That's it. All your Android contacts will be available on your Windows phone.
SIM Card contacts
If there are some contacts which are on your SIM, but you never imported them to your Android phone, they won't sync with Gmail. You can directly import them on Windows Phone if you like. You can go to Settings>>Application>> People and Import contacts from SIM.
Android to iPhone
Again, you can simply use Gmail to transfer contacts. When you first start your iPhone, it will ask you if you wish to sync any account, you can add your Gmail account and all your contacts will be available on the new iPhone.
If you have skipped that step during setup, you can go to Settings>>Mail, contacts, calendar. Now click on add account and add your Gmail account. All Your contacts and email will now be available on your iPhone.
Android to BlackBerry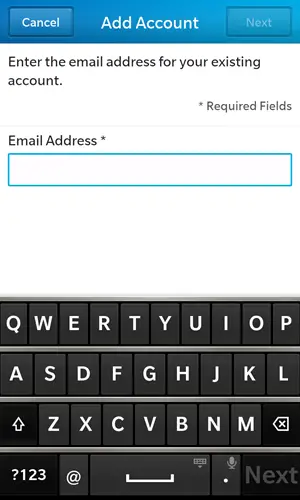 Sync your contacts with Google Account on your Android Phone. Now Go to BlackBerry>>Settings>> Accounts. Click on Add account and select email, calendar and contacts. Add your Gmail account. Your emails, calendar and contacts associated with the Gmail account will sync on your BlackBerry smartphone.
Android to Android
As you would have already guessed, while switching from Android to Android, just synch contacts with Gmail and login the new phone with Gmail.
Use PhoneSwappr
If you don't want to be bothered by Gmail, perhaps because you want to use a different account on your new device, and don't wish to import contacts from another Gmail account or for any other reason, just use PhoneSwappr.
Just download the app on your new phone and old phone. From your old phone, you can sync contacts with cloud where they will stay secure and encrypted for 7 days. The app will give you a unique PIN. Download the app on your new phone and tab on get contacts from cloud. That's it. All your contacts will be available on your new phone
Pros
You don't have to rely on any email sync
You can transfer contacts between Windows Phone, Android, BlackBerry and iPhone
The app is totally free
Cons
You can not transfer anything other than contacts
SmartIO
SmartIO is another very useful app which allows you to transfer contacts, pictures, videos and more between different platform devices.
The app can transfer content using your WiFi router and thus can be used to transfer large files swiftly. The process is simple, just download it on both your phones and select one has sender and another as receiver. You will have to pay with an inapp purchase before each transfer.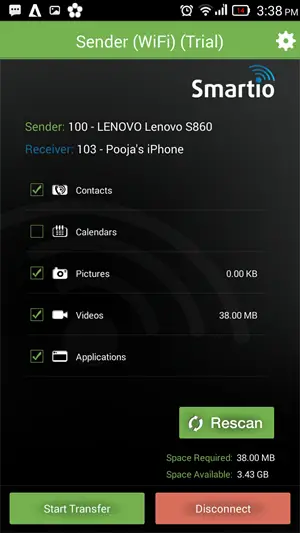 Pros
Can transfer Videos, images and other data besides contacts
Supported on all major platform including, Windows Phone, iOS, Android and BlackBerry
Great transfer speed as it can use local WiFi router.
Cons
You have to pay separately for every transfer.
inTouch Contact Transfer App
inTouch Contact Transfer app works like a charm. The app can update your contact list on its own (for connected contacts), allows you to manage your contacts from PC or Mac, can backup contacts and can be used to transfer them across devices.
Just download Intouch App on your Android, BlackBerry, iPhone, Nokia Asha or Nokia X series device and signup for an account. The app will gradually backup your contact book to the cloud. You can download and sign in with the same Account ID on any other device and download your contacts. After the contacts are backed to the server, the app will merge duplicate contacts on its own.
Pros
Keeps you contact backup and updates them even to Google contacts with Sync off
you can transfer contacts to new device for free
You can manage contacts from PC or Mac
Cons
Windows Phone OS running devices are not supported yet.
Conclusion
One of the above mentioned techniques will certainly help you transfer your contacts to and fro between your new and old smartphone. There are several other apps and methods to transfer contacts too, but these should suffice. If anything else works better for you, share with us in the comment section below.