Pictures and videos are something that everyone likes to take when you go to any place to visit or when there is some occasion that you're celebrating. But making these pictures into a slideshow or a movie adds more fun to it. Adding music and transitions into these movies is the fun and allows you to share them with everyone in a single file.
Google Photos App on Android and iOS
At the Google I/O 2015 yesterday, during the Keynote, Google announced a new version of their Google Photos app. It allows you to backup unlimited pictures and videos up to 1080p for free to the Google server. The app also creates automated stories and animations based on the images you backup to the server. But now, they have a feature to manually create movies, animations and stories of your pictures and videos. Make sure you update to the latest version or get the latest version from Google Play Store or the Apple App Store today. It is really an amazing app and there's nothing to complain.
Pros
Several editing options available
You can backup all photos on the cloud
Cons
You need to backup Photos before making movies
Animoto Video Maker on Android
Animoto Video Maker is an Android application that allows you to create movies using video clips and pictures already on your phone. It also allows you to add background music as well. There are two versions available, the free and the paid ones. The free one allows you to create smaller movies with smaller video clips and less number of pictures, whereas the premium version allows longer movies. Get this application from the Google Play Store today.
Pros
Let's you combine pictures and videos together
Cons
Adds watermark if you are using free version
can't save videos
Slide Movies on iOS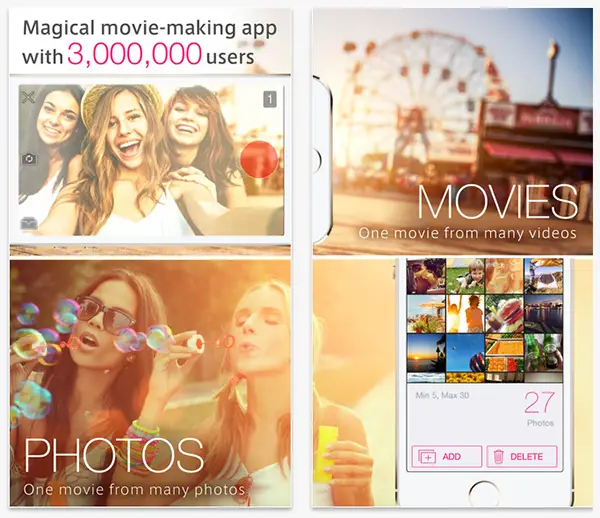 Slide Movies is also an interesting application that allows you to create movies using audio clips, video clips and pictures from your phone. It allows you to add the music from your iTunes library and choose the pictures and videos from your device. It's really simple to make movies with this app as it requires you to select the source videos and pictures and then add music and choose done. Get this free application from the Apple App Store .
Pros
You can save videos and upload directly to Facebook, Evernote, Google+ etc.
can pick photos from Facebook, instagram or Flickr
Cons
You can not use music from your music library
Recommended: Play Video in Loop on Android, iOS and Windows Phone
UbiShow on Windows Phone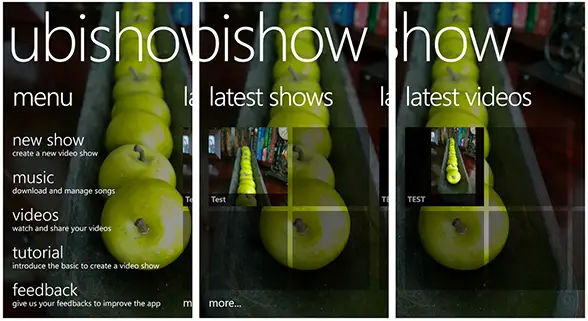 UbiShow is available for free on Windows Phone 8 and above. It allows you to present your videos and pictures into a single movie and share it with everyone. It also allows you to manually add music from your device into the video you're about to create. It is available as a free download on the Windows Phone Store.
Pros
You can add your music or download some
Directly upload to One drive or Youtube.
Conclusion
We have just listed out the best or the most useful apps that you can use for creating videos out of pictures and video clips already on your phone. It is easily possible to do that on Android, iOS and Windows Phone. Do let us know in the comments section which one you choose to go with. Also, if you use any other application on these platforms and think that it's better than the ones listed here, feel free to share it with everyone in the comments section below.