Cortex A7 based Qualcomm Snapdragon 400 was a hit last year and was part of success stories like Moto G, first and second gen, and Samsung Galaxy Grand 2. This year, market is lot more competitive and we see Snapdragon 400's 64 bit sibling – the Snapdragon 410 – in several popular devices selling for a lot lesser. Let's compare these two chipsets.
Core Configuration
There are several Snapdragon 400 chips. There are total 15 part numbers which are included in the Snapdragon 400 branding, but here we won't be talking about Krait core variants, but Cortex A7 ones which were popular in affordable smartphone last year (particularly 8226 and 8228).
Primarily, Snapdragon 400 chips include 4 Cortex A7 cores clocked at 1.2 GHz. Clock frequencies go up to 1.6 GHz. The lesser known MSM8228 Chip in Redmi Note 4G also supports 4G LTE, but generally cortex A7 Snapdragon 400 chips don't go beyond 3G. Most of these chips include Adreno 305 GPU.
Configuration
Compare
Snapdragon 410
Snapdragon 400
Snapdragon 415
ISA
ARMv8 (A32, A64)
ARMv8 (A32, A64)
ARMv8 (A32, A64)
CPU Structure
RISC
RISC
RISC
CPU
Quad-core ARM Cortex A53 at up to 1.4 GHz per core
Quad-core ARM Cortex A7 at up to 1.6 GHz per core
Octa-core ARM Cortex A53 at up to 1.4 GHz per core
Process
28 nm LP
28 nm LP
28 nm LP
GPU
Adreno 305
Adreno 306
Adreno 405
Multimedia
1080p H.264
1080p HD video playback and capture with H.264 (AVC)
1080p H.264
1080p30 HEVC decode
Camera
13.5 MP
13.5 MP
13 MP
Display Resolution
WUXGA (1920×1200)
WUXGA (1920×1200)
Up to HD [email protected] External displays supported
4G LTE
4G LTE Cat 4
4G LTE Cat 4
4G LTE Cat 4
Snapdragon 410 on the other hand include 4 Cortex A53 cores clocked at 1.2 GHz. The new wave of Snapdragon 410 use improved Cortex A53 cores for better performance. For rendering graphics, there is 64 bit equivalent of Andreno 305, namely Adreno 306 GPU.
Snapdragon 410 and 400 are very similar in rear world performance and Adreno 306 GPU isn't any better than Adreno 305 in the last generation models. To fix this, Qualcomm has announced Snapdragon 415, which it calls a "quick transition piece" to the Snapdragon 410. The new Snapdragon 415 will include 8 Cortex A53 cores and the Adreno 405 GPU similar to Snapdragon 615 for an overall improvement. Snapdragon 400, 410 and 415 are all formed on 28nm LP process.
Cortex A53 Vs Cortex A7
The main difference between Snapdragon 400 and Snapdragon 410 is the between Cortex A53 cores and Cortex A7 cores. The pipeline depth for both Cortex A53 and Cortex A7 is also same, but there are several improvements in branch predictions which improve Cortex A53 performance by around 30 percent, with the biggest gains coming with multi-threaded performance, perhaps because of increased memory bandwidth.

These findings were concluded by extensive testing of both Cortex A53 and Cortex A7 cores by Anantech on Samsung's Exynos chipsets.
In real world tests and our long term experience with similar Snapdragon 400 and Snapdrahon 410 devices, we didn't observe any performance boost. GPU performance across both chips remains similar.
According to Anandtech, the improved performance of Cortex A53 cores comes at a price.
Battery efficiency
The Cortex A53 die size has increased by 1.75 times when compared to Cortex A7, which is a moderate performance core with very small die size, for better power efficiency. This also means Cortex A53 cores are much less power efficient as compared to Cortex A7.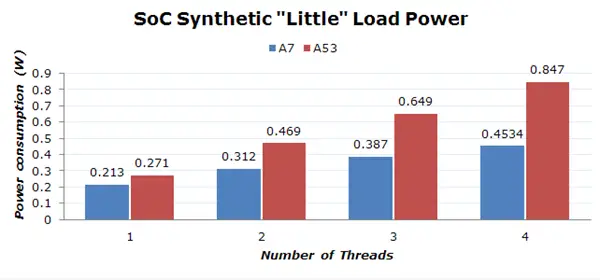 Based on our practical testing and experience, we would agree that Cortex A53 based Snapdragon 410 is less power efficient than Snapdragon 400, but the difference isn't much.
Conclusion
The performance advantages of Cortex A53 cores are better realized in high clock frequency chips like Snapdragon 615 and MT6752. Snapdragon 410 is an improvement over Snapdragon 400, but since it is mostly included in 1 GB RAM devices, end users won't notice much of a difference.
64 bit support in Android is still very new and most apps are still on 32 bit. There are performance advantages, but for smooth operation and 64 bit benefits you will have to wait till 2 GB RAM is a low end feature.
The good thing is Snapdragon 410 is now available in low end phones for as low as 6,999 INR. However, Snapdragon 400 still has its place. Since it shows better power efficiency, it is more suited for wearables and other IoT applications than Snapdragon 410. Snapdragon 415 devices are expected to surface by the end of this year and by then, we will be better equipped to reap 64 bit advantages. Besides, it will offer a much better GPU.