There would have been times when you would have to transfer files from your phone to another phone or to your computer (PC or Mac), but you were not able to do so quickly. Don't worry there are a lot of apps that you can use for this purpose. The apps listed below are the ones that will help you to transfer your files from one phone to another, on different platforms and also allow you to transfer files between your device and your computer. Let's get started with these 5 apps.
SHAREit
SHAREit is a popular sharing app built by Lenovo. They have built the app for Windows Phone, iOS and Android. The app allows you to seamlessly transfer files between your devices on different platforms easily and quickly. Another good thing about this app is that it also has a desktop Windows version where you can transfer apps between your PC and your mobile device. Get it for your device from their official website today!
Pros
It allows easy and fast file transfer between various mobile platforms
It is available on iOS, Android and Windows Phone, along with the Windows Desktop
Cons
It does not allow file transfer between mobile device and a Mac device
Zapya
Zapya is an interesting app that is also available for Android, iOS, Windows Phone and Windows Desktop. It allows you to transfer music, photos, videos and other file types between all the above-mentioned platforms. It gives 128 times the speed of Bluetooth, as guaranteed by Zapya's website. Download it for your device from Google Play Store or the Apple App Store.
Pros
It allows high-speed transfer between various platforms
It allows transfer to PC as well and vice versa
Cons
It does not provide transfer to and from Mac
Feem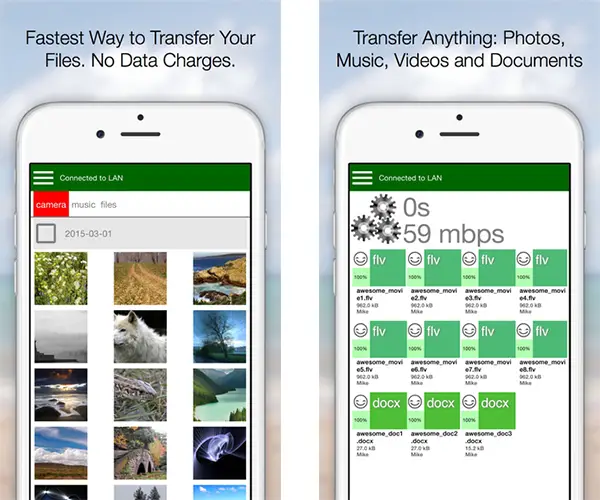 Feem is an application which allows you to transfer files between various mobile platforms including Windows and Mac OS X as well. It creates its own local WiFi network, allowing the two communicating devices to connect to its own WiFi network and not use up any data on their respective devices. Download Feem for your device from their website by clicking here.
Pros
It allows quick and secure file transfers between devices
It supports transfers to and from a Mac, as well as a Windows PC
AirDroid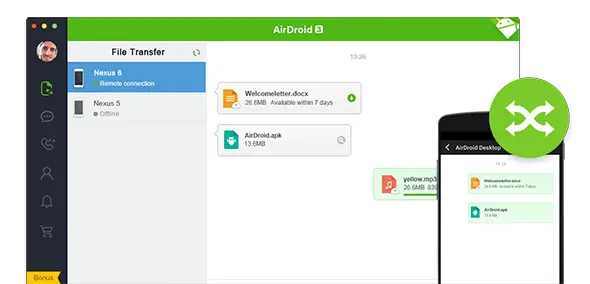 AirDroid is probably one of the most common Android apps used by a lot of enthusiasts. It allows you to transfer files between your device and computer connected on the same WiFi network while also giving you access to your device's notifications on your computer. It has support for various apps to respond to notifications directly from your computer itself. Visit their official website for more details and download options.
Pros
Allows easy file transfer from Android device to your PC and vice versa
It shows your notifications on your computer as well
It supports transfers to and from Mac as well.
Cons
Available only for Android in the mobile platform world
Xender
Xender is also an application similar to AirDroid, as it provides seamless communication between your Android device and your computer and also provides a transfer between two phones. But this application is only available for Android platform, but available for PC and Mac both on the desktop side. Download it for your device from their official website.
Pros
It provides transfers to and from PC or Mac
It allows sharing of most common file types without any problem
Cons
It does not allow access to notifications like the AirDroid app.
Conclusion
I have listed out the apps that you can use on your Android, iOS or Windows Phone device and easily transfer files between them. Some of these apps also let you transfer files from your mobile platform to your computer using WiFi. It really removes the need for any USB cables to be used with your device. If you know any such more apps, feel free to let me know in the comments section below.