Pop-up ads are a nuisance whether they are on a mobile phone or on a computer. No one likes to see these pop-up ads on their screen at the time of browsing a website or using an application. But developers or website owners are forced to put such advertisements on their websites to earn money from their product because in the end everyone just wants to earn money no matter what. Here let me share some ways using which you can block popup ads on your Android smartphone.
Block Popup on Chrome Browser for Android
Chrome for Android is the most commonly used browser by Android users. It comes bundled with your phone and you don't have to do anything to install it. You can just start using it out of the box. By default chrome will block certain popups for you, but if you want it to block all popup ads, you need to make sure that the Popup blocker setting is enabled on your Chrome browser. To do that, open Chrome and click on the three vertical dots on the top right. Go to Settings and choose Site settings. Make sure that the option for Blocking popup is enabled there.
Another thing that you can do on your Chrome browser is to enable Data Saver mode. It will first compress the web page at the Google server and then deliver it to your mobile phone. In this process, it will also remove malicious code or harmful downloads for your mobile device. Enable it in the Google Chrome settings on Android.
Install Adblock Browser Beta for Android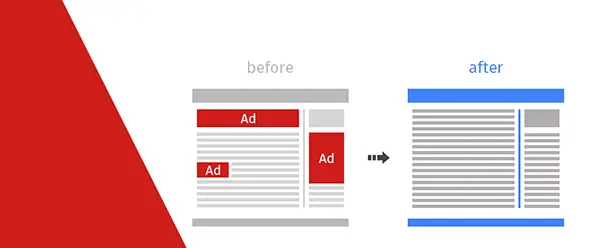 Adblock is a very popular software that allows you to block ads on your computer. They have extensions for most popular browsers on the computer and recently they came out with their own Android browser to prevent ads on mobile. Using this app means that you will have to change your browser of choice and shifting to Adblock plus. Currently, this app is available under Beta only and if you want to try it out, you need to join their community on Google Plus by clicking here. After you have done that, you can install the app on your phone by following this link to the Google Play Store. After this, you will have to use the newly installed browser on your Android smartphone to block popup ads and other ads as well.
Install a notification blocker
On Android, the advertisements not only reside to web pages, but also to the applications installed on your device. When you access any application on your smartphone, it can show you popup advertisements inside the application. Such advertisements are hard to block without gaining root access on your smartphone. Another type of popup advertisement on Android is the one that appears on your drop down the notification tray. You can easily stop and remove such popup ads on your smartphone by installing an application called "Ad Blocker and Notification Stop". It is available on the Google Play Store for free and does not need you to gain root access on your device. It works well for what it does, but be sure to allow access to your notifications to this application.
Pros
Does not require root access
Cons
Can slow down some devices
Conclusion
Blocking popups can be easy or difficult based on where these popups come. If they are on your Chrome browser on Android, they can be blocked like we talked about above. In other cases, it can be sometimes tricky because the developers can just change some code and the popups can be back easily. You can still try and get these methods working on your smartphone today. If you know any easy way to do that, make sure to share them with me in the comments section below.