A gallery is something that is really important on an Android phone as it allows you to browse all the pictures and videos on your phone in a thumbnail sort of fashion. If you don't wanna use a gallery, the other option is to use a file manager, but using it is a tedious job as you will have to manually browse to all folders you want. Generally all manufacturers bundle their smartphone with a nice Gallery app to use, but if you want something different, here are a few suggestions with those gallery apps that offer the best and clean interface to users.
Google Photos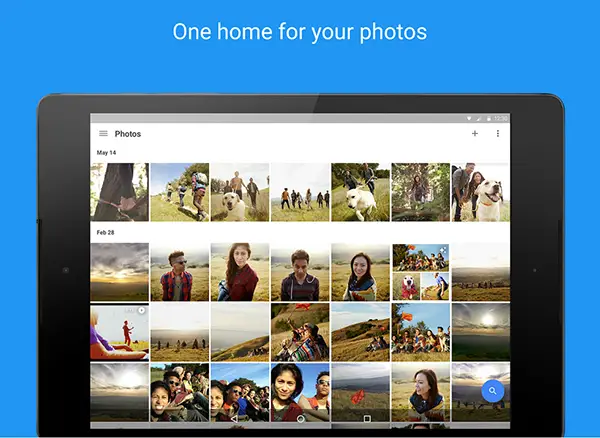 Google Photos is an application that needs no introduction. It is the application that ships with Stock Android, and recently at the Google I/O event 2015, the company announced an auto backup feature for all your images & videos, and it supports unlimited photos backup up in high resolution. It is an application with a clean design and there's nothing better than this for Android. You can get it for free from the Google Play Store.
Pros
It offers auto backup of all pictures to Google's server
It sorts images via date and indexes them via location and facial recognition as well
Cons
It does not offer an in-app editing feature.
Gallery Pro
Gallery Pro is an Android application that offers a clean interface layout to the users with a few additional features. It allows the users to define the size of the thumbnail displayed for the pic, along with their colour. It supports grid view or even filmstrip view for a better viewing experience. It also allows you to hide folders that you don't want to show in your gallery. It's available for free on the Google Play Store.
Pros
It allows choosing thumbnail size and colour
It allows to switch between different views
It allows to hide unwanted folders
It has built-in photo editor for Android 4.0 and above devices
Cons
It does not offer any backup services, not even to Google Drive or Dropbox
QuickPic Gallery
The QuickPic gallery is a quick and modern looking gallery app that uses minimalistic design, yet offers good features within the app. It supports viewing online albums like Picasa, Dropbox etc along with support for playing GIF files. It also offers a lot of other features that are listed below. It is available for free on the Google Play Store.
Pros
It supports viewing online photo albums
It allows backing up pictures to online services like Google, Dropbox etc
It sorts pictures into moments using time and location details
Cons
It does not feature any in-app editing feature
Gallery for Lollipop
Gallery for Lollipop is an application that became popular when Android Lollipop rolled out. The reason for this to become popular was that Google had removed the existing Gallery app from their new build and users actually enjoyed. Thus, this app also sports a very clean interface for a good user experience. You can get it from the Google Play Store for free.
Pros
Looks just like stock KitKat Gallery App
Supports Video playback natively
Cons
It does not come with any additional features other than viewing pictures and videos
Image Gallery
The image gallery is an interesting Android application as it markets itself like a free image browser and image editor. It does not claim to display or playback videos from your phone, and it just works for images. But the design of the application is pretty clean and that's what matters here. It is also available for free on the Google Play Store.
Pros
It has a fully featured image editor built into the application
It supports browsing even the hidden files in a phone
Cons
It does not support video listing or playback
It does not support backup to any online service at all
Conclusion
In the article above, I have listed some of the best gallery apps that you can find on Android. Some of these offer some extra features as well, whereas some offer just the basic functionality. You have to make your choice for the gallery app that you want to use. Do let me know in the comments section below which one you decided to go with and also share with me if you find any other clean interface Gallery apps.