Facebook has launched the Lite version of its social media app on Google Playstore in India. The app is less harsh on your system resources when compared to the original FB App and that is what it is mostly about. Facebook has often been criticized for injudiciously taxing Android resources, which doesn't bode well with entry level phones, yesteryear handsets or phones with less free storage. Facebook Lite aims to fix this.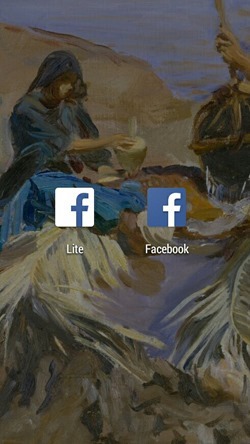 Facebook Lite is faster and uses a lot less data
The app sails well even on 2G speed. Everything from Data and picture is compressed, which also means you have to put up with a less refined interface, but you won't be missing out on latest updates and news feed from your contacts.
By default, fonts size is set to medium, and the interface felt a lot better after i set fonts to small. It is worth mentioning that original FB app doesn't allow you to alter fonts, but i never missed that feature either.
The app is not blazing fast on 2G networks in our area, but it is still better than the full fledged apps. If you are on the road and are bearing with 2G speeds, you can still use the app.
Just a little Space
The original FB app is 35 MB install, while the FB Lite is less than an MB in size. In the images below, you can see the difference in storage and RAM consumed on the same device by the two apps. This will be a big advantage for those who have partitioned storage, limited storage space, a couple of years old budget phone or an entry level smartphone.
You don't need messenger for messages
You can free even more space by deleting FB messenger app. Many people were upset about Facebook making Messenger a mandatory requirement for messages, but such users can find some solace in Facebook Lite, which integrates messaging in single app.
Won't work without Data or WiFi
You can still scroll through FB app even if you momentarily lose connection, but FB Lite won't allow you to scroll through the app and will prompt a message to turn either WiFi or Data on. This is understandable as the app avoids caching pages. This could be annoying if you are in a bad connectivity area and are losing connection intermittently.
Is light on Battery
Besides being light on data, FB Lite is softer on the battery too. This makes it more suitable for users like me, who occasionally use Facebook, but still want the app active to see updates from time to time.
There are limitations too
All that weight loss comes at a price. You can not watch Videos on the new Lite App and you can not check in at your favorite spots the same intuitive way. You can update status and pictures, you can tag your friends too, but you can not do so using '@' shortcut. These are some small limitations, but none of these should be deal breaker.
Wrap up
The gist of the matter is that Facebook Lite is MUCH more resource efficient but with less features and a bland interface. Occasional users and those with less hardware muscle will surely benefit from it. For every one else, it is still worth trying.