People like to shoot videos to preserve life memories and share life with family and friends. Gone are the days when video shooting can only be done with professional camcorders or cameras. With the emergence and fast development of smartphones, anyone can now easily shoot whenever they want with their Android phones or iPhone. Though videos captured by Android phones and tablets is very convenient and of high quality, often, we will need to do some editing work on videos on Android devices on the go for better quality.
Android video editors can help you make your videos more appealing. If you are looking for some great Android video editing apps, then you are right being here. The Best 5 Video Cutter, Trim, Audio Remove Apps for Android are suggested for great video editing on Android.
Magisto
Magisto Video editor is one of the best options if you are looking for a pro tool. The best part is that it can automatically add effects if you don't want to be bothered with every detail and allows you to directly share the result on social media channels. App interface is simple and easy to use.
Pros
Well designed interface
Offers automated video production.
Cons
You can not control all edits
permitted video length is limited
Viddy
Viddy is a free video editing app, which let's you edit videos and share them on its on social media network or other networks. The app is available for Android, iOS and web browsers. You can use music from the apps own gallery and can enjoy other editing tools present to make your videos even more attractive.
Pros
Clean Interface
Can adjust focus and exposure while recording
Sharing the video is easy through the app
The fan base of the app is increasing rapidly
Cons
Limited to 30 sec of recording
Can't zoom in videos.
Socialcam

Socialcam has an array of filters and themes, and is available on both iPhone and Android. But unlike some other apps it has no time limits for videos, and, according to a number of reviews, it also makes integration with multiple social media accounts quick and painless.
One of its coolest features is the ability to apply filters "on the fly". Once you click that red record button swiping left and right selects live filters, like Kodak, 1970s, watercolor, Grunge and an extreme "Electronica" option.
On the down side, Socialcam has been accused by many as being "too social" and even "nagging" with the way it pushes the user to post their videos to social media outlets.
Pros
Allows for cross platform sharing
No time limit on the length of your video clip
Pinch to zoom while recording
Cons
Too much of a social app and sometimes bothers the users with constant sharing message.
AndroVid Video Editor
To cut, trim, edit and add music at any instant you will need a professional app which is completely free to use on android is this. You can easily cut and trim your videos through  Androvid and remove the part of video which you don't like. It also gives the advantage of adding text, frames, and effects to your videos. And the best feature of the tool is to convert any video into mp3 by this tool for free. It has lots of effects to add in a video like fade in and out swapping and slow/ fast of video clips. You can choose frames to your videos which will be shown on the screen of the viewer first. It can also use to create beautiful sideshows with music and special effects. In short it is completely a pro tool for android like PC software.
Pros
Easy tool for trimming videos
Lets you split videos into two separate pieces
Can grab single-frame images from videos
Cons
No advanced editing options,
Audio options are very limited
No tool for full-screen graphics
Andromedia Video Editor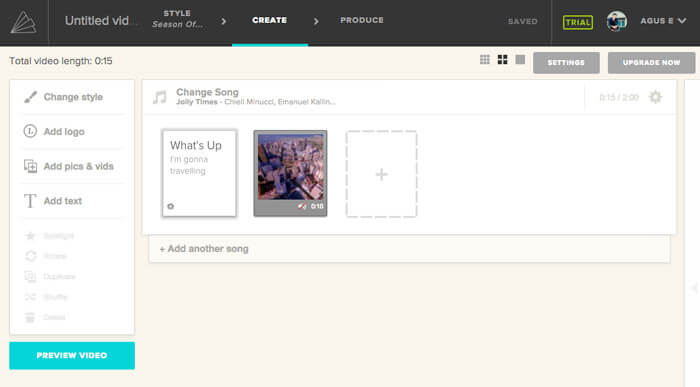 Animoto is a mobile video-editing tool that allows you to cut together short clips of videos already stored on your device. The interface isn't immediately very intuitive, but is simple enough after some practice. Unfortunately, each clip may only be 5 seconds long, and not much control over the final product is given to the user. The process is highly automated, and while it can be fun to play with, it's not really a practical editing tool.
Pros 
Is so simple to use.
It can be a quick fix if you are in need of producing a creative video and are short on time, whether for educational or business purposes.
A Lot of Styles
Great for little business presentations, students and teachers
If you pay for it there are no video length restrictions
Cons
Not as flexible as a user might like it to be. It has its limitations
You MUST add music to produce a video
All the slides display have same duration, cant be changed
Edit images have to be done in an image editor, not directly in Animoto
For better version you have to pay to upgrade
Wrap Up
Such applications run on Android devices is certainly rather convenient, cons are that they are usually quite limited when it comes to functions and features. If you want a more robust but easy to use application to help you do more advanced editing, you are going to need to turn to a Windows or Mac based program. Hope in future these things can also be solved and these apps can become more and more useful.