OnePlus played its cards just right by organizing the first VR launch gala  for OnePlus 2. The company also has taken upon itself to make and distribute cheap VR cardboard headsets that have been tailor made for the One, but will work with all phones up to 6 Inches in size. Since the pricetag is just 99 INR, you can expect them to finish very soon. Before we explore alternatives you have, let's take a look at what the whole VR Fuss actually is.
What is Google Cardboard?
Google Cardboard is a low cost tool which gives you virtual reality experience, otherwise reserved for expensive headsets like oculus rift or Samsung gear VR. It is a simple do it yourself kit, you can assemble is less than 5 minutes. After assembling it, just place your phone in the viewer for first class VR experience.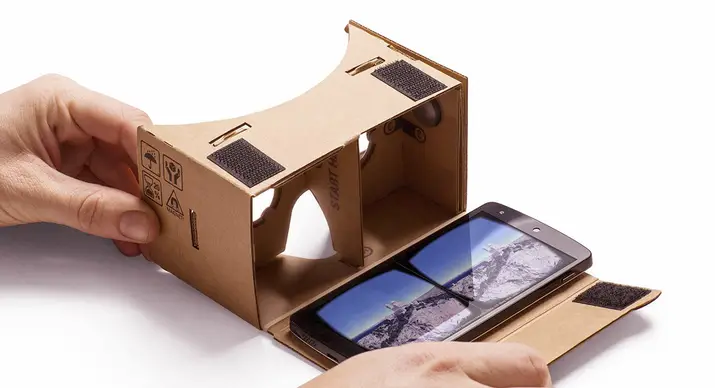 Apart from foldable plastic, Google cardboard includes 45 mm plastic lens and a magnet to interact with your screen. VR apps divide your screen in two identical halves, one for each eye. The image completely fills your eyes and teleports you in VR world where you can have a closer experience with what you see. For example, You can travel in a busy New York street and move your head 360 degreesto watch in different directions, right from the comfort of your home.
Three VR headsets you can buy apart from OnePlus VR
OnePlus Cardboard will be available in India in third week of July, for just 99 INR. If you are buying from other sources, make sure they have a magnet or capacitive lever and a cushion pad for your nose. NFC  tag is optional. You can program NFC tag to launch Google cardboard app or you can manually launch it yourself.  Here are three options you can consider.
DIY Google Cardboard VR Kit from GetCardboard
This easy to assemble Google Cardboard kit will cost your 350 INR on Amazon.in. Though larger sizes are supported, this is best suited for smartphones with up to 5 Inch display size. The kit is made from laminated corrugated cardboard, but NFC tag is not included.
Google Cardboard 2015 by Alian 3D
This cardboard is designed based on the new cardboard principles and will work for devices up to 6 inches in display size, if you still have doubts regrading compatibility, you can contact customer care. A conductive foam button is present instead of magnet. It will work fine with all apps designed using Googles new API. You can buy it for 650 INR from Amazon.in. NFC tag is not included, but you can separately buy and fix one without spending much.
iCardboard
iCarboard is a fully assembled cardboard kit with NFC tag, which you can buy from Amazon for 8,99 INR. It flaunts a premium quality cardboard finish, includes a nose cushion and velro straps. It measures 13.5 x 8 x 8 cm and works for up to 5.5 Inch display devices.
Conclusion
These are some of the Google VR headsets you can buy in India. Once you have the headset, you can use apps like Sisters and a dozen more on Google Playstore and enjoy basic VR experience. The cardboard momentum has caught up and we will be seeing several more innovative apps and other development to the platform very soon.