VPN stands for Virtual Private Network, and it allows you to use the internet by redirecting the traffic via a different network to protect you from the harmful attacks or to allow you a secure transmission of data. Now, on your phone, you can use VPN to connect your phone's internet via a secured network to increase the security of the messages and emails you send from your phone, or to just safeguard your internet browsing on your phone. Now, in order to set up the NordVPN or any other VPN on your smartphone, you need to follow a few steps specific to your smartphone operating system.
What is VPN and why should I use it?
VPN provides better security and is something you should use, especially when on public networks. Without being too technical, VPN can give your proxy IP address and make your phone appear to be from any other country or region to the internet. If you engage in banking or share other sensitive data over the internet or if you want to access a region restricted website, you can use VPN which makes you part of an entirely different network. VPN are not 100 percent secure and could slow you down if you are using are on a slow 3G Network.
Setting up VPN on Android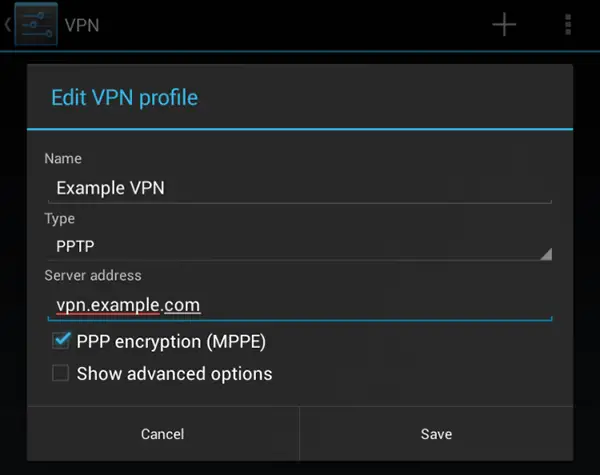 Android Operating system supports VPN natively on the device. It means that you don't need to install any third party app to avail this feature on your Android smartphone. For instance, NordVPN is one of the most popular VPN applications for Android because it is very easy and comfortable to set up and use. To set up a VPN on your Android smartphone, follow these steps.
Go to Settings on your Phone
Under connectivity, choose VPN
Click on the Add button (or the + icon)
In the popup box, enter your VPN details provided to you by your VPN provider
Click Save
Then, connect to the VPN by clicking and holding on the newly added VPN
Enter your credentials and just click login. You can also save your details to allow logging in always without a password
Setting up VPN on iOS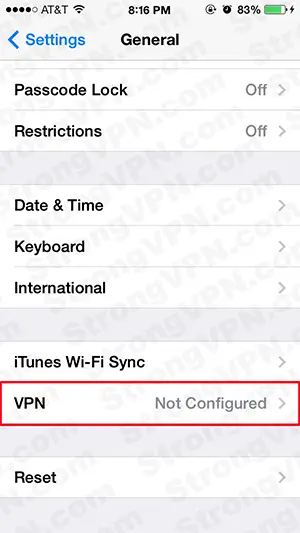 Just like Android, iOS also natively supports connectivity to a VPN. Setting up a VPN on iOS is also really easy just like Android, but it offers a few extra features that Android settings do not offer. Here are the steps to configure VPN on your iOS device.
Go to Settings on your Phone
Then, browse to General Settings and just under iTunes sync, you'll find the option for VPN
Open your VPN settings
Next, click on Add VPN configuration
On the next screen, enter your VPN details as provided by your VPN provider and save them
After saving them, you will be back to VPN settings. Here, enable VPN from the toggle on the top
It will then ask you to choose which VPN connection you want to use and you can just select the one you just saved
Setting up VPN on Windows Phone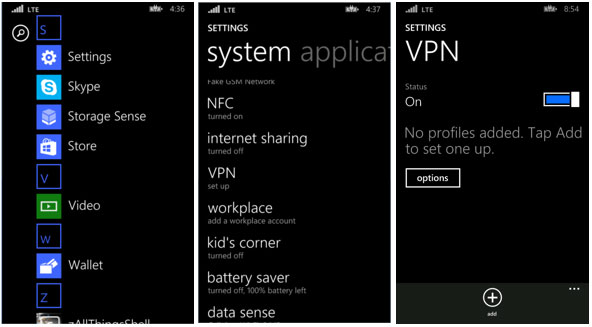 Windows Phone is no exception when it comes to providing native VPN support. It supports certain types of VPN protocols only and allows you to connect to them on your smartphone. Windows Phone was a little late to the party, and supports VPN only on Windows Phone 8.1 and later. The steps on Windows Phone are again no different from the ones on Android and iOS, but the position of things differs. To set up VPN on Windows Phone 8.1, follow these steps.
Go to Settings on your phone and tap on VPN
Turn on VPN and click the add button to add a new profile
Enter the Server name and other credentials and select the correct protocol for your VPN (mostly IKEv2)
Now, just choose the profile you created and choose the option to connect.
Conclusion
In the article above, I have covered the various steps that you need to follow in order to set up a VPN on your smartphone running one of the top 3 mobile operating systems. If you are unable to set it up on your own, feel free to leave a comment down below with your problem and I will try to solve it. Also, do let me know in the comments section below which VPN service provider do you use for your work.