For time immemorial, Gadgets have long been associated with Spies and double agents and if you have that itch for stealth video recording, there are several android apps that can help. However, take caution that you don't disrespect anyone's privacy.
Sneaky Cam
Sneaky cam is an app which you can use for stealth image capture. The app allows you to trick others into thinking that you are doing something else on your phone, by showing a fake interface. You can tap anywhere on your screen to click images.
The app gives you option to hide images from the gallery app or to store images in a custom folder. If you turn on or off vibration or text feedback to know that the image is clicked.
Pros
The app gives option to hide images in the gallery
You can keep screen awake for as long as the app is open
Cons
you can not record videos
adds in the free version make the trick interface look unreal
Mobile Hidden Camera
Mobile hidden camera is what can be complete stealth app, but only if you invest in the pro version. The app lists itself as a simple notepad in your app drawer. In free version, you can shoot videos and camera images even in burst mode. While pro version helps you hide the app and its content beneath several protective layers. You also get the option to block incoming calls, messages, etc while you are recording. Advanced feature also allow you to run the app in background, while you are working with other apps.
Pros
Completely hidden, with a self destruct mode
can shoot while running in the background
can shoot videos and click images in burst mode
Shoot It
Shoot It is another simple app for stealth image capture, it is simple no nonsense app which only requires you to launch the app to click images. If you have gesture support, you can assign a gesture like double tap or swipe up to launch the app and the image will be clicked and saved to apps own folder. You can view the image in the gallery. The free version app is not listed on playstore and you will have to sideload it from the XDA forum page.
Pros
Stealth grade is pretty high, it is completely inconspicuous
Cons
There is no video recording option
you can not hide images from phone gallery
Detective Video Recording
Detective video recording is simple to use, though not very secretive, it is good enough for everyone who is in for some light fun. You can start video recording, which then continues in the background. You can pull down notification shade and find the option to turn it off right there.  By default the app lits a video recording option in the notification bar, but you can hide that from settings.
Pros
Can record videos in the background while you work with other apps
you can select camera app used and video quality
Cons
Hidden Video camera
Hidden Video camera , as the name suggest, can shoot images without anyone around you knowing. All you have to do is tap the app widget and it shoots the images right away. There is a separate app icon for front and rear camera. all you images can be viewed later in the hidden camera app. It works similar to shoot it app, accept for a few minor differences.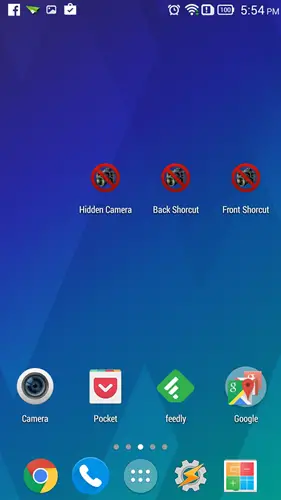 Pros
can be used to click images in a jiffy
Cons
You need to add the widget to your home screen for this to work
Conclusion
These are some of the spy apps which you can use to furtively capture images and instant reactions of your friends and family without them knowing. If any other app works better for you, let us know in the comment section below.