Our Chief Editor and Founder – Abhishek, received a message from Airtel about Ask Laila service being activated on his phone and Rs. 35 being deducted for the weekly subscription. The SMS mentioned how you can stop the service and if you ignore or happen to miss that by any chance, the subscription will be automatically renewed again without any intimidation. To be forced to pay for something you don't want and never have used is definitely infuriating.
A quick Google search and conversation with some other Airtel users revealed that there are several other perplexed consumers and how they were cheated by Airtel, which is more often than not in news for its unethical stance and slobbering greed.
What is Ask Laila service?
First of all, if you have been cheated, you should know that Ask Laila is a city search service which partnered with Airtel several years ago. If you have subscribed to this service, you can send a message like "Locate Biriyani, Indira Nagar" to 54321 using your mobile phones and get information about all registered vendors in the locality.
How is this service activated?
The next natural question which popped  in our mind is how this service got activated. It was a serious WTF moment when we got to know the answer. Airtel customer care executive told us that the way to activate this service is if you click a vague pop up, which opens on its own when you are using Airtel's Data and surfing internet in any browser.  Besides Ask Laila, there are several other similar services designed to rob your money.
This is just wrong on so many levels
First of all, a service which a consumer won't be using from his browser has no point being activated via a third party browser. Clearly it has been placed to generate revenue from accidental touches. Secondly, It is unacceptable that an interaction in browser accesses my phone number and passes it forward to Airtel or Ask Laila or any other party.
Thirdly, Telecom Regulatory Authority of India (TRAI) clearly condemn this policy. TRAI has issued strict instructions to Telecom operators to not activate VAS services on its smartphones, without consumer consent. These guidelines cover all form of activation including OBD, IVRS, WAP, mobile Internet, USSD, SMS, and tele-calling. All systems are required to seek consumer consent not once but twice before activation. The second confirmation should go through dedicated payment gateway. In case of auto renewal, customer should be informed 24 hours in advance.
Needless to say, Airtel brazenly ignores these guidelines and cheats millions of customers with these VAS services.
How To deactivate these services
You can check what value added services are activated on your smartphone by dialing the toll free number 155223. The number is same for all other service providers as well. You can also deactivate it using USSD codes, using the following steps.
Step 1: Dial *121#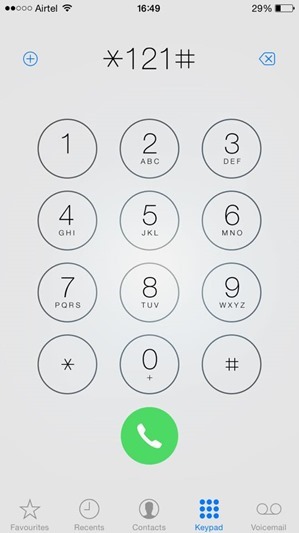 Step 2: Press 4 to Start/ stop your VAS service, then press 2
Step 3: Enter the number corresponding to the service you want to deactivate
Conclusion
If you have been cheated by Airtel in a similar fashion, contact customer care and ask for a refund as soon as you get the message. This is purely unethical on Airtel's part to make millions from accidental touches of gullible subscribers using company's own 3G/ 4G/ 2G data services. We hope TRAI takes notice of this issue once again and implement strict laws to curb these malpractices.