When Motorola announced the Moto 360 last year with its beautiful and unique circular design as compared to the squarish Smartwatches out there, it received an enthusiastic response and was a clear favorite among the Android Wear watches (the other two being the Samsung Gear Live and the G-watch from LG).
The 2015 edition of the Moto 360 has a lot of us excited and for several reasons – Different sizes for both men and women, improved functionality with more options when it comes to personalization, and for those fitness enthusiasts who worry about damaging their Smartwatch, a new variant called the Moto 360 Sport which we'll delve into later.
What's new in the 2015 Moto 360?!
A lot of people expressed their desire for a smaller watch and Motorola obliged by offering a smaller 42mm body (for both men & women) while also retaining the original sized 46mm body for men.
The larger 46mm watch comes with a 1.56-inch display with a resolution of 360×230 pixels and has a 400 mAh battery while the 42mm variant comes with a 1.37-inch display with 360×225 pixels and a 300 mAh battery.
One welcome change in the new Moto 360 is the change in the way the straps can be swapped out by moving that bit to the outside of the watch. This means you can personalize the watch easily without having to take it to the dealer which was the case earlier. Motorola also offers smaller 16mm wrist straps for the women and 20mm or 22mm options for men.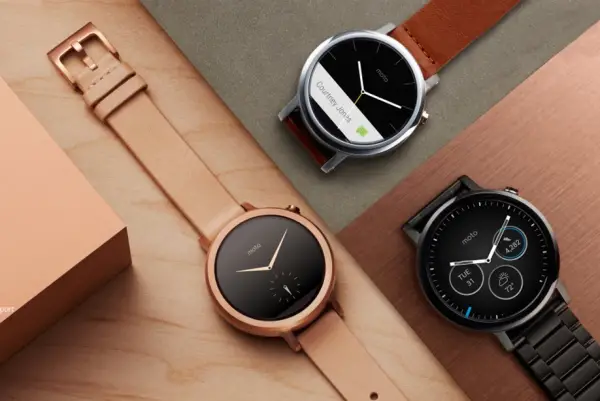 The hardware packed into the upgraded Moto 360 is a 1.2 GHz quad-core Qualcomm Snapdragon 400 processor that runs on 512 MB RAM and comes with 4 GB of internal storage which should address all of your storage needs on the Smartwatch.
Additional features include an Accelerometer, Ambient Light Sensor, Gyroscope, Pedometer, Heart rate sensor, Dual digital mics and Wireless charging. Connectivity options include Wi-Fi 802.11 b/g and Bluetooth 4.0 but does not support NFC. The device is protected by a Corning Gorilla Glass 3 shield and is IP67 dust and water resistant.
The smartwatch supports phones running Android 4.3 and above and also supports iPhone 5/5c/5s and iPhone 6/6 Plus with iOS 8.2 and above.
The 2015 Moto 360 can be pre-ordered on the Motorola site and is expected to ship out later this month. Prices start at $299.99 (approx. 20,000 INR) and you can choose from a variety of options using their Moto Maker which lets you customize the bezel, case, band and the watch face.
And then there's the Moto 360 Sport!
Based on the 42mm body of the Moto 360 we described earlier, the Moto 360 Sport is an exercise-friendly version that comes with a rubbery, silicone-like material with special UV coating that helps prevent fading or staining in addition to keeping moisture away. It also has side ventilation channels to help you stay cool.
Equipped with GPS and running on Android Wear, the Moto 360 Sport gives you accurate location information, measures your speed, distance traveled, pace, etc. It's native Moto Body can also help track your calories, and even give you motivational reminders when you need them!
Another awesome feature is the hybrid AnyLight display that automatically adapts to the level of natural light around you. This ensures that the Smartwatch automatically switches between the back-lit LCD screen and the front-lit reflective screen depending on whether you're indoors or outdoors.
Having one of these Smartwatches eliminates the need for your phone as it can handle most tasks like checking mail and browsing  and the ample storage space also means you can stream your music to your Bluetooth headphones during your workout .
Details around pricing and availability are yet to be announced and we'll hopefully hear more on the Moto 360 Sport soon.
Would you consider buying either of these Smartwatches?