Research indicates that Trains are the most popular form of transport in India with an estimated 23 million (2.3 crore) passengers daily! Addressing the queries of so many commuters can be a herculean task but thankfully, there are several ways to look up the information you need without too much hassle. With almost everything being able online nowadays, one simply has to choose between a mobile site or an app to find what you're looking for; we've compiled a list which would be useful for that train journey!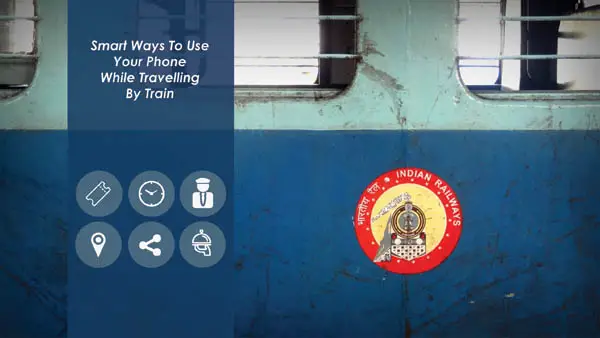 Booking a Train ticket and checking your PNR status
The first stop to search for information and book your tickets would be the official site for the Indian Railway Catering and Tourism Corporation [IRCTC]. To make any bookings with IRCTC online, you have to be registered with them even if you're using other services like makemytrip or ixigo which will eventually redirect you to the IRCTC site to proceed.
Assuming that you had an account in the past that got deactivated, you can try to register yourself again but unless you have a different email address AND phone number, the site won't let you register! This can be quite frustrating if you have just one Phone number like I do and the only alternative is to get someone else to register online or head to the nearest railway station and do it in person. Hopefully, IRCTC folks will take note of this and do something to rectify it!
Assuming that your credentials are in place, booking your ticket is relatively straightforward. Once you've booked your ticket, you can check the Passenger Number Record or PNR status here. IRCTC also has apps available for Windows, Blackberry, Android and iOS.
Ordering food while travelling
Gone are the days when you had to make do with the limited food options on the train!
Nowadays, you can place your order online or call the vendor and based on your train location, they will deliver the food to the nearest station! How cool is that?!
Comesum is an authorized and licensed food supplier for the IRCTC. Another well-known service is TravelKhana that has an Android app as well.
An Alarm in case you fall asleep
Featured on the Google Play Store India Independence Day Collection 2015, In Train Alarm is an interesting Android app that does what the name suggests – set an alarm to alert you when you're nearing your destination or a particular station.
The app comes with a list of Railway Stations with their locations to set the alarms and more stations are being continuously updated. You can even add stations of your own after downloading the app! The alarms may be set with a triggering radius from 5km to 25km, with an error margin of approximately 1 km. There is also an alarm map, where the current distance to the defined station can be checked.
An active internet connection is not required for the alarm to work, but cellular network range is required, and performance is better if the location service is set to high accuracy in your phone settings.
Where is the Train?!
An interesting program that was initiated a while back was the Rail Radar Hotspots that shows the status of trains across India in real-time on a map! It uses different colors to indicate trains that are on time and running late. You can also view this on their Android app.
Commonly used Sites/Apps
There are several sites or apps that you could use that offer a combination of the features highlighted earlier in the article. A quick search on the Internet revealed these 3 popular sites that we'd like to share with you:
ixigo (website, iOS app, Android app, Windows app)
RailYatri (website, Android app)
makemytrip (website, Android app)
If you found this article helpful or if you would like to provide any suggestions,we'd love to hear from you!
Till next time, happy travels!