The much awaited Samsung Galaxy Note 5 is finally launched in India. The Note 5 has come up with several cutting-edge features and improvements in its appearance. The new Note 5 has taken a huge leap over last year's Galaxy Note 4 in terms of design and machinery. We spent a little time with the Samsung Galaxy Note 5 and have our first impressions for you here.
[table id=86 /]
Samsung Galaxy Note 5 Photo Gallery
Physical Overview
Samsung Galaxy Note 5 replaces the faux leather back that was made of plastic by a glass sheet that's infused into a metal frame, just like on the Galaxy S6. Its back glass also curves inward on the right and left sides. This  flat display and curved back made it easier to hold in your palm, despite its phablet size. Glass built does make gripping this 5.7-inch phone more of a challenge, breakable and a fingerprint magnet as compared to its faux leather predecessor but still feels less slippery than the smooth aluminium covering IPhone 6. Overall the new design has proved its marks and gives a tasteful, elegant and premium feel while holding it. It feels quite premium.
The bezels are very thin providing more space to stretch the display. The Samsung Galaxy Note 5 features a 5.7-inch Super AMOLED display with QHD resolution (2,560 x 1,440 pixels producing 518ppi). The display is vibrant, sharp, colourful and plays 4K resolution videos without a flaw. Something that might disappoint the buyers is that Note 5 doesn't have a microSD slot, and you can no longer remove the new 3000mAh battery.
Galaxy Note 5 offers a creamy touch sensitivity with immediate response. The finger print sensor works smooth, simply resting your finger on the home button unlocks the phone in almost no time at all.
The Note 5's S Pen comes with auto-eject which pops out the pen once pushed rather than sliding it out like the other Note series phones. It remains pressure sensitive, and lines become thicker as you press harder while drawing, which gives the users more control while sketching. Latency has also been shortened, which makes writing and sketching more smoother and natural.
User Interface
The Galaxy Note 5 software is a slightly refined version of TouchWiz running on Android 5.1.1 Lollipop, they had completely trimmed the custom skin, making devices smoother during operation. The Galaxy Note 5, with its powerful Exynos processor and 4GB of RAM, TouchWiz actually flies. The overall look of the skin itself is not that bad, considering Samsung allows you to apply custom themes through the dedicated Themes app. In short, Samsung attempts to make TouchWiz look very unlike stock Android.
Some new features include Off-screen memo (enables to make notes and save them even when the phone is locked) which helps you make quick notes, no more panic for paper and pens. PDF overwriting, now use the S Pen to mark notes over PDF sheets. Slide and sync hepls you share screen on a tablet or a laptop, compatible with Windows and Apple devices as well.
Camera Overview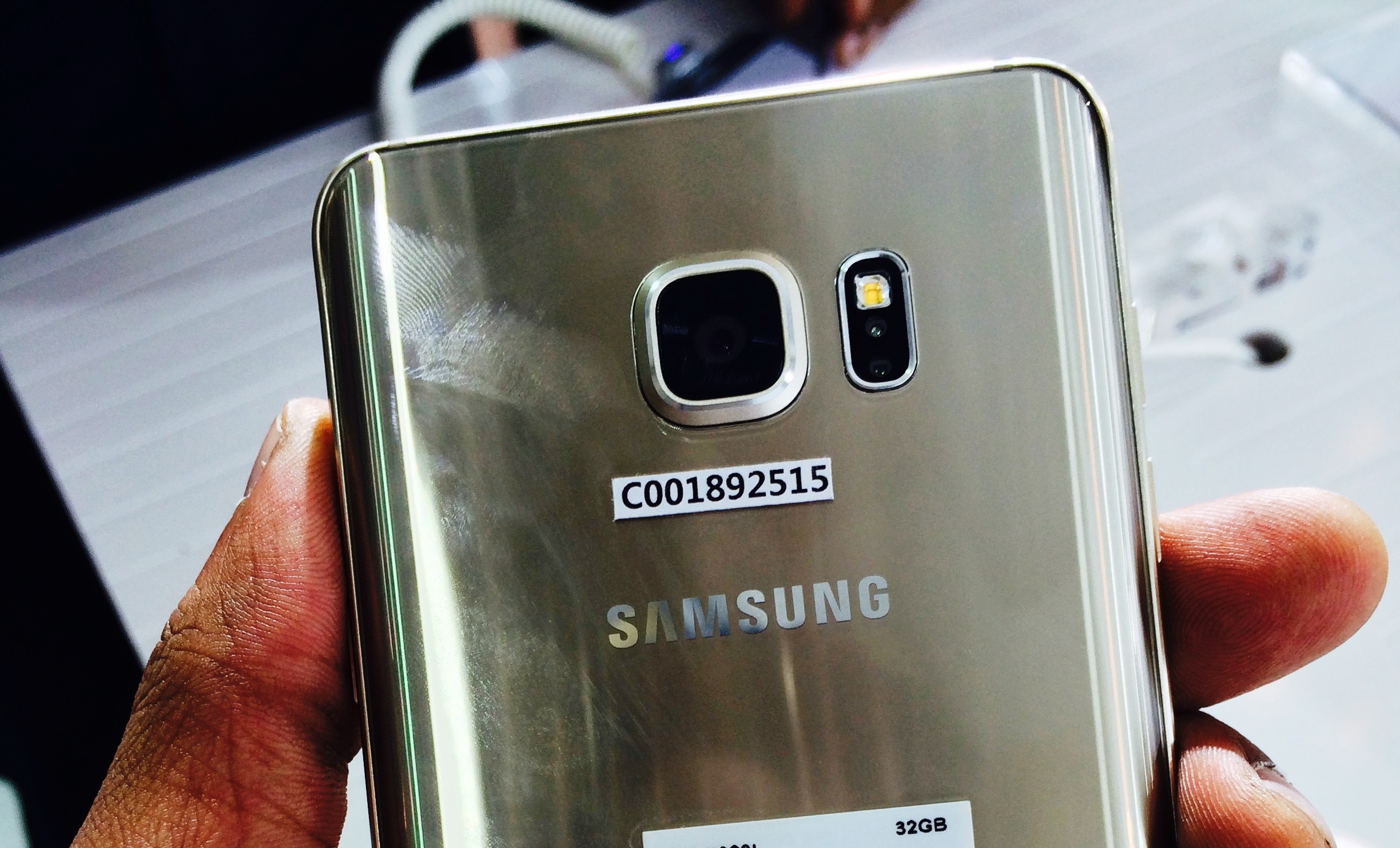 Samsung has been delivering phenomenal cameras in its recent flagship devices, be it Samsung S6 or Samsung S6 Edge and the Note 5 is no different. The Galaxy Note 5  primary camera shoots at 16MP and offers optical image stabilization paired with a 5MP front camera.
The camera quality is phenomenal and the tap to focus is speedy. The camera offers number of shooting modes to choose from and the picture quality was recorded sharp, detailed, vibrant and colourful in both natural light and indoor shooting.
Price and Availabiity
The Samsung Galaxy Note 5 will be available from 20th September in two variants – 32GB and 64GB. The 32GB Note 5 will cost 53,900 INR where the customers need to pay a whopping 59,900 INR for the 64GB variant. Note 5 will be available in shiny shades which are Black Sapphire, Gold Platinum and Silver Titanium to choose from.
Competition
The new  Samsung Galaxy Note 5 will have a solid rivalry with phones like LG G4, Samsung S6 Edge+, Apple IPhone 6 Plus.
Conclusion
The Samsung Galaxy Note 5 has an eye-catching design, high-end hardware and takes good photos. Using the stylus has never felt better.  The Note 5 is excellent overall, and the only phone to buy if you want to write with hands. However, you'll pay a huge premium for a modest upgrade from last year's model, and less pricey competitors may satisfy many.