Of all the features Apple announced for new iPhones, 3D Touch is the most interesting. Not that it is anything new or unheard of, but still, it will make a substantial difference. Similar feature on Apple Watch was labeled 'Force Touch' and 3D Touch is nothing but the next evolution of Force Touch.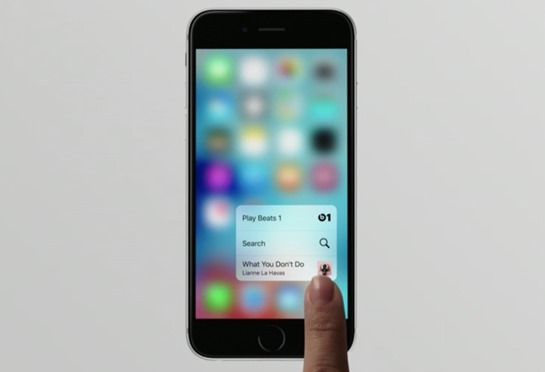 What is the difference?
Yes, there is a difference. The 3D Touch can is more sensitive and can detect more pressure levels. So the new iPhone will recognize the difference between when you press, and when you press harder. This difference didn't warrant a new name altogether, but again, 3D Touch sounds better. Both are complimented by haptic feedback motors.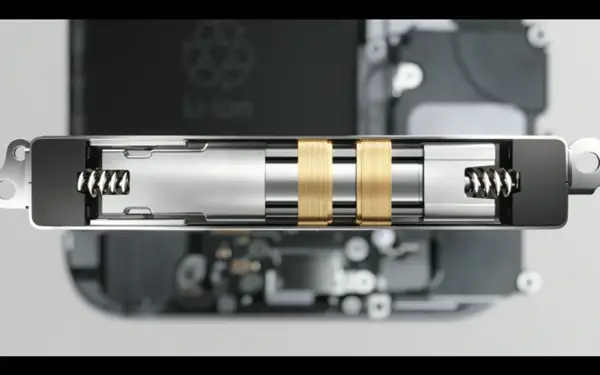 How Does 3D Touch Work?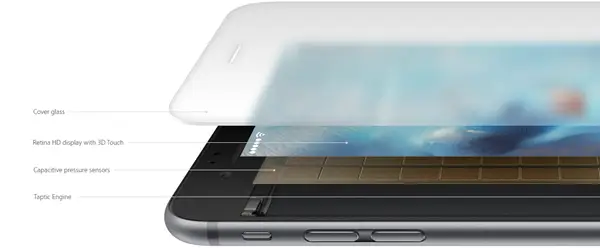 To enable 3D touch, Apple has integrated capacitive touch sensors inside the LCD backlight. These sensors can measure Microscopic changes in pressure. The data from these sensors is then combined with data from touch sensor and accelerometer to provide fast response using a series of complex algorithms. The accelerometer helps measure impact of change in gravity as you hold your phone!
What is it used for?
Ability to sense different levels of touch levels allows iOS to be a lot more than intuitive. Here is what you can do:
Peek and Pop – If you are browsing through a list of emails, you can press one and have a peek, if you wish to read further, press harder and that particular mail will pop out. Similarly, you can peek at websites before you open them, scan locations before actually opening them on maps and view clicked images as you click more!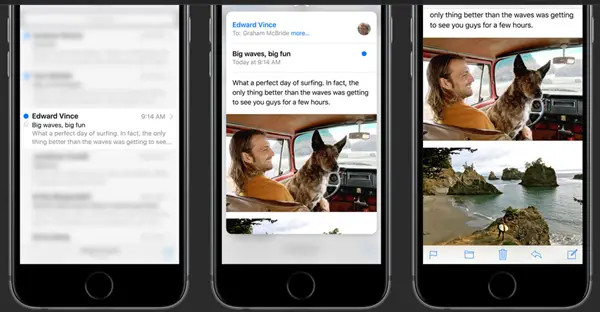 Quick actions – pressing on icons will open contextual quick action menu. "You can start a message to your favourite contacts. Or instantly bring up the camera to snap a selfie. Or quickly send your location to a friend. Many of these actions can even be done with a single press, direct from the Home screen."

Live Photos – Every photo you click from iPhone 6s springs to life when you press it. These short GIFs is what Apple calls live photos. This is again not unheard off, but the implementation makes lot more sense. You don't have to do anything differently to click Live Photos. You can also use these as dynamic wallpapers and as watch faces.
Others – You can also convert you keyboard into trackpad, press left side of screen to switch to multitasking view and do pressure sensitive drawing. Once apps developer optimize their apps for 3D touch, this convenience will be extended across the board.
Introducing iPhone 6s and iPhone 6s Plus with 3D Touch [Video]
[stextbox id="alert" caption="Also Read"]Recommended: Huawei Mate S Force Touch, A Phone That Is Also A Weighing Scale[/stextbox]
Future Impact
I have always been an Android user, and even at the risk of scraping some Android loyalist sentiments, I must admit that what Apple does, Android manufacturer's follow (Vice versa is also true in many cases). For instance, The TouchID introduced by Apple with iPhone 5s is now a mainstream Android feature and will be integrated in the next official Android 6.0 Marshmallow as well. Of course we had to go through a series of gimmicky and rather useless fingerprint sensors first, but that's in the past now. So does this mean by next year we will see Android adopting the force touch or something similar? Huawei has already embraced the concept with Mate S. If rightly implemented, the way we interact with our devices will soon change.