If you've been waiting for Jawbone's popular activity trackers to make it to India, it's time to get UP!

The UPmove, UP2 and UP3 all come with Activity Tracking, Sleep Tracking, Food Logging and Smart Coach but each successive model has added features. The only exception to this rule is the entry-level UPmove with an LED display which also gives you the time of day, a feature which is noticeably absent from the other models.
The Jawbone wearables sync to the UP app on your iPhone or Android OS phone and is easy-to-understand with charts and figures. All 3 devices are Splash-proof and water-resistant which means you could take it to the shower or keep it on while doing the dishes.
Priced at 4,999 INR, the entry-level UPmove tracks your steps, calories burned, distance traveled and your sleeping patterns. It also features a Smart Coach that tells you when you've been idle for too long. The device comes with a non-rechargeable, CR2032 Lithium Coin, 3V 225mAh battery that should last you upto 6 months.
The UP2 and UP3 come with 3 LED indicators on the band that represent the Activity mode, Sleep mode and Notifications. They used to be toggled by tapping on the LEDs but a new update was rolled out a few days ago that automatically detects when you're sleeping instead of the manual tapping function. A feature common to both models is the Smart Alarm, which in addition to waking you up at your desired time, also wakes you up within a range of that time when you are in the lighter stages of sleep, leaving you fresh and not groggy when you wake up!
Unique to the UP3 are the bio-impedance sensors which monitor your heart rate and also provide advanced sleep tracking by monitoring Wake time, REM (the phase of sleep where dreams occur), Light and Deep sleep which gives you detailed information around your sleeping patterns.
Equipped with a rechargeable Lithium-Ion Polymer 38 mAh battery, the UP2 claims to last 10 days whereas the UP3 will last for 7 days which is not too bad considering the charge time is approximately 60 minutes via magnetic USB charging cable. The UP2 is priced at 9,999 INR and the UP3 at 14,999 INR.
You can choose from several colors on the Jawbone website and in India, Jawbone has partnered exclusively with Amazon for the sale of these devices online.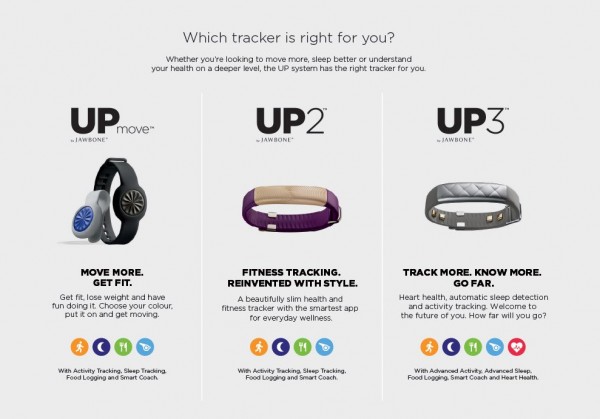 What didn't make it to India was the UP4 which is the upgraded model of the UP3, the difference being the ability to connect with your American Express card to make payments with your wrist. Yes, the technology exists!
Our Verdict
If you're looking for a comfortable and stylish Activity Tracker with great Sleep analysis, this is the product for you. Jawbone are very popular for their Jambox speakers and Era headsets, and their latest foray into the wearable market with the UP series seems to be a promising one.