Google Now is Google's omnipresent implementation of a digital assistant. Its proactive nature enables it to provide you with information such as sports scores, directions to your next event, stories that you may be interested in, etc.
Google bundled its Google Now assistant since 2012 with its release of Jelly Bean( Android 4.1) and bundled it within its launcher with the release of KitKat( Android 4.4) in 2013, accessible by swiping right on the left-most home screen, on the Nexus 5.
Essentially, Google Now displays a set of cards that, it thinks, might be relevant to the user (based on Google's indexing of your location and your likes and dislikes).  Some people highly appreciate this feature.
Do You Like Google Now ?
Others, might find it invasive by nature(due to its continuous background monitoring) or may consider the tradeoff in battery disagreeable. Whatever your reason, Google has catered to your needs and also given you a way to disable Google Now, but they leave you to find it out. We help you know what you need to do.
Disable Google Now From Left Swipe on Home Screen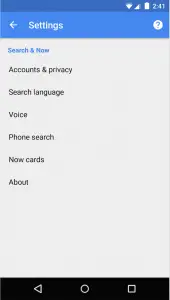 Step 1: Open Google Now,  (Google Launcher users can swipe right to the left most screen on their device) and tap on the three parallel lines at the top left corner and click on Settings.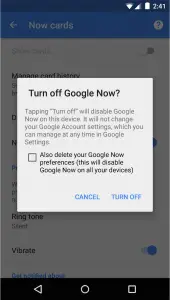 Further, tap 'Now cards' and you will enter the menu where you can toggle the 'Show cards' off. The app prompts you with a dialog to confirm if you want to turn off Google Now. A checkbox is also presented to you, if you wish to delete all data Google Now has collected about you, over time,again this will be only for the phone at which you are doing, your card settings on google account wont be affected.
Final Result After Disabling Google Now
Tap 'Turn Off' to disable Google Now. From this point on, the Google Launcher will no longer present you with the cards screen on the left-most home screen.
Still in Doubt About Google Now ?
If you choose to resume using Google Now, in future, we suggest you leave this box un-checked since Google Now's predictive abilities are based on its knowledge about you. Selecting the checkbox also disables Google Now on any other device you might own, linked to your google account.
[stbpro id="info"]For iOS users the process is, relatively, the same. Open the app and click on your profile image at the top left of the screen to enter Settings. Tap on 'Google Now' and toggle 'Now' off to disable the feature.[/stbpro]
Disable Google Now on Swipe Up on Home Button on Android
Another annoying thing about google now is that it appears when you swipe up from home button n an many android phones, but there is a way to stop google now swipe up launch. You just need to download SwipeLaunch Disabler
Next time you do swipe up action it will ask you to specify app to use on this action. You need to select Swipe Launch Disabler and you are good to go. In case this sound confusing to you, please watch the video below and see how it is done.
Google Now Disable, Google Now Cards Disable [ Video ]

However, swiping up from the Home icon or long pressing the Home Button(whatever your previous trigger to launching Google Now might be) will still open the app if it did so previously and present you with a 'Get Started' screen, instead of displaying Google Now cards.
From this point on, your phone is entirely free from Google Now's pervasive background monitoring. If any problems are encountered in the process, we would gladly help you out in the comments section below.