Are you looking to buy a new laptop with sleek, elegant looks which performs evenly sound for office or home purpose? We have got an option with the same offering reviewed exclusively for you. Lenovo is renowned for its portable computing devices and laptops like Thinkpad and Ideapad series. Lenovo has come up with a new Z51 laptop with pleasing looks and powerful performance combined together. We thoroughly tested the device and brought some must know facts about the device to share with the buyers.
Pros
Good performance
Silver trimmed and brushed metal finish
Cinematic and Dynamic sound
Keyboard comfort
Cons
Non-touch FHD display
Battery backup
Bezels too broad
Shallow viewing angles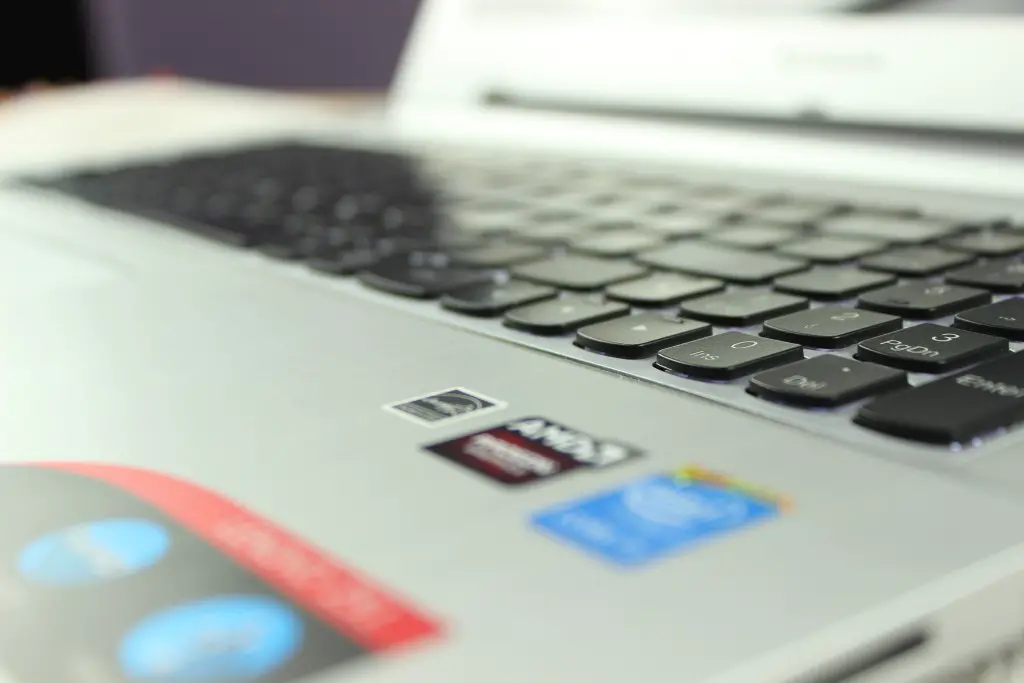 Lenovo Z51 Specs
Display Size: 15.6 Inch (1920 x 1080 pixels) FHD, anti glare panel at 16:9 aspect ratio
Processor: 20 GHz Core i5-5200U CPU, AMD Radeon R9 M375 graphics
RAM: 8 GB (DDR3L)
Software Version: Windows 8.1 (Windows 10 upgradable)
Camera: 1MP webcam
Hard Disk Drive: 1 TB
Battery: 4 Cell 41WH
Connectivity: WiFi 802.11 a/c, Bluetooth 4.0, 2 X USB 3.0, 1 x USB 2.0, HDMI Port,  headphone jack, 4 in 1 Card reader
Size: 12 x 10.43 x 0.97 inches
Weight: 3 kg
Design and Build
The Lenovo Z51 flaunts a sleek and elegant screen lid made with plastic, bordered with a broad silver bezel with a lusterless metal finish. The outer surface on the body is covered with a black coat completing the look with a well finished plastic material. The black surface at the back of the screen houses Lenovo's logo in silver, around the top left corner of the lid.
The 15.6 inch panel is outlined with a silver finish plastic frame, where the brushed aluminum finish on the deck compliments the silver part perfectly. There is a slight tilt downwards at the bezel along the corners enhancing the design quite well. The rest of the casing is crafted using a hard plastic coloured in black; this thick plastic feels tough enough to resist some pressure. The hard plastic finish on the bottom is a little braised, which makes the device comfortable to hold and transport.
The silver finish around the screen and on the deck gives it an elite feel with a touch of gruffness with the black on the top and bottom. The vertical deck feels good to touch and offers a comfortable wrist position while typing.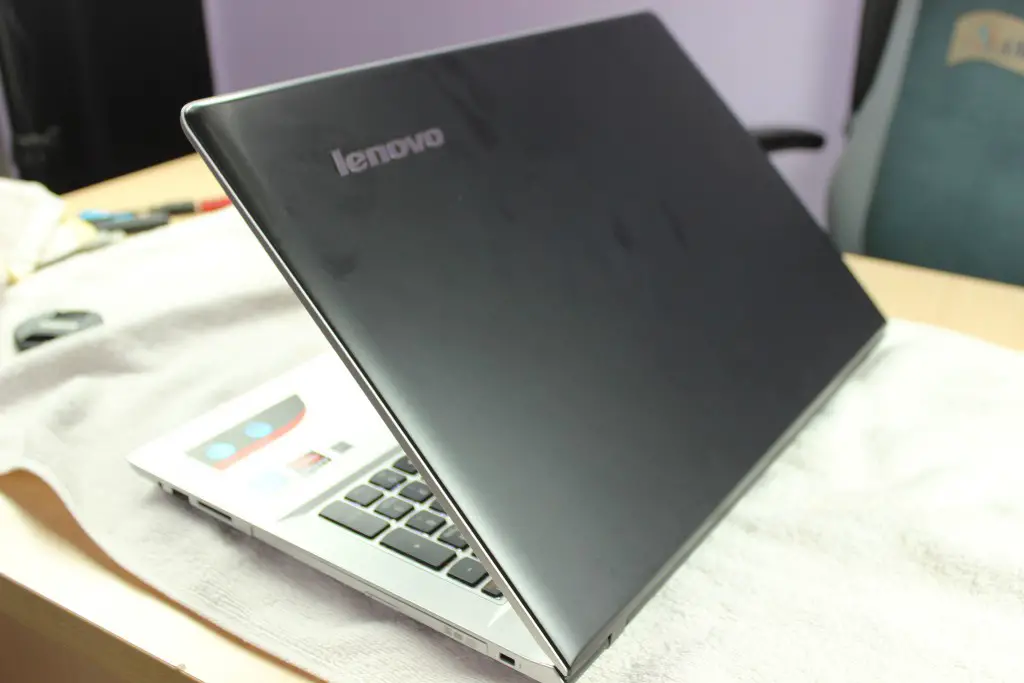 Lenovo Z51 measures 15.12 x 10.43 x 0.97 inches (W x D x H) and weighs 2.3 kg, which is considerable if portability is concerned, though it cannot be compared with the Ultrabooks knowing it is not one of them. The 0.97 inches thick laptop can be carried easily in most of the regularly used bags or cases with that weight.
Talking about the durability, the display lid loses some points; this thin panel is a bit delicate and may not put up with unusual amount of weight to protect the screen. Similarly, when we tried putting some pressure on the centre of the keyboard, we noticed a slight flex in the base. Other than these cons what we liked is the solid bottom which is quite tough to tolerate some rough use.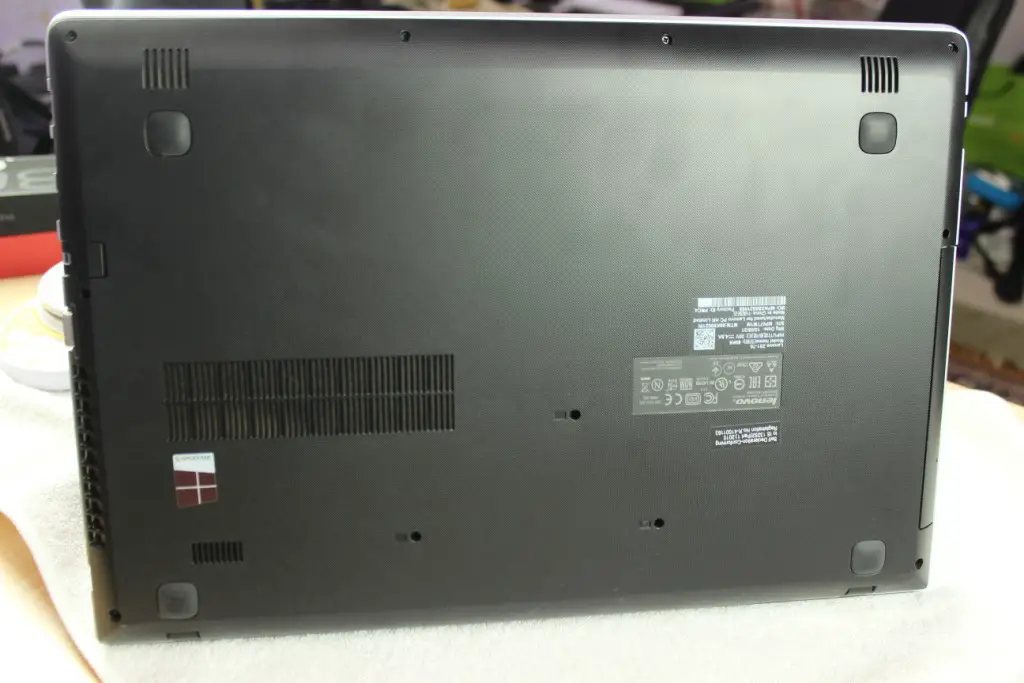 Keyboard and Touchpad
The Z51 come baked with Chiclet styled keys covering the 15 inch area and comes with a num pad. The keyboard stretches over the 15.6 inch space, thus offers abundant amount of spacing between the keys. This keyboard allows a lot of comfort to the ones who have to type in masses. The buttons are soft to use and the placing is done neatly.
The touchpad is located on the slight right below the spacebar. The silver coloured touchpad is reasonably sized and a nice-looking brushed silver frame runs around its border. It is made of rough plastic material which provides a nice grip and easy scrubbing. The touch response was admirable and accurate while using multi-finger gestures and swipes.
Under the pad is an oversized button which functions both as the left and right click. There is no flaw in the button, it's just the size that makes us question. Users may find the button a bit hard to press in some cases.
Ports
The connectivity options available on this device are good enough for a mid-range media centric laptop. The left side features an Ethernet connector, an HDMI connector, VGA connector and two USB 3.0 ports.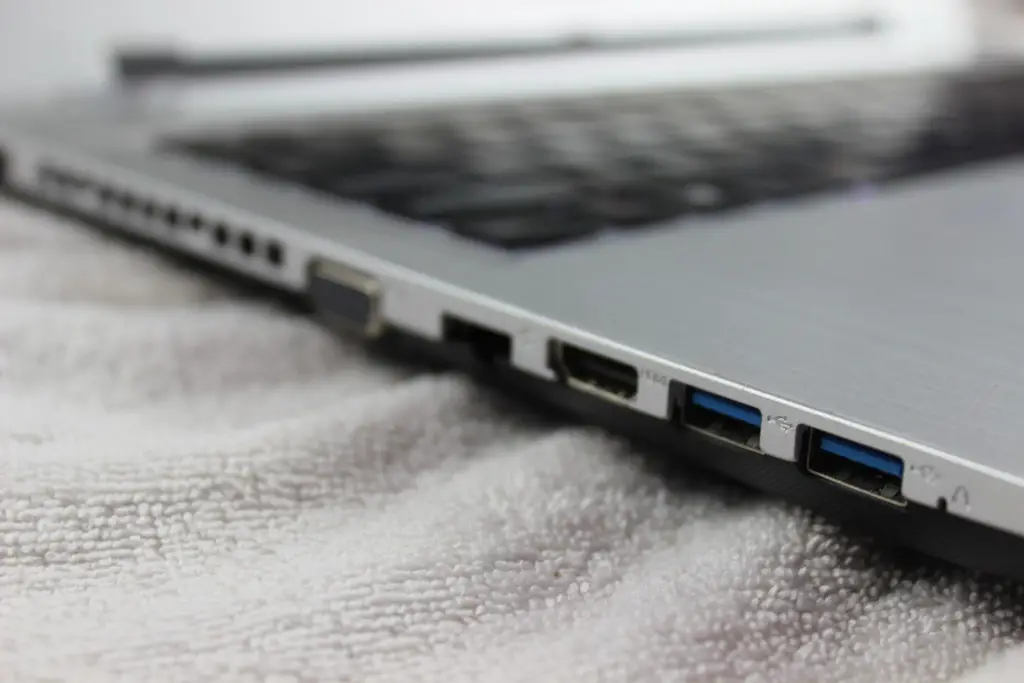 On the right hand side you will find a SD card reader, a USB 2.0 port, an optical drive, a security lock slot and a 3.5 mm combo audio jack.
Performance & User Experience
The Lenovo Z51 features a 2.2 GHz Intel Core i5-5200U CPU, with 8 GB of RAM, AMD Radeon R9 M375 Graphics, and 1 TB HDD. Despite its powerful Intel i5 CPU, RAM and storage the Lenovo Z51 offers an moderate performance for its price tag. We would certainly recommend considering the cheaper options if performance is the only factor you care for. Many of the laptop's deficiencies are far more negligible at this price range.
Basic computing tasks can be performed without a hassle, making presentations, creating documents or any of the light weight office or personal work can be seamlessly done. We used to run plentiful web tabs, with HD video streams and download in the background without any visible slump in performance. While not as powerful as dedicated graphics, the Intel HD 5500 integrated GPU inside the Z51 is capable of handling HD videos, graphic designing or video editing but playing demanding game titles with higher detail settings sometimes heated the device and lag was noticed in some cases.
The review unit we received had Windows 8.1 pre-installed and on top of it, Lenovo's apps and software exist on this device. The software on Z51 didn't create a hassle while using it for any of the purposes. You may spot some irrelevant and useless ping from above the screen and the taskbar; it can be turned off in the app settings. The device is ready for Windows 10 upgrade and looks capable to hold it with the same ease.
Display and Sound
The Lenovo Z51 sports a 15.6 inch full HD anti-glare matte display. This is a non-touch support screen, which is expected with a device having Windows 8.1 of this price range. The matte panel makes no sense for a multimedia focused device, though it helps increasing visibility in bright light, but it restricts the vibrancy of the colours appearing on the screen. The matte display is often used in business oriented devices where the primary use is not multimedia. The colour production, accuracy, and sharpness are passable.
One more nag is with the shallow viewing angles on the display. The viewing angle of the screen change radically as you shifts towards other angle. The moment you pass 45 degrees angle, you will start noticing increasing brightness, colours washing out and dark spots.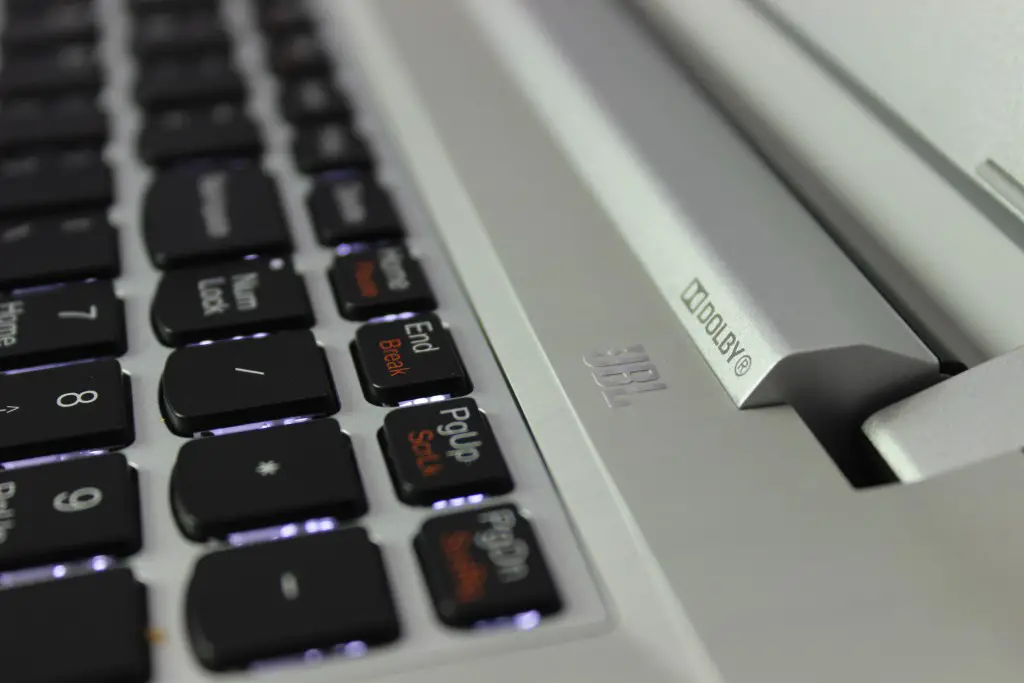 Z51 comes with the JBL speakers, which thoroughly impressed us at the first go. The speakers produce lively audio output with a decent enough sound level to fill up a small hall kind of space. Zero distortion was noticed with a crisp audio quality while watching HD video on this machine.
Battery Stats
To test the battery on this notebook, we observed the usage and time in different cases after it was fully charged. The battery backup can be the major discredit for this device. The results we recorded were unconvincing from this kind of device.
Watching a HD video with full brightness and sound – 3 hours 20 mins
Casual Web browsing and MS-Office – 3 hours 40 minutes
Playing games like Halo 2 loaded with heavy graphics – Around 3 hours on continuous usage.
Photo Gallery
Conclusion
The Lenovo Z51 sets a good example for a laptop that offers a blend of entertainment with fast computing speed and an impressive pair of speaker. The device offers convincing performance and great looks but does not stand tall when it comes to battery life, which will often leave you looking for a power outlet.
You will always have an option to spend a little more and get a laptop which looks as good as Z51 but performs better. If you are ready to compromise with the full HD display and a little in the specs, you will always have some options which can perform the equally well in lesser price range.