Ever been in a situation where you just find it easier to explain something to someone and, their physical absence means showing them how to do it isn't an option; or you simply want to show off the awesome combo you stacked up in the game you were just playing. Either way, these three Android apps let you record your screen with audio. We have also written earlier about how to record clear audio from android phones.
To be clear, the audio that is recorded by these apps is being recorded through your phone's microphone, not tache system's audio output. If that is what you sought out to do, you will have to route the output to a loudspeaker and have the microphone record the output. Lastly, no special permissions are needed, although you need to be running Android v5.0 Lollipop or higher for these apps to work. Let's get started…
Rec. is an app that comes as a mixed bag, compared to the aother two apps in this roundup. with design adopting Material Design guidelines and an allover red accent, the app has just one main screen where you can manipulate all options the app has to offer(few less relevant options such as auto-rotation support are present under the tri-dot icon). You can set the resolution size(custom inputs are supported), the bitrate for the video, a preset duration that you might want Rec to record your screen, a checkbox for toggling audio-recording and a textbox for the name the video file(saved as an mp4).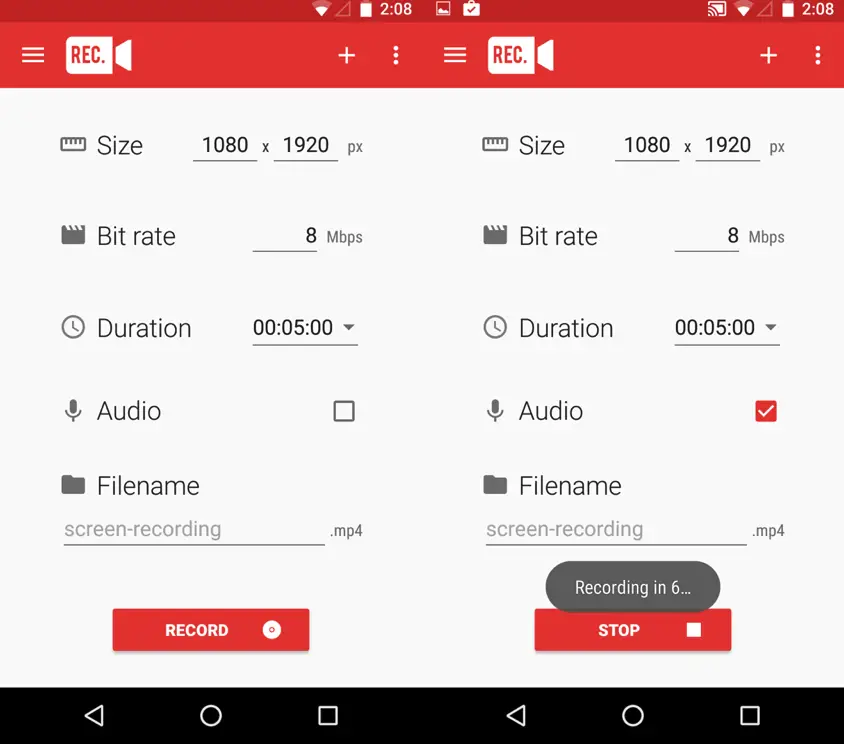 An in-app purchase of INR 196 gives you an ad-free experience and opens up a few more features such as a shake-to-stop(recording) feature. The expansion is neatly tucked away in a '+' button on top. The output from the app was solid with no dropped frames and clear audio. However, once you start recording, you are shown a delay of 10 seconds-a pain point set by the developer, removed only by completing the in-app purchase. Once you're done recording, you can tap the app icon in the notification bar to stop recording, whereon you're shown an ad and led back to the app.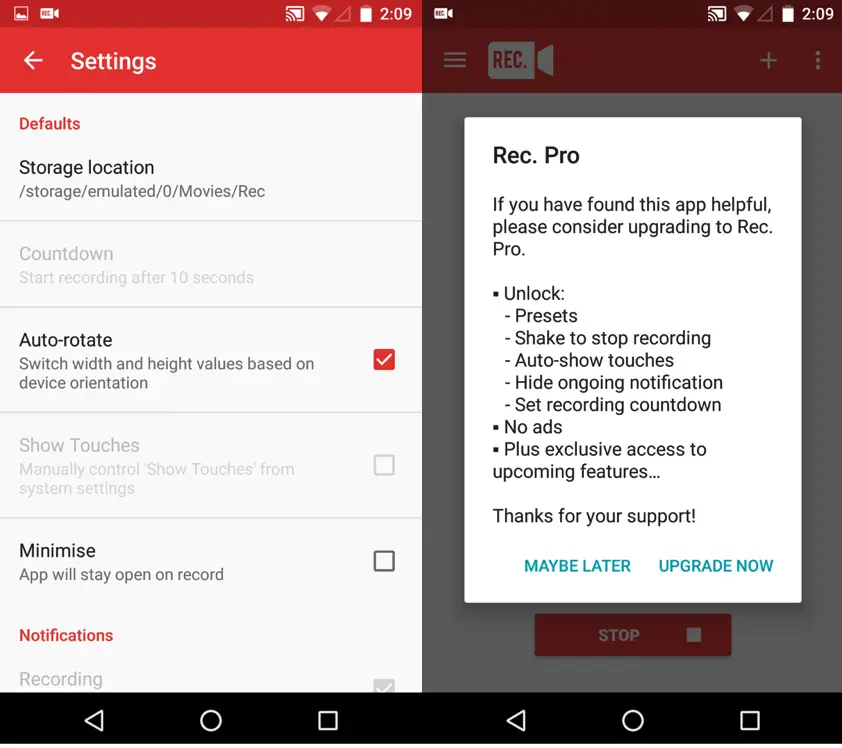 Pros:
Great UI
Preset duration of recording video
User-customisable resolution and bit-rate
Cons:
10 second delay before recording is distasteful
In-app purchase of INR 196 is too steep
App Size: 2.79 MB
AZ Screen Recorder has a bit of an unsettling, indecisive UI to it. When you start the app, you are prompted with a dialog-box style persistent(until you select an option, that is) pop up that gives you options to start recording instantly(conveniently colour-coded in red), jump into the settings menu,  view the output gallery or quit the popup. Ironically, it is also the app with the most amount of features in this list.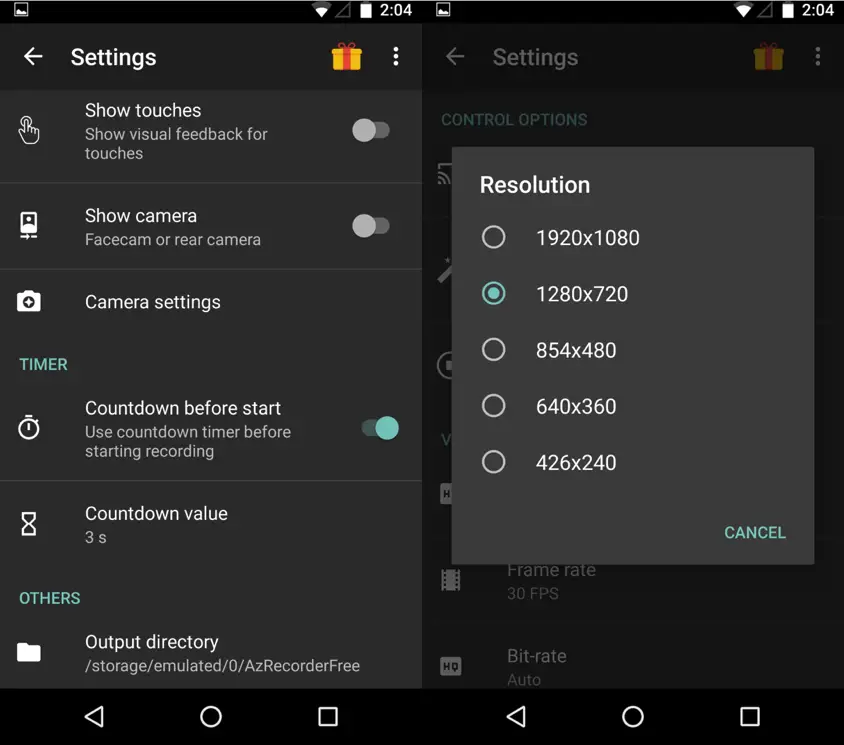 While the other three options are self-explanatory, the settings panel of the app is the only aspect we can explore further and the element that gives you control over the app's vast array of features. Basics such as orientation settings, a resolution picker(without custom value support), bit-rate and frame-rate selectors are present. Additionally, you can also make your video a time-lapse recording, overlay text and a logo, embed your camera's(front or back) output, set a custom countdown etc. too.
If that wasn't enough, AZ Screen Recorder also allows you to choose how you want to stop recording your video, chose your mode of encoding and a magic button that lets you start, stop or pause the video with a button that isn't visible on the screen; but this feature is bundled in an in-app purchase( INR 196) that also unlocks the aforementioned embedding of the camera output.
Pros:
Vast array of features
Supports embedding text, logos and the camera's output
Custom countdown before the video starts
Choice of output directory
Timelapse support
Post-editing options
Cons:
Resolution can only be chosen from a set of predefined values
Unsettling UI
App Size: 2.31 MB
This app provides a no-frills solution to your screen recording needs. It implements Material Design in its own minimalistic way in a single pane view with a banner ad at the bottom. A tri-dot menu reveals some redundant options such as 'Help' and 'Credits'. The only choices you're given are to toggle the use of the microphone, the orientation, and choosing being three preset resolution.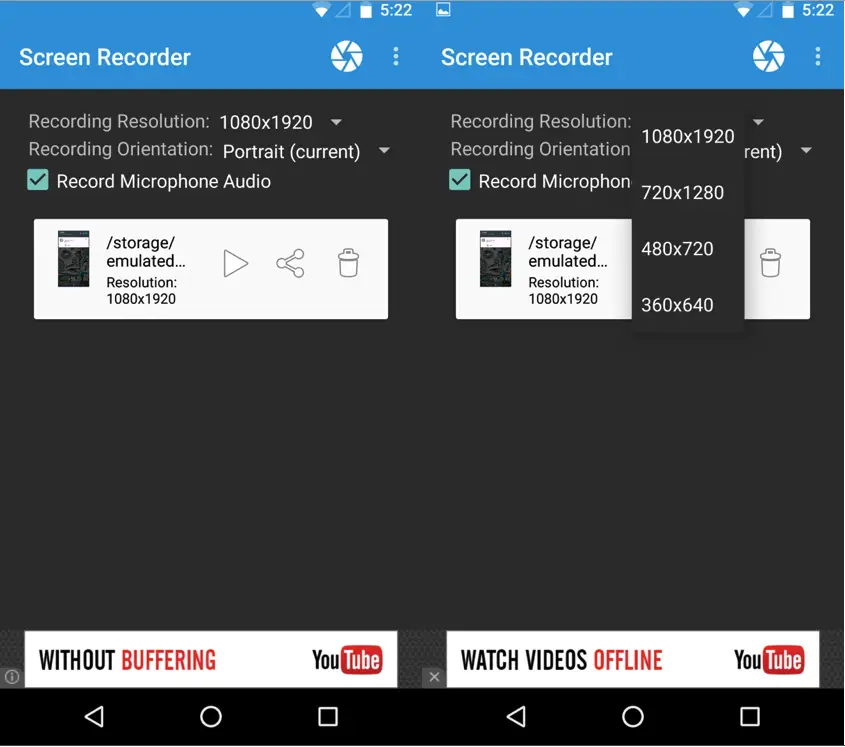 Once you pick your settings, you hit the circular record button at the top right to begin recording(recording starts instantly without any delay(this might be non-intuitive since your recording starts in the Screen Recorder app). When you're done, tap the widget in the notification tray and you're taken back to the app and shown your recent recordings in a card format.
Pros:
Bare-bones
Simple and easy to use
Adopts Material Design
Cons:
App Size: 3.73 MB
Conclusion:
For the user who takes their screen recording initiative seriously, we think AZ Screen Recorder is the best bet since it provides you with 'prop' features such as time lapse, setting up a logo, etc. For a more casual user, however, we suggest Lollipop Screen Recorder since there is almost no setup required while you record your screen.