As we all know Tata is India's one of the biggest names contributing in different sectors and when it comes to DTH it is out of the leaders in providing these services. Tata Sky is usually known for great service, innovations and amazing interface of its DTH. If we look at the recent additions to its future ready technology, it has brought a new product named the Tata Sky+ Transfer HD.
This box is like most of set top boxes with the digital video recording feature, where you can record your favorite TV programs on the in-built storage, but there is a lot more added on top to make your experience more smart and convenient. In this review we will tell you what's different in this set top box and how well does it work.
What's new?
Earlier version of the Tata Sky STB worked as a personal video recorder (PVR) apart from just streaming live TV, users were able to record the TV programs into the available storage in the box and were able to watch it later. This one is slightly different from the older one; you can transfer your recorded content directly to your Smartphone using the Tata Sky Mobile app. Users can record TV shows, movies from different channels and watch it later on their phones or tablets on the go. This new-age set top box wants to find an alternate for bigger screens, and wants the mobile device to be your portable TV.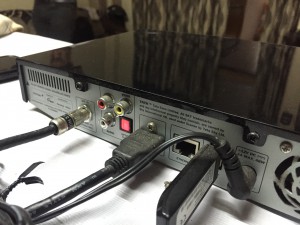 Setting up is facile
If you are thinking, it will be a mess to set this thing up then there is nothing to worry about. I personally liked the set up method; it is very effortless and quick. You simply need to plug the Wi-Fi dongle bundled with the box to connect to the common Wi-Fi network. Download the Tata Sky Mobile app on your smartphone or tablet and log in with your subscriber ID. Now connect the smartphone with the same Wi-Fi network. Now, got to the app and tap the Transfer option on the home screen, this will show you the existing Tata Sky+ STB recording and you can simply transfer them to your phones.
It does not require a working internet connection to record, transfer or view the videos.
Transfer Process and Speed
The transfer process was very effortless and smooth, it took me 2 minutes to understand the whole process and start copying the content to my smartphone. The speed is something that may take your patience to a different level if you with to transfer the content in HD. It is a time consuming method as the PVR compresses the size of the content to a smaller sized format to save space on your portable device.
It takes almost 5 minutes to transfer 10 minutes of standard quality video content and takes almost equal time matching the duration of the content while transferring it in HD format, which is 1 minute for every minute of content.  After re-encoding the video format, it takes around 100 MB for 15 minute of content which means we can easily store a lot of content on a device with bigger storage.
The Plus Points
These are some factors where the Tata Sky+ Transfer HD proves handy and future ready:
It comes ready to record content from up to 3 channels at one time. For now, only 2 channels can be recorded simultaneously but the company confirms that it will enable the third slot with future upgrades.
It offers 1080p resolution (p means progressive), where the predecessor Tata Sky+ HD STB offers 1080i (I means interlaced). 1080p is better as it displays sharper images – each row is refreshed 60 times per second which is double the rate of 1080i which refreshes only 30 times per second. With this upgrade we noticed an immediate improvement in terms of clarity and colour.
The wireless remote comes with a touchpad, which definitely means it has been planned to be used with upcoming apps and services.
App Features and Feedback
The Tata Sky Mobile app has a few functions to control your programs and recording, basically this STB has moved from remote to smartphones. The mobile has taken the centerstage and we can get a glimpse of how the future of satelite television is going to change. Here are some useful features of Tata Sky+ Transfer:
Watch the content without transferring it to your smartphone, you can directly stream the content over Wi-Fi network. All you need to make sure is that your smartphone and the STB are connected to the same Wi-Fi network. So while you are at home and away from your TV set, you can enjoy your favorite recorded content on the smartphone without consuming your data.
You can watch live TV on the go, if you have forgot scheduling the recording for your favorite program and cannot reach a nearby TV set; it's still possible not to miss that show. Just activate the Everywhere TV feature on your Tata Sky app and watch TV using your data connection from anywhere around the globe.
You can schedule the recording for your favorite program using the Remote record feature on the Tata Sky Mobile app. Browse through the program you want to record and schedule its recording using the mobile app. You need to be connected to the same Wi-Fi network as the STB.
Conclusion
No doubt Tata Sky+ Transfer has great features and convenience for the TV addicts, it is a totally fresh experience for the users and does not require much of know how to use it. You will love the app experience, functionality and picture quality but you may not be satisfied with the transfer speed and 500 GB storage capacity which e expected to be at least 1 TB at the cost of INR 9,300. There are many other STB available with PVR which have 500 GB capacity at half of the cost of this box.
We appreciate the initiative and effort to take the TV experience to such portability and enhance the user convenience but we wish the price would have been a little more convincing.