Smartphones today have become more powerful than ever, some even nearing desktop-level performance. It still seems jarring sometimes to take a step back and observe how much smartphones have evolved. This performance not only results in better fluidity in transitions and an increase in sheer speed, but also in the amount of tasks a smartphone can carry out at once. Hence, we decided to help you out by telling you the top 3 ways to access your opened apps.
Task switcher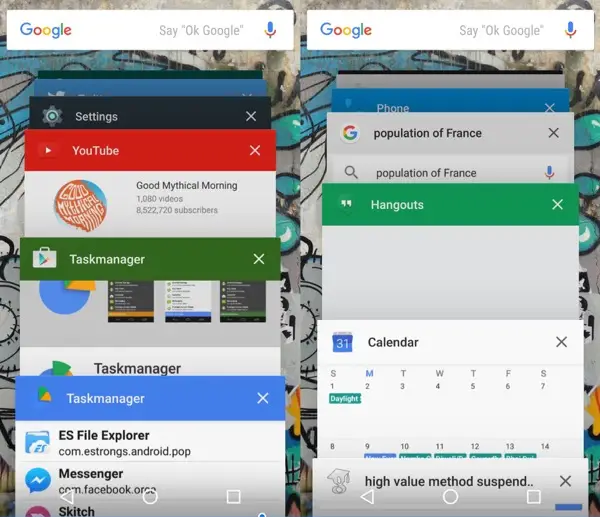 The most obvious answer here is to simply see your task switcher. Launched in a variety of ways, this mode in Android simply allows you to view and open any recent apps you may have open, arranged in a stack(beginning with the most recently used app). Simply tapping allows you to open an app. This menu can be reached by either tapping the little square icon(stacks of rectangles on pre-Lollipop phones) or double clicking the home-button on some older phones that also include a hardware button. Swiping away on an app closes it.
Settings
If its a more comprehensive view you're looking for, you can do so by heading over to the Settings app and going to Applications > Application manager. Here, you'll be able to see everything from the apps to the number of services each app runs in the background. Further, you can disable an app from running in the background as well.
For users who are running a build of Marshmallow, you can do the same by going into your Developer Options and tapping 'Running Services'.
Installing an App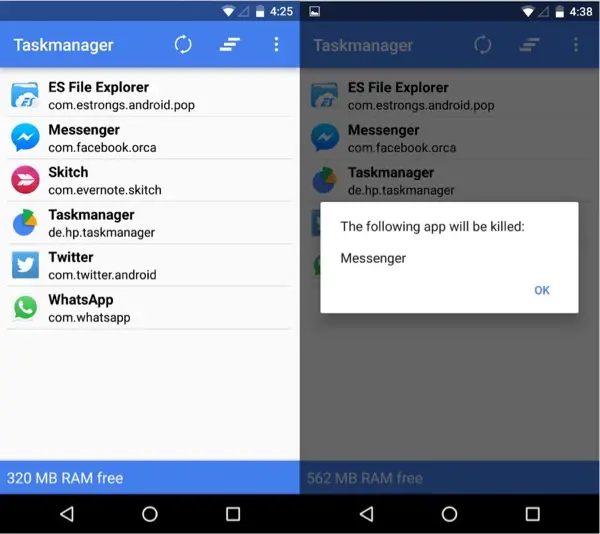 Although support for an app to access recent apps has been discontinued since Lollipop, you can still download an app that enables you to see your background services and apps(not recent apps, just the ones active in the background). Our Marshmallow device allowed us to download an app called Taskmanager that allows you to do just that. Tapping an app simply allows you to close that app. A close-all button is present on the top as well.
Pre-Lollipop users can download apps such as Switchr that allows you to switch between your apps with simple swipes coupled with great animations.
Conclusion:
With these three solutions, we think your productivity is sure to increase as you see an ease of switching between apps or killing unwanted background activities, impriving system performance. Let us know if you require any additional help in the comments bellow.