HTC had not been very in best of its shape after the One M9 failed to find fix its spot in the uncertain smartphone market, HTC took another chance with a new device but with a changed look, called the HTC One A9. It's a well-built device and is the third device to ship with Google's latest Android Marshmallow 6.0, but we could not locate many of the well known One series features in this one. The phone works perfectly fine, but fails to make a difference when comes to overall performance and offering.
We were keen to have a 'One' on 'One' with this device and asses the gaming and battery performance that it offers.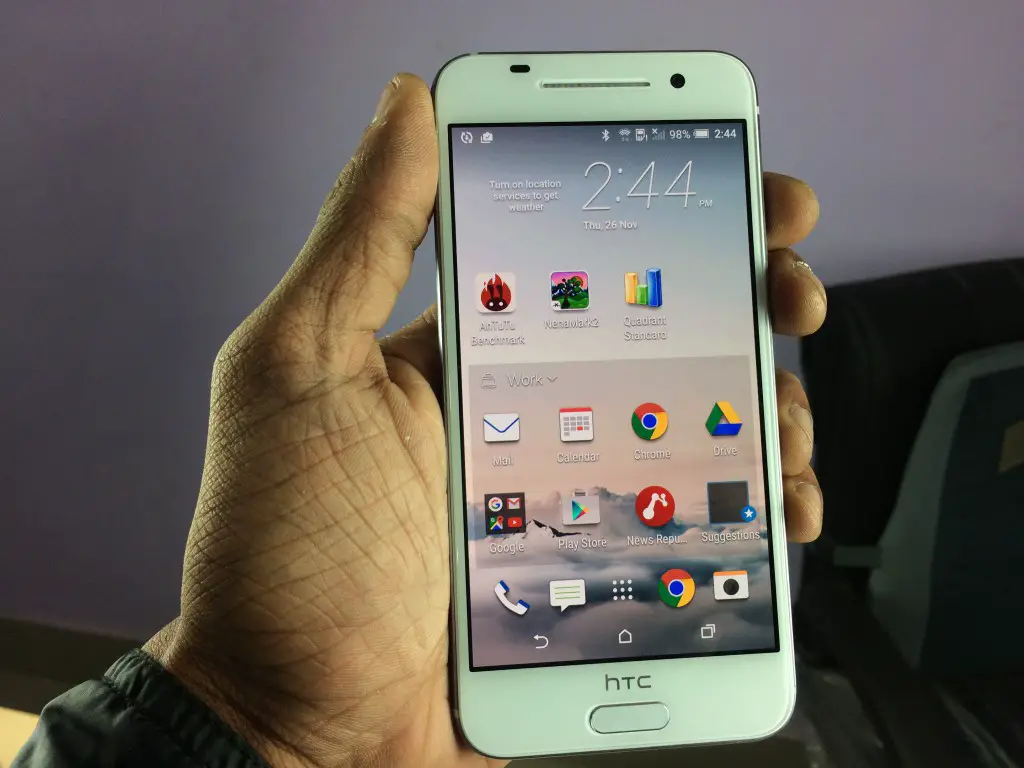 [table id=260 /]
Hardware Overview
The HTC One  A9  a Quad-core 1.5 GHz Cortex-A53 & quad-core 1.2 GHz Cortex-A53 CPU with 2 GB and 3 GB of RAM variants and Adreno 405 for better graphic perfomarnce. Storage choices for the phones take the form of 16 GB in 2 GB RAM variant and 32 GB in 3 GB RAM variant varieties.
The display is a 1920×1080, 5 inch AMOLED panel that amounts to 441 pixels per inch. The battery is a 2,150 mAh unit with fast charging support.
Gaming Performance
HTC One A9 comes with Adreno 408 GPU and good specifications on paper but when we tried to test the reality, it was not something that we expected from this device. We did not say the performance was bad but it was surely done stood up to the expectations. We played few small games and 2 graphic intense games on this device including the Asphalt 8 and Dead trigger 2. Initially the games didn't lag or freeze, but we noticed that the frames were lagging when we received texts in the background, running a heavy app in a different window and also when it got heated up.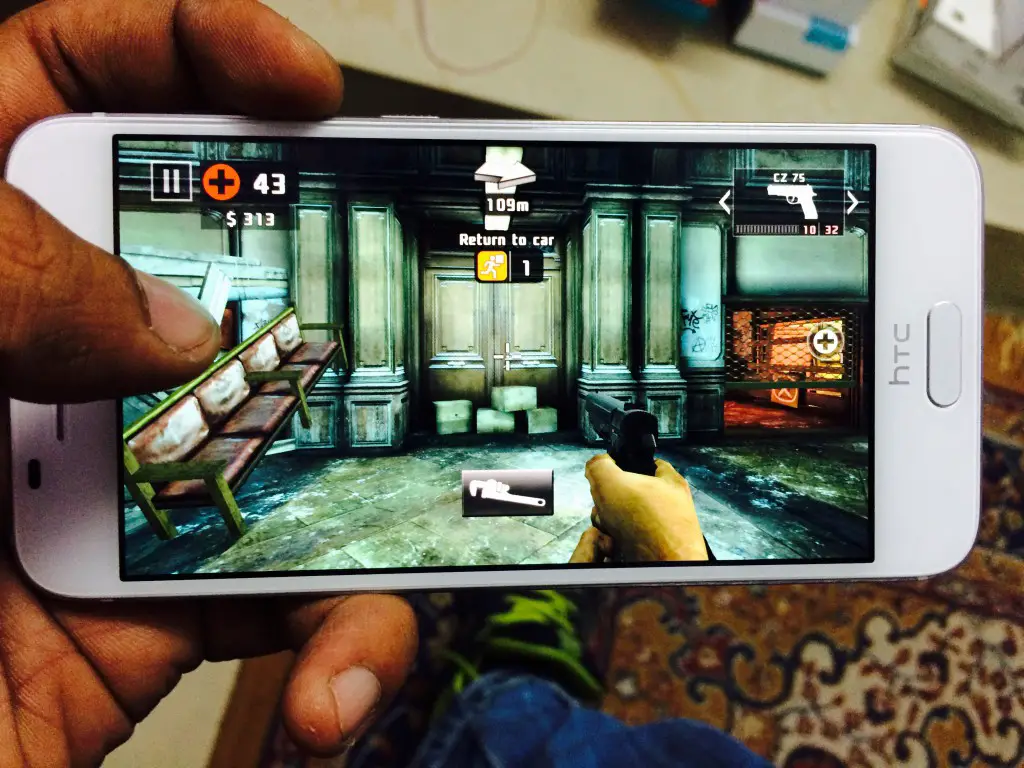 These hiccups and lags are not major, it will hardly make any difference in your gaming experience but still it doesn't give you the best of gaming for a very long period, and a device of this range is expected to give a breakthrough performance.
[table id=270 /]
Battery Performance
The battery packed in this smartphone sounds tiny if we look at the today's standards. Where most of the 5 inch smartphones come with a battery capacity around 3000 mAh, the HTC One A9 offers just 2150 mAh battery. We must tell you that it is not just about the battery size, we have seen smartphones with heavy battery failing to give the expected backup and some phones with average battery size doing well, and HTC One A9 is one of them.
While in standby mode, this device does well to hold its power for multiple hours. This is possible because of the Android Marshmallow's Doze feature, which claims to improve the background processes management and improve battery life. This means, the battery life of your phone totally depends upon the usage of the phone. If you use your phone on the way to and from work, and keep it in your pocket most of the times , then you'll have no trouble to stretch the juice from morning to night.
If you are a heavy user, and make most out of your smartphone everyday then you'll struggle to get a full day of backup. Boot up a graphic greedy game and you can notice the power getting drained extremely quickly.
[table id=271 /]
Terms Explained
For Gaming:-
Great- Game launches without delay, No lags, No frame drop, Minimal heating.
Good- Game launches without delay, Small or negligible frame drops, Moderate heating.
Average- Takes time to launch initially, Visible frame drops during intense graphics, Heating increases with time.
Poor- Takes long to launch the game, Huge lags, Unbearable heating, Crashing or freezing.
For Battery:-
Great- 1% battery drop in 10 minutes of high-end gaming.
Good- 2-3% battery drop in 10 minutes of high-end gaming.
Average- 4% battery drop in 10 minutes of high end gaming
Poor- More than 5% of battery drop in 10 minutes.
Conclusion
If you ask me about the gaming experience on this device, there are many other handsets which offer such gaming experience at the lower price and specs. Being a comeback flagship device, HTC should have tried to put the best inside it and put something unique for the users. It can easily handle almost all the tasks with a breeze but, it sometimes faces tiny issues at some points.
The battery is fair, it may sound too tiny for a smartphone of this range but it manages to keep the phone alive after a whole day of moderate usage. But an intense gaming session for an hour may eat up a lot of power.