Air Pollution is on the rise these days, and people are getting concerned about the effects of Air Pollution on their health. Companies are going on a selling spree by making air purifiers, even for your car. Philips has launched a car air purifier to clean out the air inside your car. But do you really need to use an air purifier in your city? Here is a collection of 5 apps that you can use on your Android smartphone to check the Air Quality in your city, and then make a decision if you need to get an air purifier or not.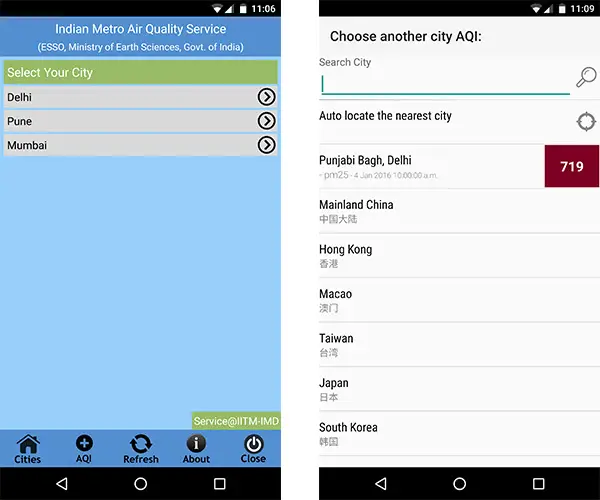 SAFAR-Air is an application built in coordination with the Ministry of Earth Sciences, Government of India. It allows people to search for air pollution indexes in your city, even forecasting the next 3 days about the air quality and related health issues. The app is still in its infancy but is growing pretty fast. The app provides the indexes for only 3 cities at the time of writing this article, Delhi, Mumbai and Pune. When you choose a city, it asks you for the locality that you want to choose and then displays the air quality in that area.
Asia Air Quality is an application that is built not just for India, but for a lot of countries in Asia. It allows you to check the air quality in many cities in the continent, and you can compare it with your own city. It tracks your location and chooses your city/locality automatically, but you can manually search for your city. After you choose the locality/city in the app, it shows you the detailed graph for that area.
Air Quality Index India (
Google Play Link
)
Air Quality Index India is an Android application that allows you to track the air quality index in India only. The user interface on the app requires you to choose the state, city and then the monitoring station that is closest to your area. It then displays the graphs and information right below those options, as you can see in the images above. This app provides information for a lot of states and not just metro cities, like the SAFAR-Air app by the Government of India.
Plume Air Report is a world air quality index reporting app. In this app, you can check for the air pollution in a lot of countries (150+ at the time of writing this article) and then various cities in those countries. In India, it provides information for 7 cities at the moment, and when you choose the city you want to know the quality of, it shows you a graphical page with information regarding the air quality and temperature at different times of the day.
Global Air Quality Index is another app that allows you to track air pollution in various cities across the world and then compare the pollution with your city. They keep on adding more cities regularly, and currently, they offer information for a lot of cities in India. You can simply search for your city and then simply displays it at the screen. You can tap on it to know more details, but it allows you to view details about other cities on the same screen as well.
Conclusion
There are many apps out there that tell you the information about your city and its air quality index but choose the app that specifies the information closely to your locality. The SAFAR-Air app is the one that you should consider using if your area is monitored by them. Do let me know in the comments below which app you went ahead with and why!