The CES has now started and the tech giants are showing up with some great inventions at the showdown. The show has just started and Lenovo didn't stop from unveiling the latest version of 2 in 1 laptop Yoga 900s two days before it. It looks like the small upgrades will add up to an impressive improvement from the company. After The Vibe S1 Lite, Lenovo also launched seven other new laptops, as well as some desktops and monitors for the Yoga series revealed at CES. Let's take a look at the lineup.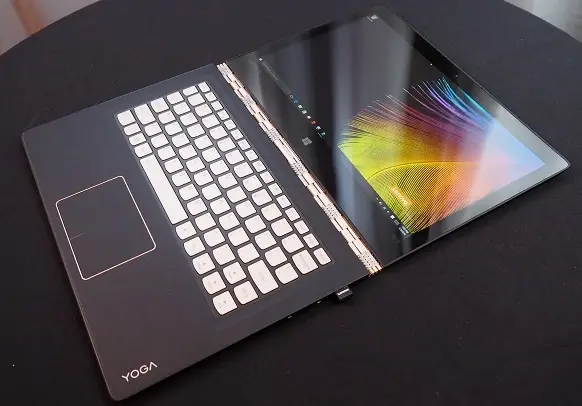 Yoga 900S
The Lenovo Yoga 900s has become slimmer and lighter (approx 999 grams) than the earlier version. The 900s also comes packed in a smaller body this time, with a 12.5-inch QHD display, which was 13-inch in the Yoga 900. Lenovo claims it to be the world's thinnest convertible laptop at just 12.8 mm of thickness. The reason behind the thinness is the carbon fiber construction and some of Intel's Core M processors. The Yoga 900s comes with pre-installed Windows 10 and as claimed by Lenovo, it offers around 10.5 hours video playback of on a single charge. The hinge is crafted from hundreds of individual pieces of aluminum and steel.
Another great feature in the design is the 360-degree watchband hinge with four modes making it easier to work in different conditions. For example, it can be your laptop in the office with up to Intel® Core™ m7 processor, or to use it as a tablet to browse through your social feeds or news. It also delivers an immersive entertainment experience with the help of Dolby Audio Premium and an optional QHD screen for great picture quality. Introduced new to the Yoga series, the Yoga 900s will now support an active pen input for users who like art and also note takers can unleash their doodles and to-do's.
The Lenovo Yoga 900S comes in two color options of gold and silver.  It will start at $1,099 (Approx INR 73,300) and will be available in March 2016.
IdeaPad Y900
Last year we saw Y700 making its entry in the market and this time, Lenovo has come up with the Y900. It is the powerful gaming series by Lenovo, concentrated highly on gaming. Y900 is the only laptop in the market to offer a mechanical keyboard after the MSI GT80 Titan. The 17.3-inch laptop is powered by a 6th gen. Intel Core i7K processor, and for intense gaming performance it will feature 8GB of NVIDIA GTX 980M graphics, 64GB DDR4 RAM, up to 512GB SSD PCIe RAID0, up to 1TB HDD SATA 3. Lenovo even claims 5 hours of battery life on a single charge.
The laptop will be priced at $1,999 (Approx INR 1,33,500) and will be available from June 2016.
IdeaCentre Y900 RE (Razer Edition) and Lenovo's First Y27g Curved Gaming Monitor
Another gift from Lenovo to the gaming addicts, it is the IdeaCenter Y900 Razer Edition PC along and an amazing 27-inch full-HD Y27g curved gaming monitor. Lenovo has partnered with Razer to upgrade the gaming technology in its computing devices and this collaboration has come up with a sweet upgrade over older Y900 desktop. Y900 RE comes with quad-core sixth gen Intel Core i7 K-series processor and dual Nvidia GeForce GTX 970 killer graphics. It also flaunts Razer Chroma keyboard and mouse, and Razer Chroma multi-colour lighting effects. As for the screen, the Y27g Curved Gaming Monitor includes 144Hz fast refresh rates and 8ms of response time. It will also be available in special Razer Edition called the Y27g RE with distinct Chroma lighting effects.
The IdeaCentre Y900 RE desktop is priced at $2,299 (approx INR 1,53,500) and will be available from June 2016 onwards.
Lenovo Y27g Curved Gaming Monitor is priced at $549.99 (Approx INR 36,700) and Y27g RE for $599.99 (Approx INR 40,000) available starting in June 2016.
IdeaCentre 610S
Lenovo Ideacentre 610S is Lenovo's portable PC with an in-built projector. The projector can display videos and other content and becomes the world's first compact home PC with an optional removable wireless projector. Now users can turn any wall into an instant 100-inch home theater, project and play favorite videos or holiday slideshows all from a 2.2-liter desktop. The Windows 10-powered PC can be assembled with up to 6th Gen Intel Core i7 processor and  Nvidia GeForce GTX 750Ti GPU, and also up to 16GB DDR4 memory along with 2TB of storage.
The IdeaCentre 610S desktop starts at $849 (Approx INR 56,700) with the optional detachable projector, available starting in June, 2016.
IdeaPad 700
The company's new Ideapad 700 laptop arrives in two screen sizes, 15-inch and 17-inch. The IdeaPad 700 runs Windows 10 OS and can be configured with up to 6th Gen Intel Core i7 Standard Voltage processors, also with Nvidia GeForce GTX 950M GPU. The device offers 1 TB inbuilt storage and comes with optional JBL stereo speakers for better sound quality.
The IdeaPad 700 15-inch and 17-inch laptops both start at $799 (Approx INR 53,300), available starting in June 2016.
IdeaPad 710S
The Lenovo Ideapad 710S laptop features 13.1-inch FHD (1920 x 1080 p) display and is powered by a 6th Gen Intel Core i7 processor, paired with 8GB of LPDDR3 RAM and will be available with an optional Intel Iris graphics. As claimed by Lenovo, this device can "crank up the speed with up to 256GB high-speed PCIe SSD" which let its users enjoy faster internet and file transfer speed. It weighs 1.16kg, and it is just 13.9 mm thick, which obviously makes it very thing. On top of everything, it sports an HD resolution webcam too.
The IdeaPad 710S 13-inch laptop starts at $799 (Approx INR 53,300), available starting in July 2016.
These were the few devices that Lenovo showed up on the initial days of the CES 2016, keep visiting Gadgets To Use for more updates from the event.