Lenovo Vibe X3 joined Lenovo's Vibe family this year and from the look of it, it is an incredible smartphone taking into account the features and specifications of this smartphone. Lenovo is truly amazing smartphones back to back and Vibe X3 has been a continuation of that recently.
This smartphone is available at a price of INR 19,999 and has all the good things for making this one of the best seller smartphones of this year. We were fortunate enough to spend some time with this device and here is our take on unboxing of Lenovo Vibe X3 and performance as well as gaming experience.
Lenovo Vibe X3 Full Coverage
Lenovo Vibe X3 Specifications
[table id=302 /]
Lenovo Vibe X3 Unboxing
Lenovo has been working on marketing their products more in a fashionable manner which is quite evident from the packing this smartphone comes in. The box comes in a unique packing with a mix of blue and white colors and you have to slide an outer cover to reach to the final box inside.
You have to turn the op cover sideways to finally get a look at the smartphone inside the box and on lifting the top chamber other accessories can be found under it.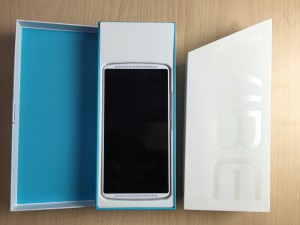 Lenovo Vibe X3 Box Contents
On opening the box we found the smartphone resting on top. Other accessories include a twin pin wall charger, a USB cable. a screen-guard, plastic back cover and earphones bundled with this handset.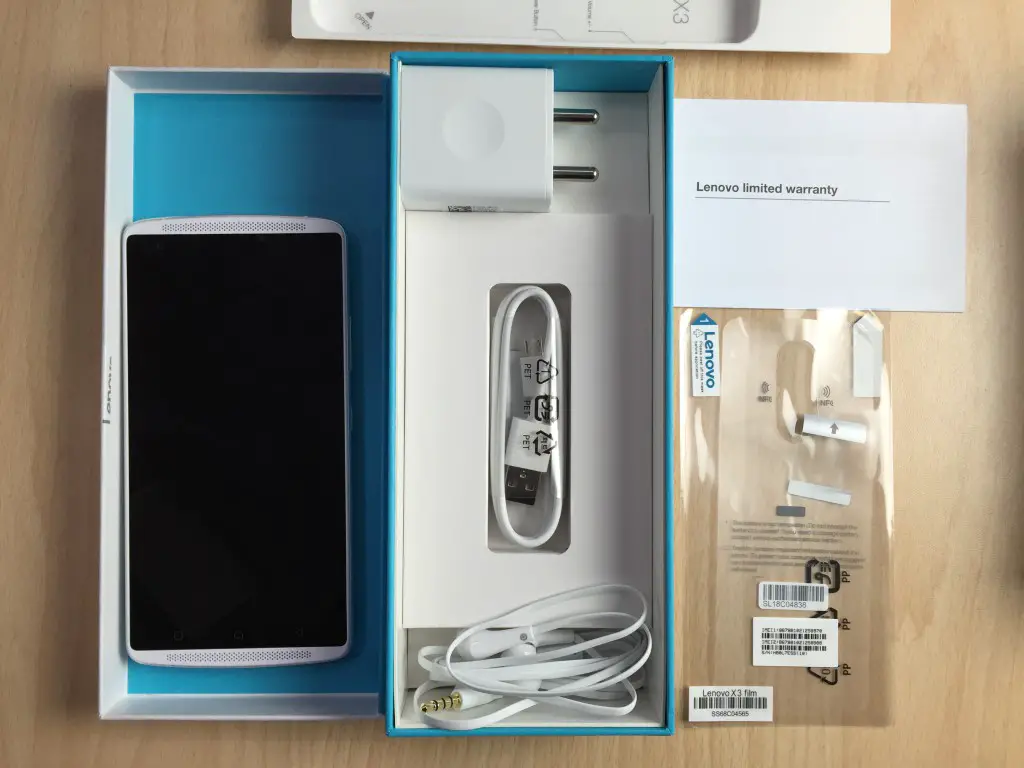 Lenovo Vibe X3 Unboxing and Quick Review [Video]
Lenovo Vibe X3 Physical Overview
Lenovo Vibe X3 is a gorgeous looking smartphone with a display measuring 5.5 inch Full HD display occupying most of the front of the smartphone with dual front firing speakers powered by Dolby Atmos which is the highlight feature of this smartphone. The thin bezels adds to the beauty of this smartphone and makes it quite a looker in current Lenovo Vibe family. This handset feels pretty solid while holding and has a premium finishing.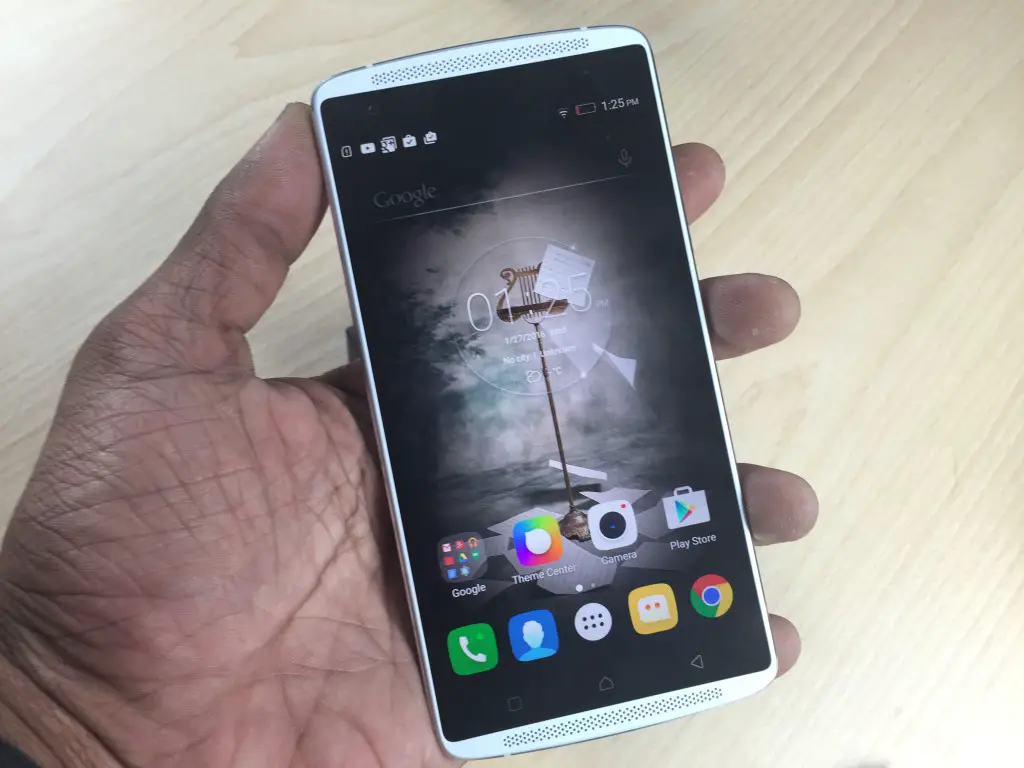 On the top there is the speaker grill which is very well placed and looks very good. On the bottom there is second front firing speaker and will greatly enhance the music quality of this smartphone. The capacitive touch buttons are easily visible and are not back-lit which means they will not light up when you tap on them.
On top left side there is a 3.5mm earphone jack and on the opposite side there is a charging and microUSB port.
The volume rocker and the power button is placed on the right edge of the phone and looks quite premium.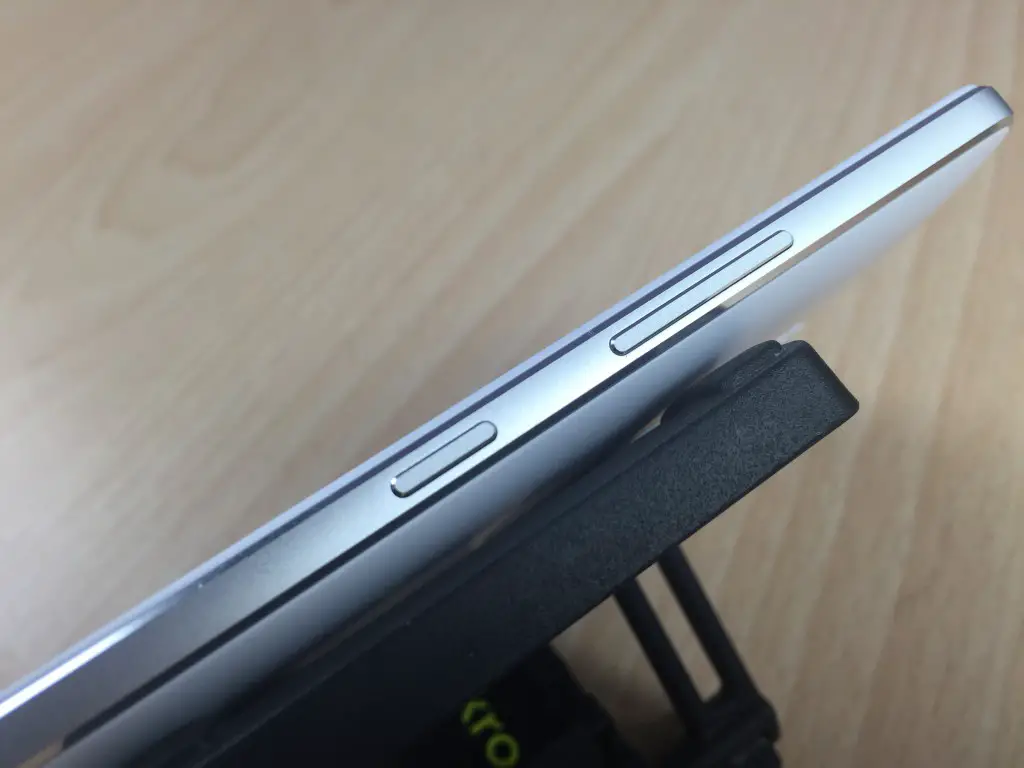 On the back side you will find the Dolby Atmos branding on the lower end of the back panel and on the top there is 13MP camera unit with LED flash and a nicely placed fingerprint sensor just below it.
Lenovo Vibe X3 Photo Gallery
Lenovo Vibe X3 Gaming Performance
Lenovo Vibe X3 is powered by Qualcomm Snapdragon 808 chipset coupled with 3GB of RAM which is sufficient for all the gaming needs. We played Modern Combat 5 and Dead Trigger 2 on this device and noticed minute lags and frame drops when there was a lot of action on the screen during the game-play. Dead Trigger 2 was running fine but Modern Combat 5 started to flicker in between the game after a point of time, but it did not lag heavily at any point of time.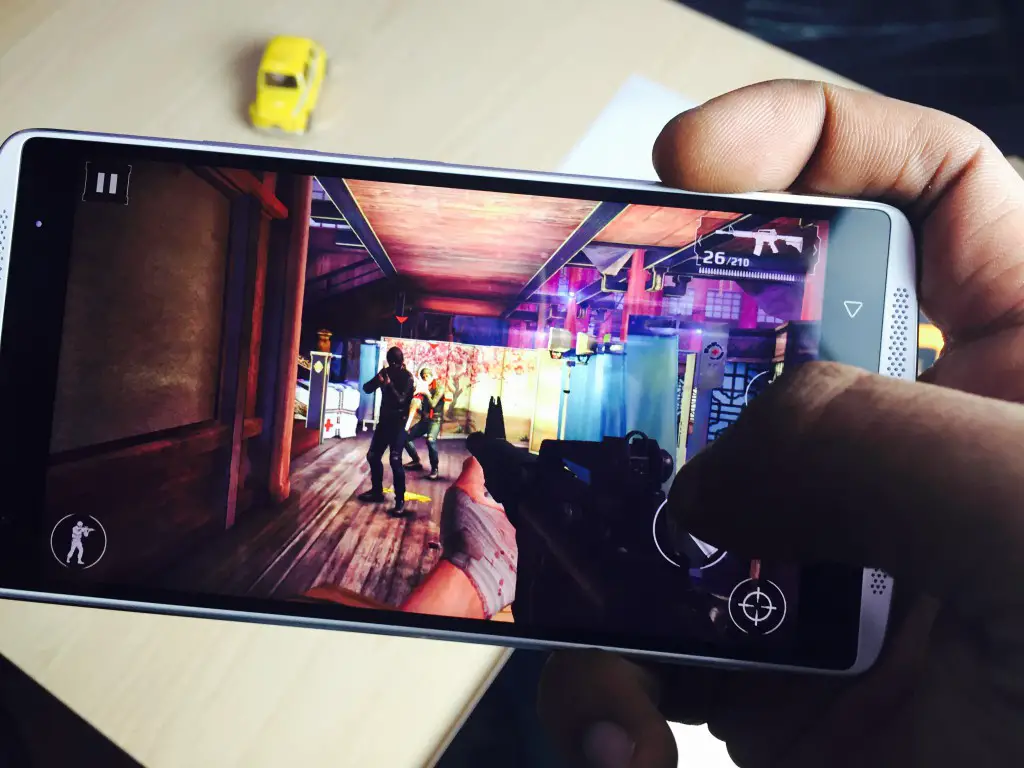 Note: The gaming tests were performed under an atmospheric temperature of 14 degrees Celsius.
[table id=336 /]
Lenovo Vibe X3 Performance And Benchmarks
Vibe X3 performed very smoothly and we did not find any issue in the performance initially. Snapdragon 808 does its job in managing the 3 GB RAM and running miltiple apps at once, pretty impressively. We used it for almost 2-3 days as a primary phone and till now, we did not see any shortcomings in the performance depatment.
The benchmark scores of Lenovo Vibe X3 are: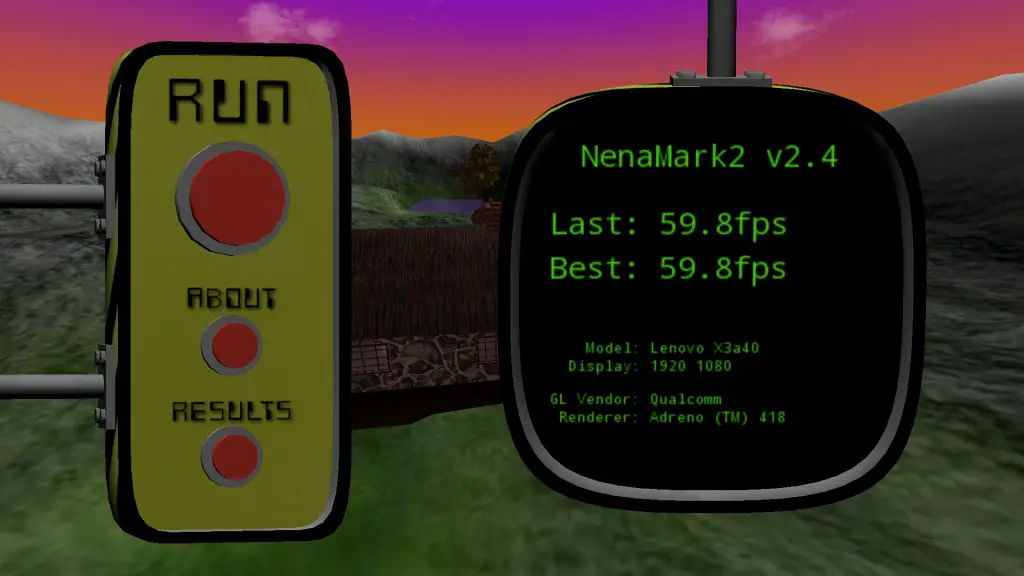 [table id=335 /]
Verdict
Combined with good looks and powerful performance Lenovo Vibe X3 is a value for money smartphone. Gaming on this device was a buttery experience, I would not say its the best at this price but certainly the one which has it all. With commendable hardware and software packed in a very nice looking thin frame it is a worthy competitor to other similarly priced smartphones in India.