Has it ever happened to you that you went to a medical store only to find out that the medicine that you want is out of stock today? Now, what if you really need that medicine at that point, but at the same time you don't trust what the chemist might give you? Well, in such situations it is good to have the power in your hands, i.e. on your smartphone. Today, we have a list of 5 Apps that you can use to gather Medicine Info, its usage, substitutes and pricing on either your Android smartphone or your iOS device.
Also, Read | 2 Ways to Search for Medicines in Doctor Prescription
CareOnGo – Your Medicine Store (Android)
The first app in this list is called CareOnGo, and as the name suggests, this app allows you to care for yourself on the go by getting information about medicines, along with their prices. The app also provides FAQs and Substitutes for all the medicines that they offer. They also allow you to upload your prescription by taking a picture and then sending it to their server.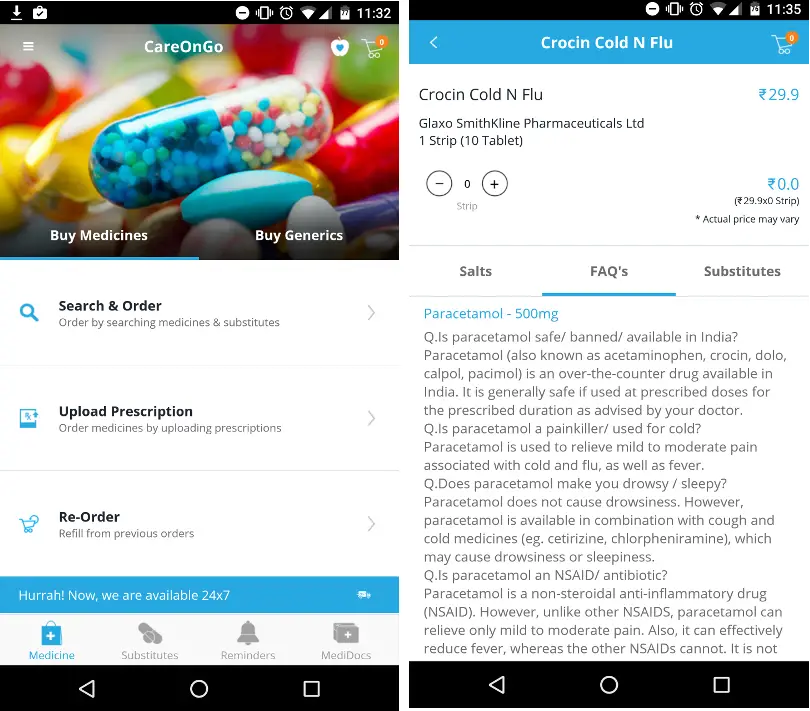 Pros
Ability to search for medicine information and prices

Lists out FAQs and substitutes about the medicine.

Ability to upload the prescription to get all the medicines

Allows online order of medicines.
Cons
Availability of Medicines limited to certain cities only

No Interaction with doctors or Pharmacist.
Lybrate – Consult a Doctor (Android, iOS)
Lybrate is an app that allows you to consult a doctor online, for free, with abilities to visit their clinic in your city as well if you want a more personalised consultation. Along with the ability to ask a free question to the doctors, it also has a medical feed tab that shows you the latest posts from a doctor. Doctors constantly share a lot of articles and facts about your health on this social media platform.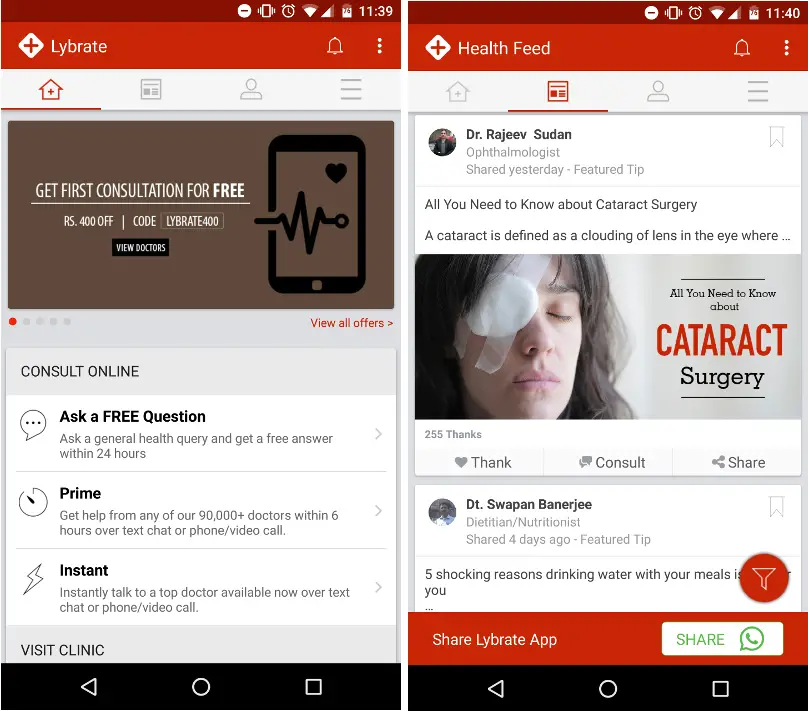 Pros
Ability to ask questions and get responses from doctors

Get latest updates from the field of medical science

Ability to book appointments with doctors
Cons
No direct information available regarding the medicines

Can not order medicines from within the app

Can not upload Prescription
Also, Read| 5 Ways to Make Android Screen More Readable For Eyes
Netmeds – India Ki Pharmacy (Android, iOS)
Netmeds is an app that allows you to browse for medicines and order them online using your smartphone. Along with browsing the medicines, you are able to view substitutes and the ability to ask a pharmacist about the medicine.
Pros
Ability to browse and search medicines

Ability to look for substitutes

Ability to ask a Pharmacist about any doubt

Ability to upload prescription

Ability to order medicines online
Cons
Limited to certain cities in India

Does not list out FAQs about the medicines
iMed-S is another application that allows you to just browse for medicines and their alternatives easily. It does not allow you to order the medicines online or talk to any expert. This application is helpful when you just need to find alternatives to a certain medicine.
Pros
Ability to search for Medicines and their Alternatives

Not limited to any certain city or area
Cons
Does not allow to order medicines online

Does not give enough information about medicines

Does not have the ability to talk to a doctor or pharmacist
1mg – Health App for India (Android, iOS)
1mg – Health App for India is an interesting device that is built by HealthKart to allow users to perform a lot of app tasks from within the app. The app allows you to search and buy medicines, along with finding doctors nearby or booking a lab test. Apart from all this, it also allows you to reorder medicines that you've ordered before and set reminders for eating your medicines on time. It also has an articles section where you can find a lot of articles related to health and medicine.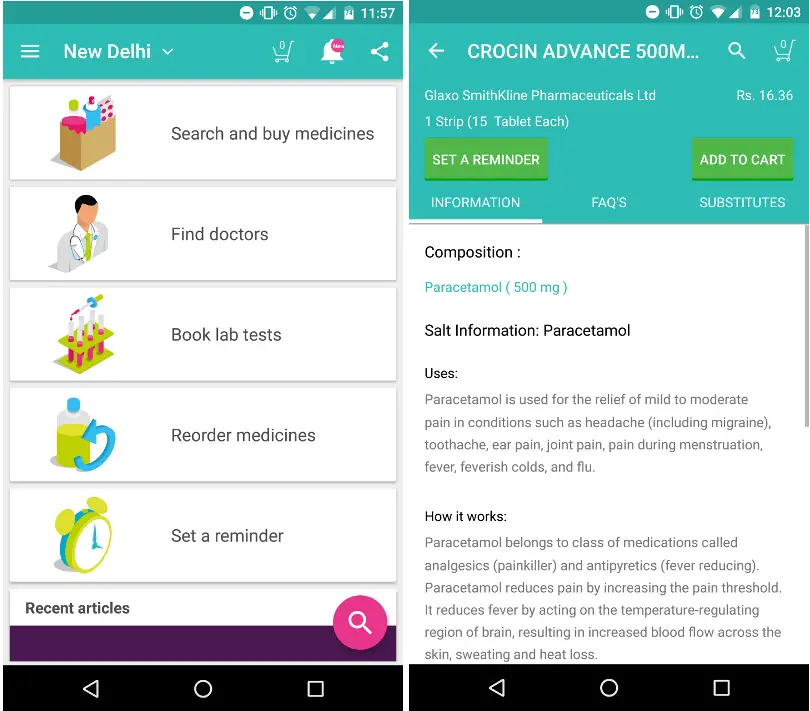 Pros
Ability to search and order medicines within the app

Ability to look for Substitutes for a medicine

Ability to know more about a medicine/FAQs

Ability to find doctors nearby
Cons
No interaction with doctors or pharmacist

No ability to upload prescription on the app
Conclusion
In this article, I've listed out the five Android apps that you can use to get information about medicines in India. Out of all these, I'd recommend using the CareOnGo app as that offers the most features and has a good User Interface overall. However, if you don't want that much information about a medicine and want to be able to talk to a Pharmacist, the best app to go with would be the Netmeds app.