Has it ever happened to you that you needed to see a doctor instantly and had no one around you to drive you to the doctor? Have you ever been to a new city and tried to look for a reliable doctor that can cure your illness? Well, now for solving all your such problems, there is an app called Doctor Insta. The app can help you in finding doctors and booking appointments with them for a video call, phone call or just a small chat with them.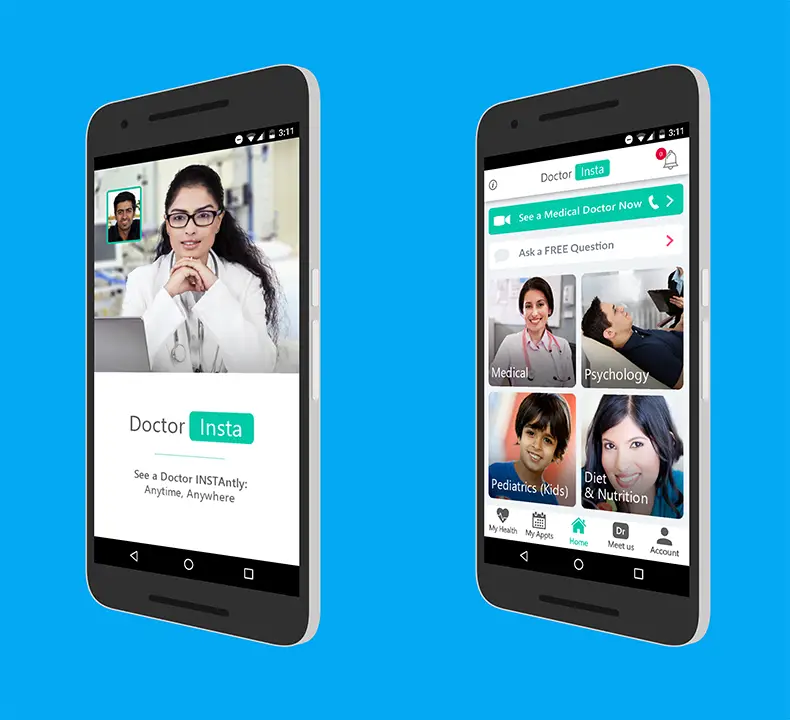 App Availability
The Doctor Insta App is available for you to download on your iOS or Android smartphone, basically covering the most common operating systems running on a mobile phone these days in India.
[stbpro id="info"]Also Read: 5 Apps For Medicine Info, Usage, Substitutes, Price[/stbpro]
App Usability and Interface
For testing out this application, I installed the application on my Nexus 6 and used it for a couple of days, testing out different features of the app. The interface of the app is pretty good and self-explanatory. The application in the Google Play Store is a bit heavy, though. The application is around 26MB to install on an Android Device.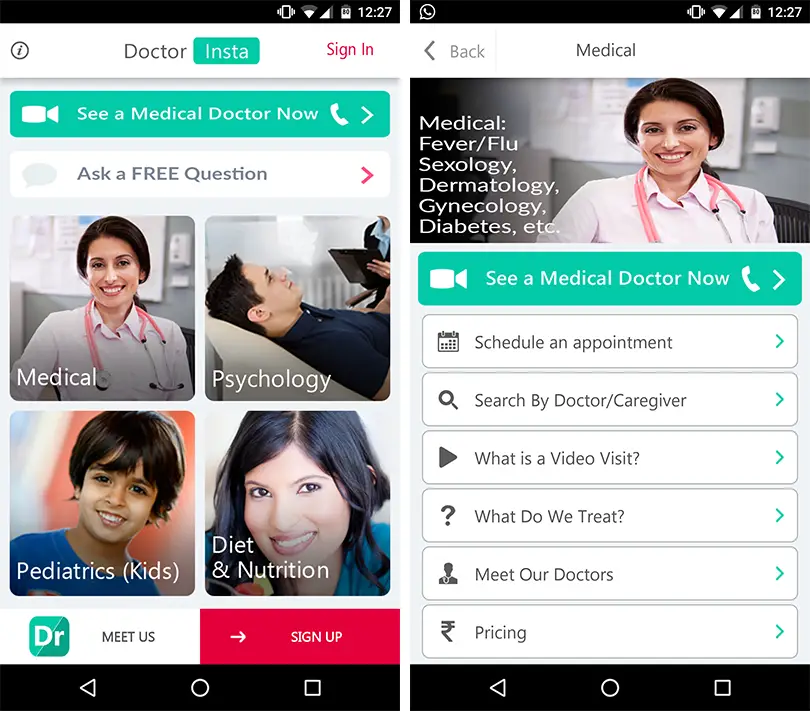 Upon launching the app, you are welcomed with a screen to choose which type of assistance you want, categorized into Medical, Psychology, Pediatrics, and Diet & Nutrition. Upon diving further in, you get options to search for specific doctors, book an appointment and know the pricing for the consultation. Similar sessions can be booked for yourself or someone else even using your smartphone itself.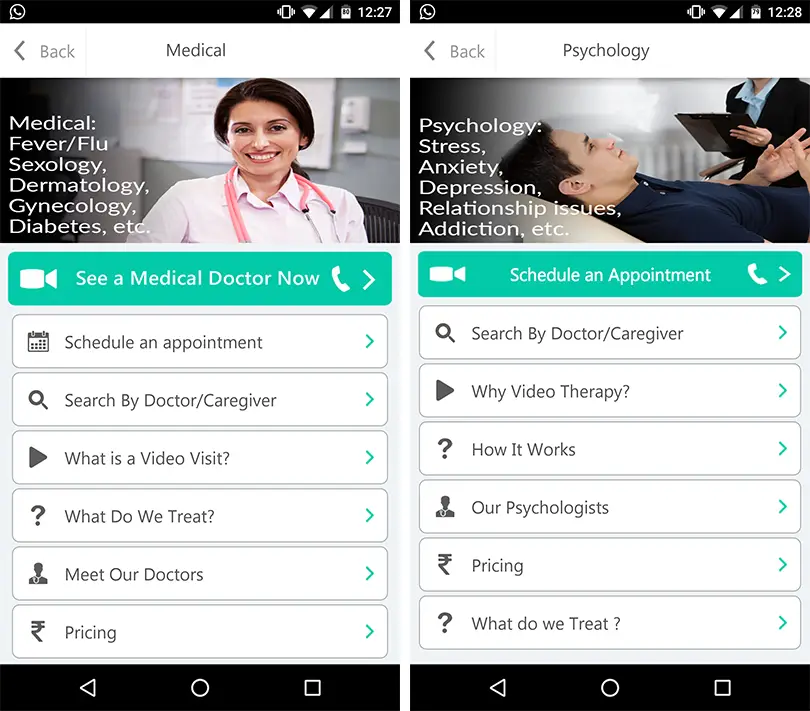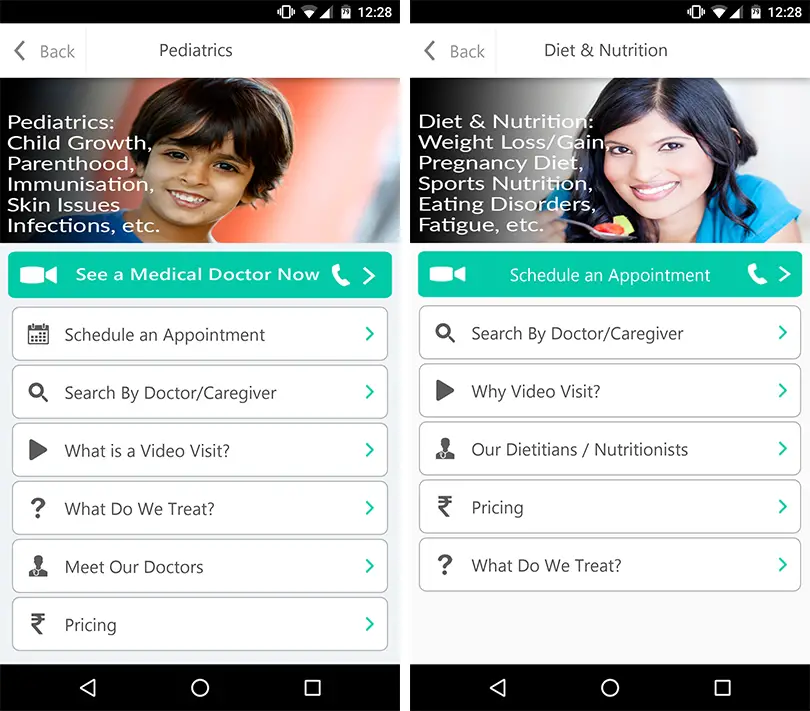 Doctor Appointment Booking Procedure
The procedure for registering on the app and booking an appointment is pretty simple. You start off by creating an account for yourself and you can do this by either creating an account manually or by choosing to login via Facebook or Google. I logged in using Google, and upon account creation with Google, it asked me to enter my mobile number.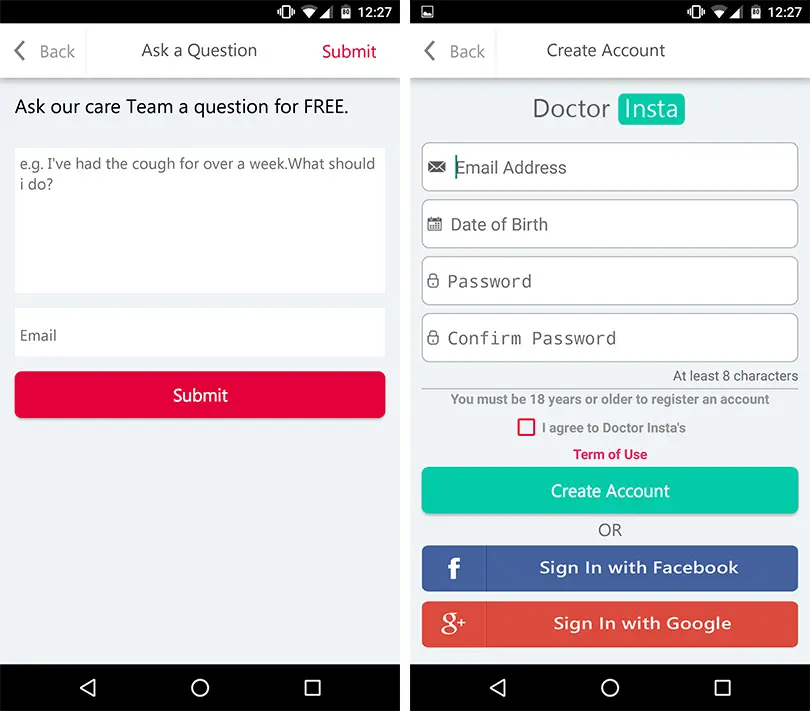 After logging in the app, the procedure to get access to a doctor was pretty easy as well. For free, you can ask a question to a doctor and they will reply to you really soon. For instance, I asked the doctor that "I have a cold from the last 3-4 days, and I have a runny nose. What could be the issue?" and upon receiving my message, the doctor replied saying that it could be because of the weather change in New Delhi right now. He also asked me to wear warm clothes, even though I might feel hot in them and asked me to schedule a video visit if the problem persists so they can prescribe me a medicine.
Video Visit Experience in Doctor Insta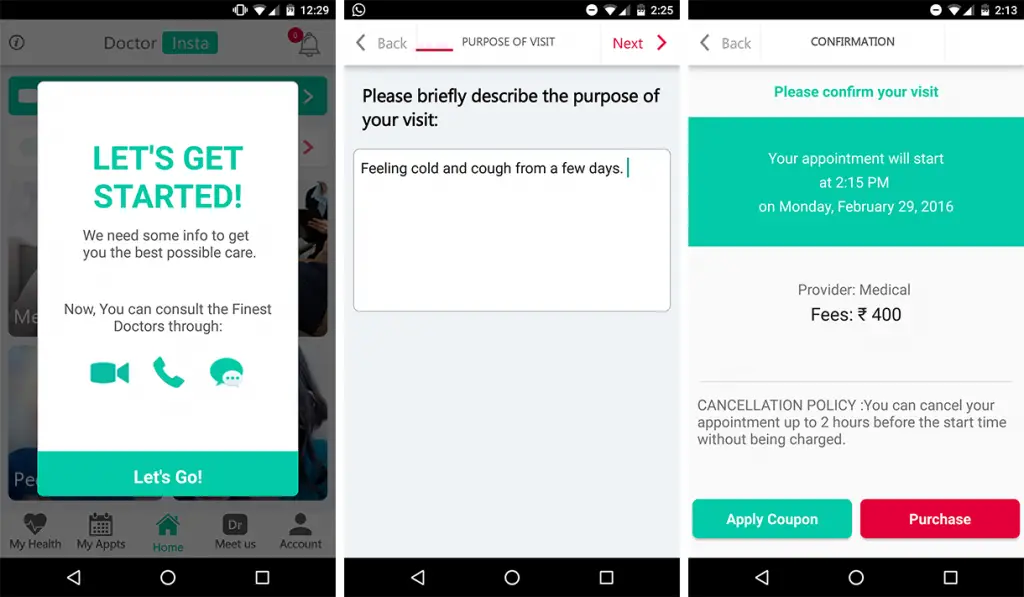 The Doctor Insta App calls the Video conferencing feature of their app the "Video Visit". For testing out this feature, I went ahead to the medical section of the homepage, and chose "See a medical doctor now!" and then, after filling out the form in the next few steps and describing what my illness is, and if there's any medication that I'm taking right now, allergies and selecting basic symptoms from the list of symptoms, I finally got to the page where I had to pay the fee and confirm my appointment.
After going through this stage, I got a call on the app itself from the doctor at the specified time, and I discussed the illness and I was then asked to take a medicine, that is easily available over the counter at any medical store.
The experience of talking to a doctor face to face was interesting. The doctor on the other side was polite and talked really professionally with me. Overall, it was a good experience using it.
Limited Time Promo Offer
For a limited time, Doctor Insta is offering a free consultation worth INR 400, basically which is the cost of one consultation. To avail this offer, while confirming your appointment, go ahead and enter the coupon code as "INSTAFREE" and you will be entitled to a free consultation.
Points of Improvement
Although the app already has a lot of features inbuilt including video call, phone call, and chat after you pay, there is something missing according to me. Though the app provides a feature to talk to a doctor for free by sending in a query and a reply is sent back later, a feature that allowed chatting with a doctor for free and then decide if a consultation is required or not would have been nice to see. I know that doctors are not free to chat with patients without being paid, but it would have been really good to see such a feature.
Conclusion
The Doctor Insta app is a really great companion for your health. Using the application, you can really accelerate the healing process for your illness because you can save the traveling time to the doctor's clinic or hospital. The idea of having doctor's access at your fingertips is great and in Doctor Insta, this has been implemented really well. I will personally keep using this app for my further consultations with doctors.