When the tablets were initially introduced, they were expected to dethrone the Laptops and notebooks but they never truly managed to do so. I don't think there is still any tablet except the iPad and Microsoft Surface Pro tablets that can be considered for some serious work.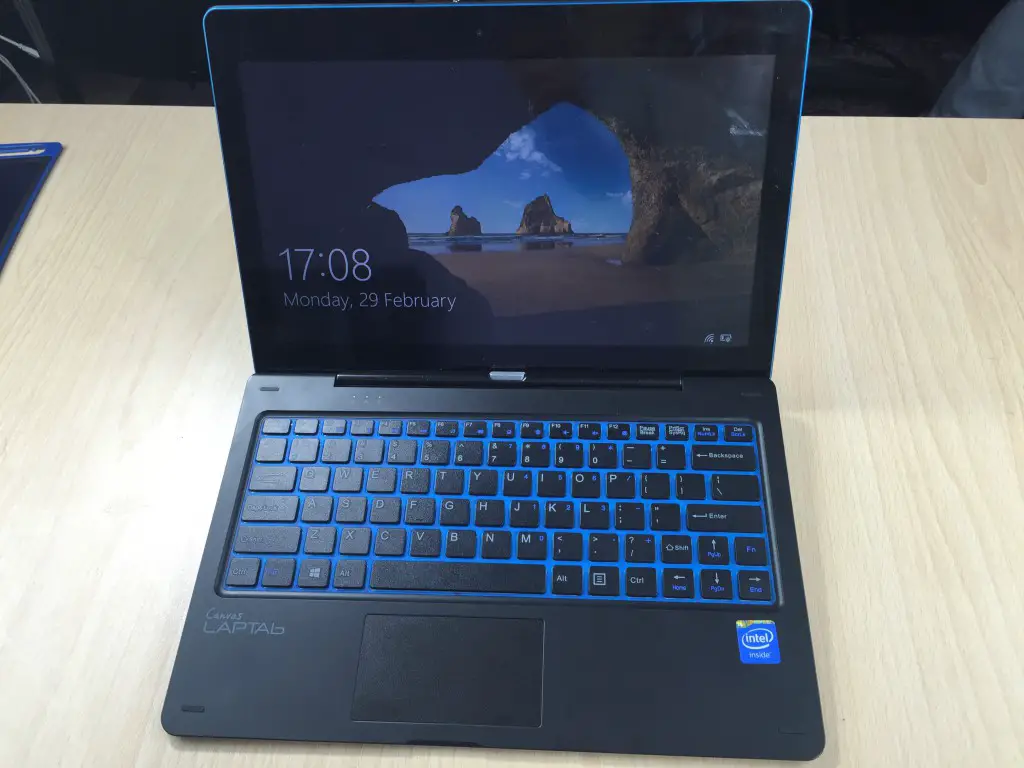 Micromax launched the LapTab LT777, it is the successor of LapTab LT666 and was released in October 2015 and it is a 2-in-1 device which doubles up as a tablet and also as a laptop. It runs on Windows 10 and it costs INR 17,999. LapTab is aimed at users who need a PC for basic tasks like web browsing and a tablet for entertainment on the go.
Micromax Canvas LapTab Pros
Lightweight and portable
Sufficient number of ports
Good 720p display
Windows 10
Good battery backup
Decent Performance
Affordable price
Micromax Canvas LapTab Cons
Hinge button quality is not good
Keyboard is compact
Below average camera performance
Also See: Micromax Canvas Lapbook Full Review
Micromax Canvas LapTab Specifications
[table id=397 /]
Micromax Canvas LapTab Unboxing & Quick Review [Video]
Design and Built
The outer casing of the Canvas LapTab LT777 looks very plain and solid; the body is made up of good quality plastic with rubberized skin on top. It offers a good grip to hold and also feels soft in touch. On the top, it has the Canvas LapTab branding in the center, dual speaker mesh on both the bottom corners, microSD card slot and SIM slot on the left edge, and the power, volume and Windows buttons on the top left corner. These buttons have a slight depression. The rear camera is protruded at the center top of the tablet/display.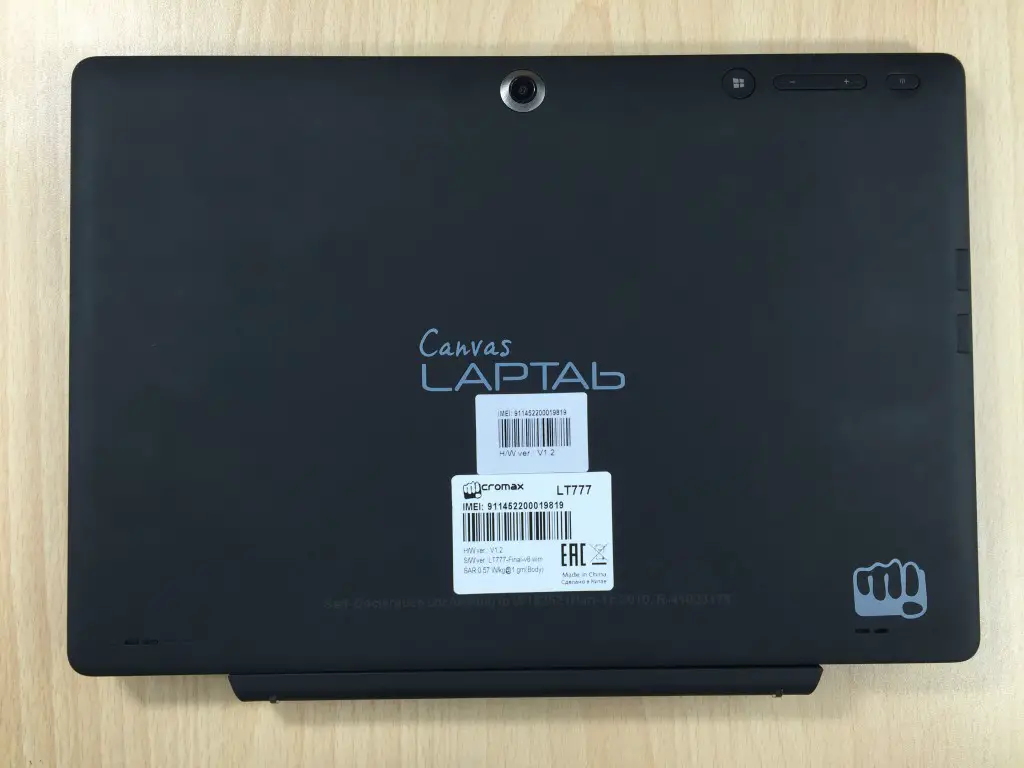 However the sides are curved inwards, which makes it thinner at the edges, especially at the top. On the left side of the display, you'll find the 3.5mm headset socket, micro-USb port, micro-SIM port, charging port, HDMI port, a dedicated mic, and a small notification light. A USB port is also placed at the left but it is in the keyboard. So if you have to connect a USB to the laptop, it is must to keep the tab and keyboard attached. There is a thin blue line running around the edge of the tablet, and it is visible even when the lid is closed.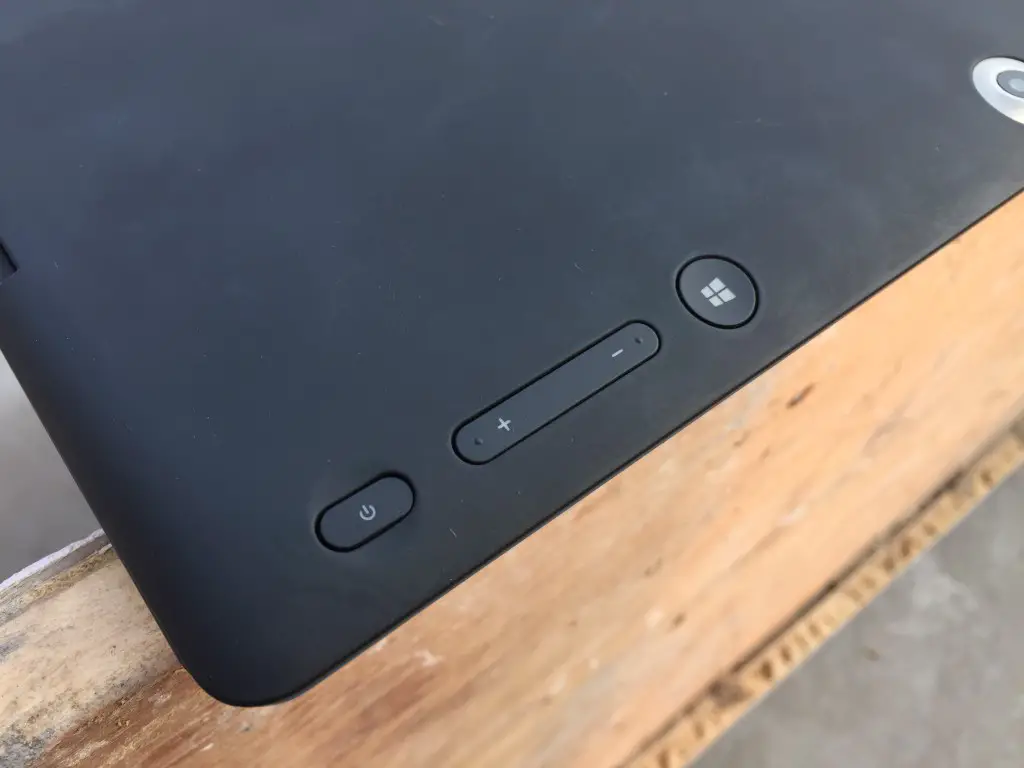 Opening the Lid you will find a silver button at the hinge; the quality does not look as durable as it should be. The keyboard it thin, lightweight and has a blue base which has LED lights which work as backlit for keys. The display had broad bezels, especially on the top.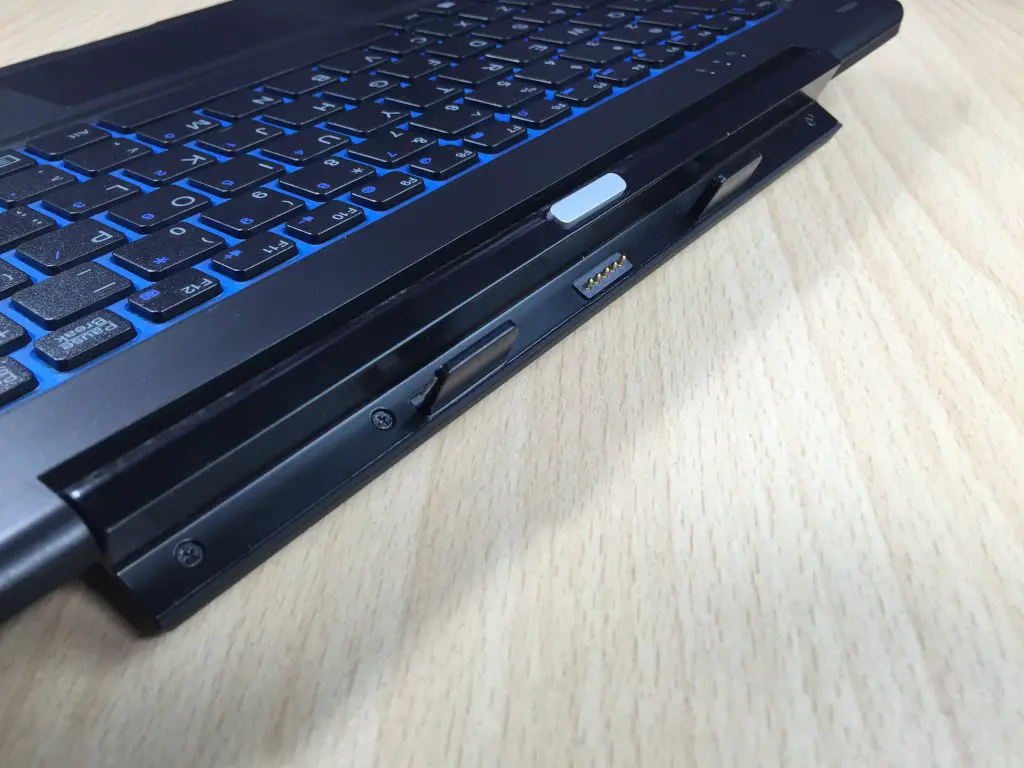 Bottom of the device is as plain and simple as it can be, there is nothing much on the bottom, no grills or meshes or exhaust. Unfortunately, the docking mechanism isn't secure at all. The hinge was not holding the display tight; it was wobbling while typing in this keyboard.
Keyboard and Touchpad
The Canvas LapTab has a smartly designed detachable chiclet keyboard. Due to the small size of the notebook, the keyboard is a bit compact and makes quick typing a bit of a task; I was not able to type without typos and errors even after using it regularly for a week. The build quality and material of the keys are good; it has a blue base while illuminates and makes it look amazing in the dark. We did not notice any wobbling of keys or flex in the base which is a good sign.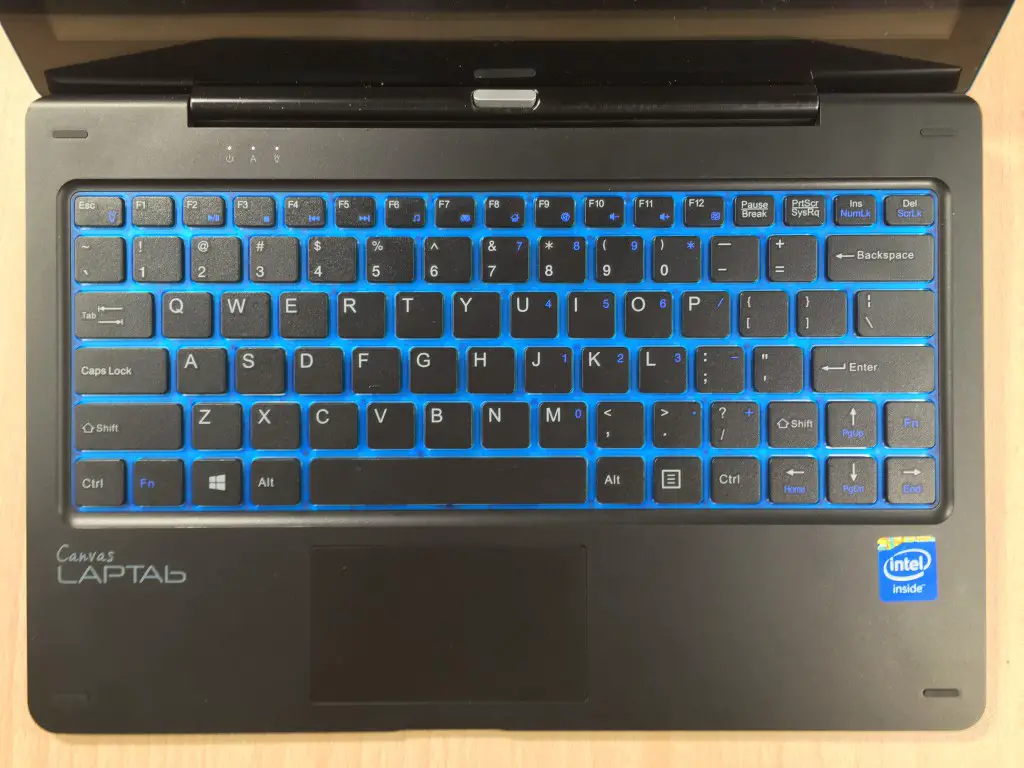 The track pad is very small and gives a very limited space to rest your hands while typing. Accidental touches are very common, and it is pretty much expected in a small sized keyboard. The feedback is good from the track pad but it does not offer separate right and left click buttons which are must in such a small pad.
Ports
The connectivity options available on this device are good enough for a low-budget basic laptop. The left side of the tab features an HDMI port, DC charger pin port, a microSD slot, 3.5 mm audio jack, SIM slot and one micro-USB port.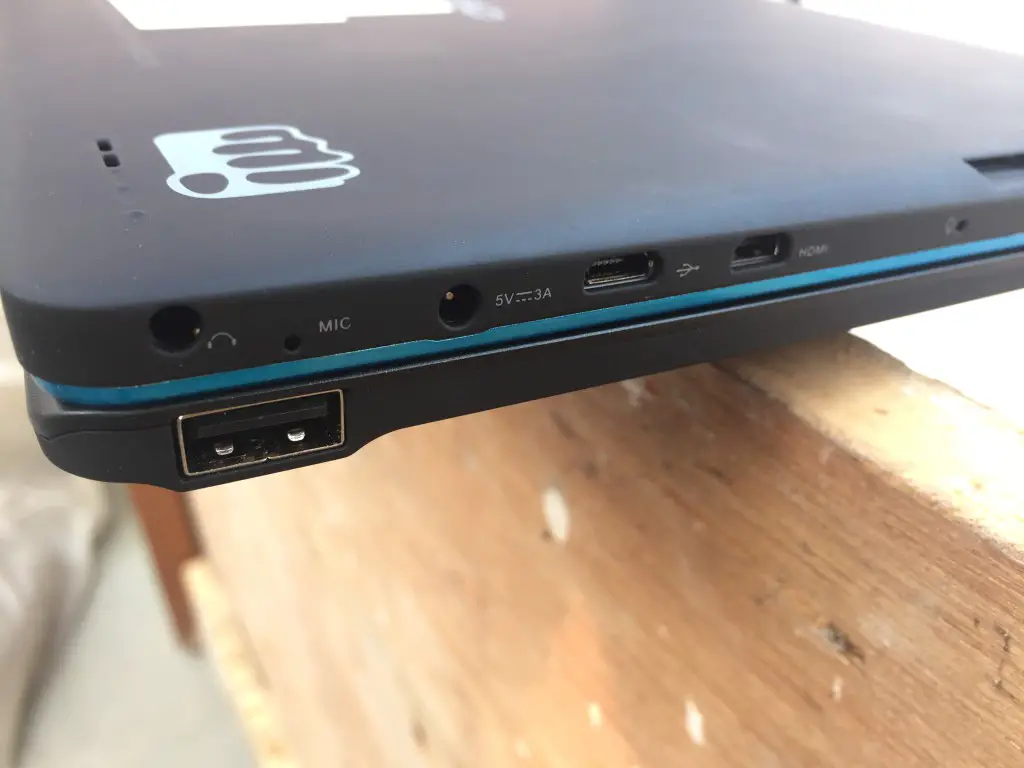 The keyboard has the 2 USB ports on each side to offer more connectivity options.
Performance & User Experience
The Canvas LapTab comes with a 1.33 GHz quad-core Intel AtomZ3735F processor, coupled with 2GB of RAM. It packs 32 GB of internal storage that can be expanded up to 64 GB via microSD. On the camera front, it has 2 MP primary camera and 2 MP front camera for video calls and selfies. It runs on Windows 10 which is the biggest plus point of this device.
Looking at the configuration, you must have understood that the Canvas LapTab is not made for heavy duty computing; in fact it is for those who have to do basic tasks on MS-Office, or watching movies, browsing web and social networking. You can also use it for light gaming and stuff but it will not give you the best of experiences.
During my usage period, the device performed surprisingly well, no lags and glitches were noticed in the Windows. I used this device mainly for Youtube, Facebook and WordPress and it was good enough to take up all the tasks I performed on this convertible Laptop. You have to be wise while using such computers, you know that you have paid 18K for the LapTab and it is not made to do things you expect on high end devices. In short, the performance is good for the price.
Display and Sound
The Micromax Canvas LapTab comes with a 1280x720p IPS display, which is not bad for most cases. It's very bright and colourful, and I personally liked the display on this device. The viewing angles are fine and crispness was also great. Watching movies and HD videos on this panel is more like a treat and I am sure most of the buyers will not complain about this department. It has a multi touch capacitive display which supports up to 5 point touch and works flawlessly.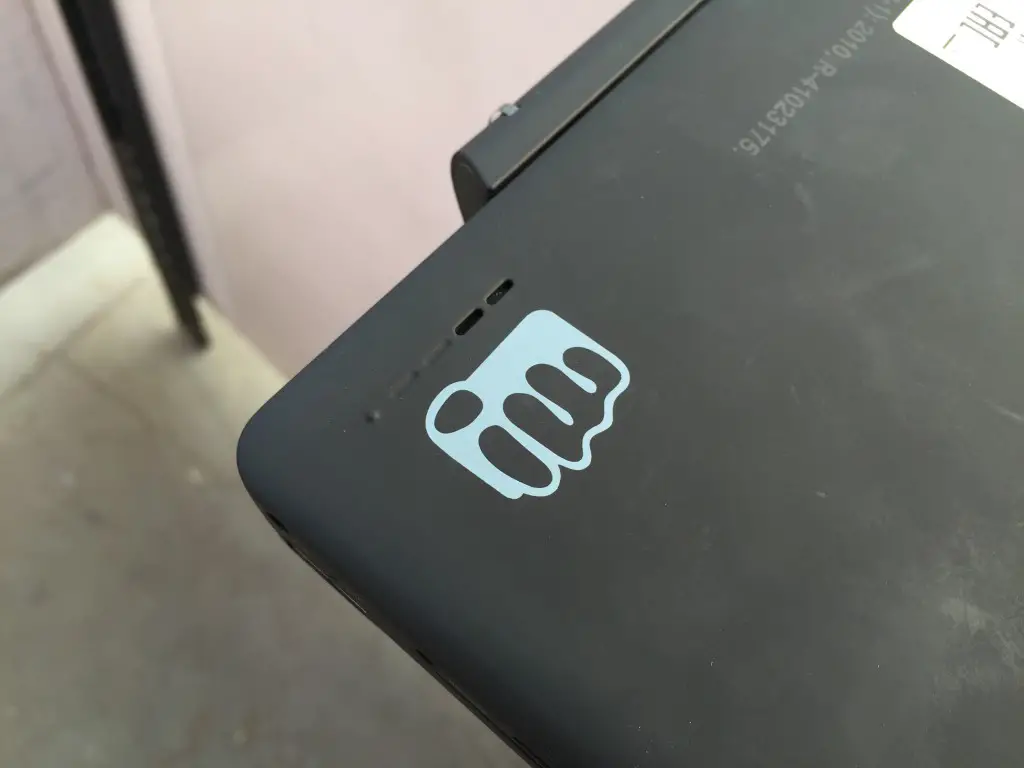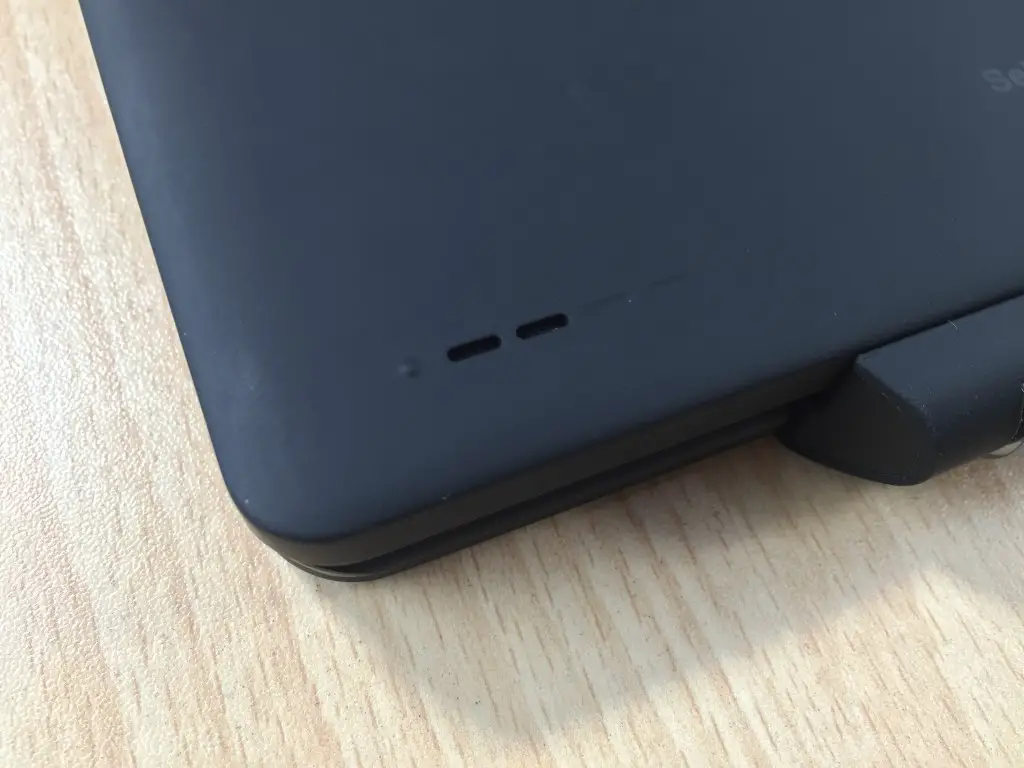 The speakers are nothing to boast of, the sound output is very ordinary. I have heard some phones giving the same level of sound output but it is fair enough for watching movies.
Battery Stats
Micromax claims that the LapTab can offer one day of battery backup. It comes with a 9000 mAh battery which definitely is good for the hardware it offers. More or less, we agree to the claims and we were really happy with the power management and backup. Here is what we concluded while testing the Canvas LapTab.
Watching a HD video in a loop with full brightness and sound – Approx 6 hours
Casual Web browsing and MS-Office – 8 hours
Photo Gallery
Conclusion
Micromax Canvas LapTab is a good choice for those who want to use a Windows 10 device which does not burn your pocket and offers vast portability options. It has got a decent processing power and a good display to make a good overall composition of a laptop and tablet.
Durability of the keyboard dock is something that is something I was not happy with, app optimization for Windows 10 tablet is also one of the drawbacks. If you travel a lot and have a habit of watching movies, reading or playing games on the go, then it is definitely a great choice.