Lenovo launched their K5 Plus last week with some impressive specifications and features. The K5 plus is powered by the Snapdragon 616 processor, and packs 2GB of RAM under the hood. The other devices in competition are Infocus Bingo 50 and Coolpad Note 3 and Coolpad Note 3 Lite
It will go on sale tomorrow, 23rd March and if you're thinking if you should purchase it or not, let me help you out by listing out the reasons to purchase the phone and the reasons to not purchase the phone. Let's get started with that.
Lenovo Vibe K5 Plus Specifications
[table id=429 /]
Lenovo Vibe K5 Plus Coverage
Lenovo Vibe K5 Plus Quick Review, Price and Competition

Lenovo Vibe K5 Plus Launched in India with Snapdragon 616 and 2GB RAM

Lenovo VIBE K5 & VIBE K5 Plus FAQ, Features & Comparison

Lenovo Vibe K5 Plus Full Specifications
7 Reasons to Buy Lenovo Vibe K5 Plus
Good Hardware for Price
The phone comes with impressive hardware under the hood. The phone is powered by a Qualcomm made Snapdragon 616 processor, which is an octa-core processor clocked at 1.5GHz. This processor is coupled with 2GB of RAM and 16GB of internal storage, that can be expanded via a microSD card. The internals of the device are really impressive for the price at which it is offered.
Good Display
The phone comes with a full HD 5-inch display with a resolution of 1920 x 1080 pixels. The display is really bright, and the full HD display makes it much better in terms of distortion and image clarity. The colors on the display are vivid and the viewing angles look good as well. The display size is also really good for one-handed usage.
Decen 13 MP AF Camera for Price
The rear camera on the phone is a 13-megapixel shooter, which is hard to find in a phone at this price point. The camera does take some decent pictures and we'll definitely get a dedicated camera review your way really soon. The camera is accompanied by an LED flash and can record videos upto 1080p resolution at 30 frames per second.
Good Build Quality
The phone is built like a tank in terms of the build quality of the device. It features a metallic rim around the phone, and has a metallic back that can be removed to get access to the battery, which is user replaceable. Upon opening the back of the phone, you'll find that the back that you removed has a solid metal sheet which gives the phone the strength it deserves.
Dual Loudspeakers with Dolby Atmos Sound
Lenovo is known for the Dolby Atmos Speakers that they put in their smartphones. The Vibe K5 Plus is not an exception either. The phone comes with dual Dolby Atmos Speakers at the back of the phone to create that mesmerizing sound that you can expect from high end speakers that support Dolby Atmos Sound. The speakers are really loud with good sound output and clarity.
Dual SIM with 4g and dedicated MicroSD slot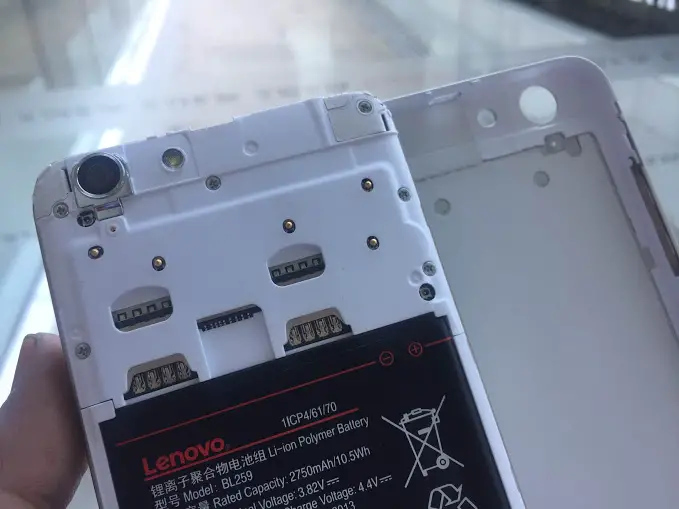 Finding a phone with Dual SIM 4G is not difficult today, but finding one that has a dedicated microSD card slot rather than a hybrid SIM slot is difficult. The Lenovo Vibe K5 Plus stands out from the crowd in this regard. The phone has support for two SIM cards and also has a dedicated microSD card slot along with that.
Value for Money
Overall, the phone is a value for money device. At just 8499 INR, the device gives you a good build quality, dual SIM with dedicated microSD card slot, a good display, a 13-megapixel camera and finally good internals. There's nothing that can beat the phone in this price range in terms of the hardware that it packs, and the good build quality that it feautres.
3 Reasons to Not Buy the Lenovo Vibe K5 Plus
No Fingerprint Sensor
In a fast pace industry like the mobile world, keeping up in the tech you provide inside a phone is crucial. A fingerprint sensor has become a must have in any smartphone that you buy today, no matter what the phone costs. People are becoming informed about data theft, and want to protect their data with a fingerprint. Even in this price range, or even in a lower price range, you find a Fingerprint sensor in the phone. It was a bummer to not see it on the Lenovo Vibe K5 Plus.
No Android Marshmallow
Google has already rolled out the Developer Preview for their latest version of Android, Android N, but if the phone that you are buying this day does not come with even Android Marshmallow out of the box, it can be a problem. The Lenovo Vibe K5 Plus comes with Android Lollipop out of the box.
Small Battery
Though the Vibe K5 Plus has a 1080p HD Screen only, but still a 2750mAh battery seems small. It should get you through the day, but if you want anything more, you're gonna have to connect the phone to a charger of any sort. It would have been great to see a battery around 3000mAh or more.
Competition Phones
Conclusion
Even though I have listed out the reasons to not buy the phone, and to buy the phone both, I'd say that the tradeoffs that you have to do with the phone are marginal and it will be a good phone based on the positive points that the phone has. If I were you, I'd go ahead and purchase this smartphone tomorrow, when it goes on sale for 8,499 INR.