Have you ever missed an important call because of no signal, would you like to know more about your network? Monitor you network signal, find cell towers and hotspots around you, check your 2G, 3G and 4G network status, see graphical presentation of network usage, conduct speed test to know your upload/download speed, switch easily between different networks/wi-fi hotspots and much more with these 5 amazing signal monitor and speed test apps.
Net Monitor App (Android)
This app monitors your CDMA/GSM/LTE network.  Its home screen displays your mobile network code (MNC), type of phone network, location area code (LAC), cell ID(CID),  radio network controller(RNC) and signal strength in dBM (decibel milliwatts). It also shows a graph of signal strength. It uses GPS system to show maps of cell location. It also lists the wifi access points available near you. It requires android version 2.3 or up.
Pros
Helps you find the location of GSM base station with the help of MNC, LAC and CID.
Shows the signal strength of the network.
Ability to export log to KML file.
Finds the wi-fi access points around you.
Cons
Consumes much battery.
Does not show neighboring cells information on some phones.
Network cell info lite (Android)
Network cell info lite is a network monitor and drive testing tool for LTE, HSPA+, HSPA, WCDMA, EDGE, GSM, CDMA, EVDO networks. It has 6 meter gauges for showing the signal strength of registered and neighboring cells. It also displays signal strength in the form of graphs. It shows network connectivity statistics (%) between 2G, 3G, and 4G technologies when cell data are ON and OFF. It requires android version 4.0 and up.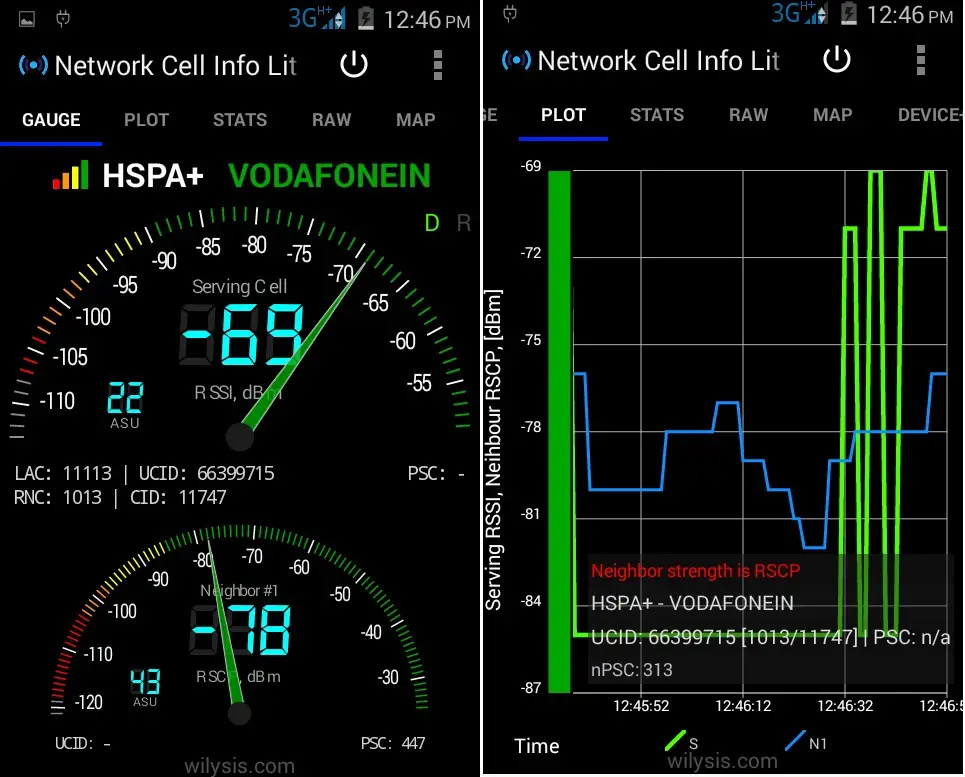 Pros
6 signal meters for registered as well as neighbor cells.
Network connectivity statistics.
Map view options: Normal, Satellite, Terrain, Hybrid.
Roaming on/off indications.
Cons
Advertisements does not look good with the app layout.
In case of dual sim you have to change them manually.
3G 4G wifi maps & speed test (Android)
This is another app which enables you to gather information about your network signal. With this app you can find the direction of your cell signal through signal pointer. It also shows how your data is flowing and the maps of nearby cell towers. You can see your wifi and also the hotspots around you with this app. The network map shows which networks are operating in your area.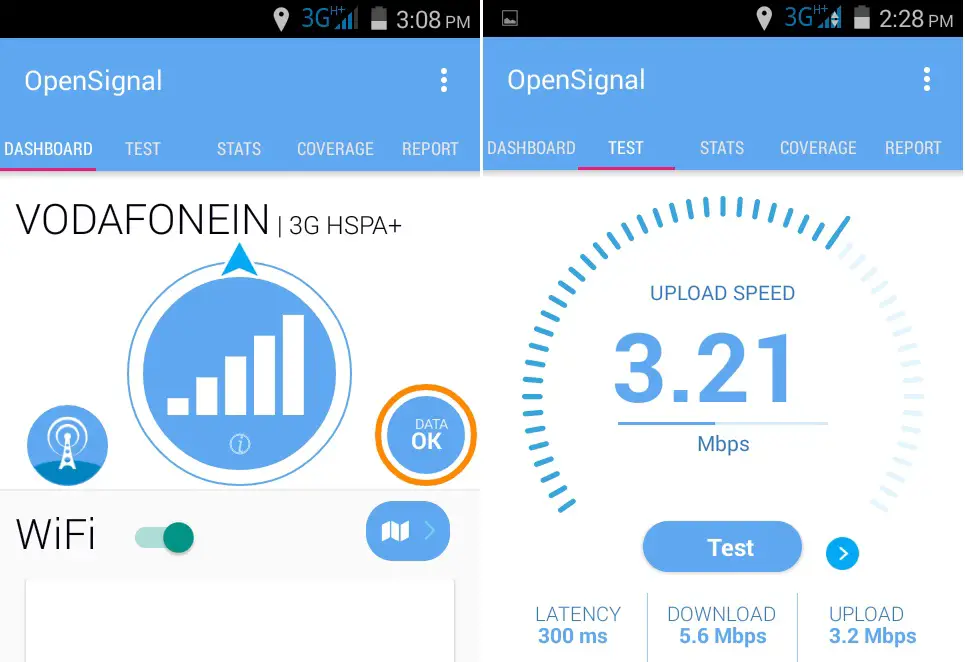 Pros
Enables you to conduct a speed test to find latency and upload/download speed.
Monitor your signal in the time span of one hour, a day, or a month.
Compare networks in your area
Report option enables you to tell your experience directly to the developer.
Cons
Shows wrong tower sometimes.
2G 3G 4G LTE Network Monitor (Android)
This app shows which technology is used for internet connection and enable easy switching between different networks. It shows for what time each service(2G,3G,4G) is used for internet connectivity daily, weekly, monthly or yearly and also gives its percentage compared to the total usage. It has a widget to switch between 2G/3G/4G network mode and wi-fi hotspots by one click. It is compatible with android version 4.0 and up.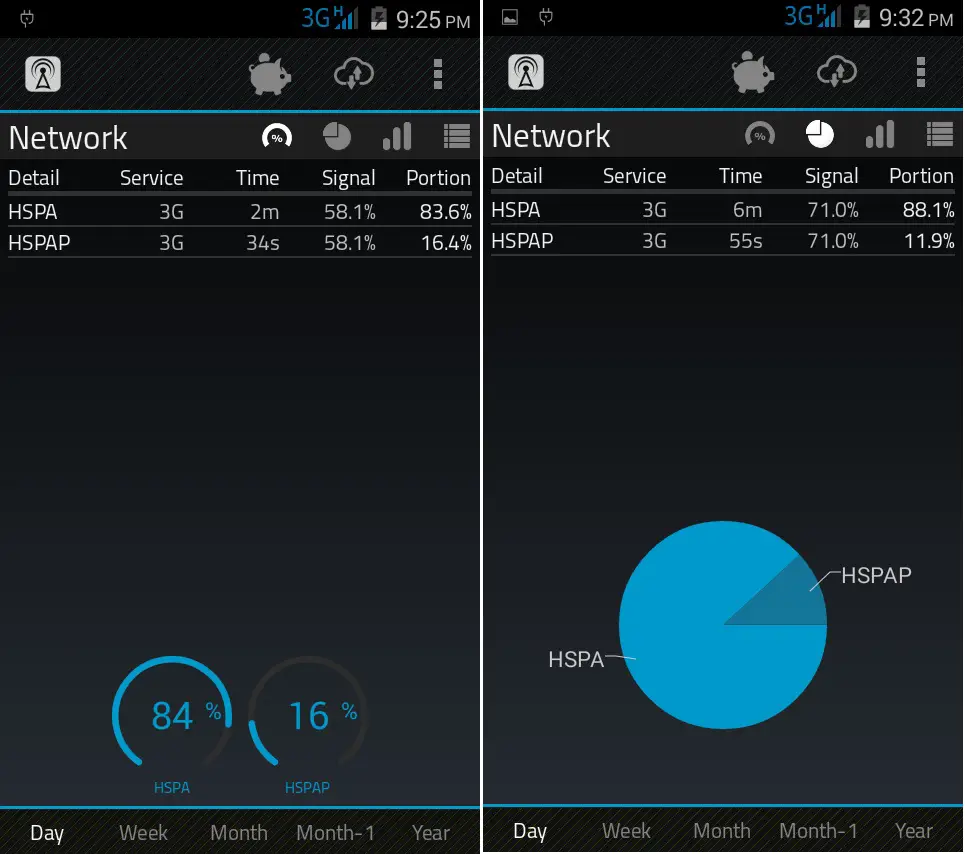 Pros
Easy switching between different networks.
Graphical presentation in the form of pie chart.
Different color schemes.
Cons
Widget to switch between wi-fi hotspots is not supported by many devices
Not fully functional on lollipop.
LTE discovery (Android)
Lte discovery helps in signal discovery and analysis. Discover tab in the app tells your current network.  Signal tab shows the LAC, CID, RNC, signal strength in dBm and information about neighboring cells. Maps can be used for showing current location.
Pros
Saves Lte log
Live notifications and alerts
Automatic refreshing of mobile radio
Cons
Have to upgrade to pro version for full features.
All devices not support LTE bands.
Conclusion
In the above article I have listed 5 apps that enables you to gather more information about your network, see other networks working in your area, compare them, check geographical location of the neighboring cell towers, conduct speed test and see hotspots around you. Out of these, Net Monitor by Parizene is very user friendly and easy to use and 3G 4G wi-fi maps and speed test by Open Signal with over 10M installs, covers almost all the features listed above.