Following the concept of modular phones like Google's Project Ara and LG G5, Lenovo MotoMods were announced yesterday. Working like accessories that snap on to your phone, three Lenovo MotoMods were launched alongside the Moto Z and Moto Z Force.
How Do Lenovo MotoMods Work?
Lenovo MotoMods are attached to a 16 pins dock which is present at the lower back of the device to add some extra feature or functionality on the go without using cables or other connectors.
The MotoMods snap onto the phone using integrated magnets. They work with the new flagship devices launched yesterday, the Moto Z and the Moto Z Force.
The standard Moto Z has a 5.5-inch, quad HD AMOLED display, Qualcomm Snapdragon 820 processor with 4GB of RAM, 32 or 64GB of storage with microSD card expansion, 13-megapixel camera with f/1.8 lens and optical image stabilization, fingerprint scanner, and 2600 mAh battery. Lenovo claims that the phone is only 5.2mm thick without any mod accessories attached and is the thinnest premium smartphone. It lacks a 3.5mm jack and the USB Type C port doubles up as headphone jack via adapter.
Developers will be able to pick up a reference kit used for designing custom mods later when the Moto Z becomes widely available. Lenovo showcased two prototype mods, one was an LED-lit backplate that responds to sound and a circular display that mirrors whatever is on the smartphone's screen.The company is also supplying a single Style Shell Mod with each phone, which can be had in a variety of materials or finishes, such as leather, wood, or nylon.
Moto Insta-Share Projector
This is basically a mini projector which gets attached to the back of your Moto Z and lets you to you broadcast your phone's display up to 70 inches wide at 480p resolution. With its integrated kickstand and built-in battery to give you an hour of extra projector power, you can prop your phone up in a dark room and get up to a 70-inch screen. It has also got an built-in 1,100mAh battery which should add an hour of projection time.
JBL SoundBoost Speaker
It's a two 3 watt speakers which gets attached to the back of your phone.  This Mod includes a kickstand and its own battery OF 1,000 mAh to offer up to 10 hours of booming sound at fairly louder volumes than the phone's regular speaker. It can also be used as a speakerphone, just in case you need whomever you are talking with to be nice and loud. These Mods requires no pairing or set up, once it's connected to the phone, sound just automatically pipes out of its speakers.
Incipio offGRID Power Packs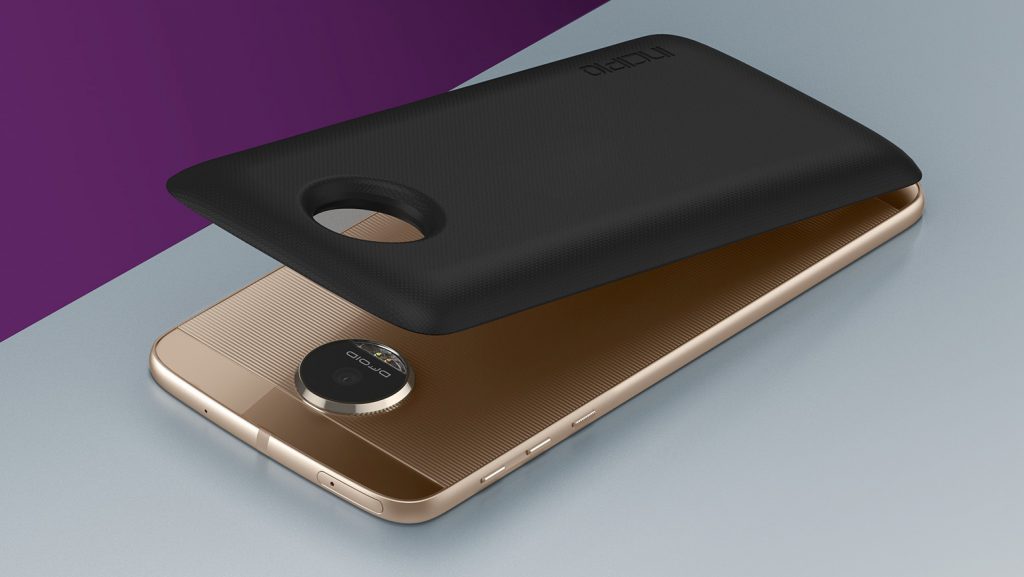 This is kind of additional batteries which gets attached and provides a 22 hours of backup with its 2,200mAh capacity batteries. The Mods are integrated into the phone's software, so when a battery mod is attached to the phone, you can monitor the charge status of both the internal battery and the mod's cell. Later a new version will also be available which will be having a built-in support for wireless charging.
Lenovo promises that more MotoMods will be coming soon – thanks to partnerships with existing brands, and the announcement of the MotoMod Developer Kit. The company says that the MotoMods announced will work with future series of Z phones and that it is committed to the overall size and shape of the Z for at least two generations to ensure future compatibility. They are also offering a development kit for third-party companies to build MotoMods themselves.
The company hasn't announced the pricing for the Mod accessories yet, but the project itself looks really good. However, it does end up adding bulk to the rather sleek Moto Z and Moto Z Force.
We cannot wait to test MotoMods out. What do you think? Let us know in the comments below.