Reliance JIO is going public from coming Monday, 5th September 2016. As most of us the reliance JIO network has created ripples in the industry, its a network based on high speed 4G network, even voice calls are on data.
So, in case you have a 4G phone, you will need have support for VoLTE capable phone to make calls on the Jio network or else you can use 4G data if your phone does not support VoLTE. You can still use 4G phones which support Jio LTE band, but you will not be able to make calls unless your phone supports VoLTE.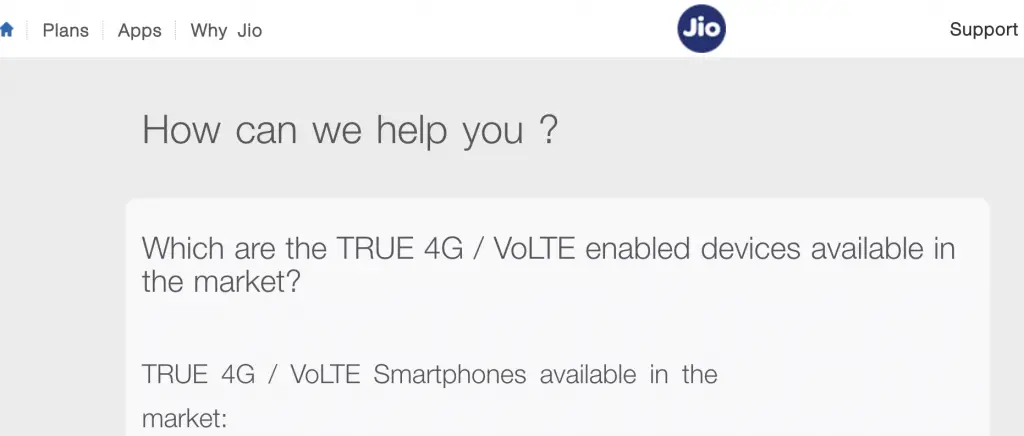 Other Most Useful Reliance JIO Coverage
Clear Your Doubts About JIO Network and Phones Which Will Work
4G Phone But Not VoLTE – Data Access but No HD Voice Calling
4G Phone with VoLTE – Data and Voice Both Accessible
3G/2G Phone – Use JIOFi Device + JIO Join App To do HD Voice Calling
JIO SIM Does not Work in 3G/2G only Phone
JIO SIM Work in Every 4G Phone Irrespective of VoLTE Support
But what about you plan to buy a phone, you want to make sure it will work on JIO Network. So, In order to sort this we have compiled the list of official phones which are supported on JIO Network.
TRUE 4G / VoLTE Smartphones Available in the Market:
| | | | | |
| --- | --- | --- | --- | --- |
| No. | Brand | Model | Video Call Support | Jio Preview applicability |
| 1 | LYF | Earth 1 | Yes | Yes |
| 2 | LYF | Earth 2 | Yes | Yes |
| 3 | LYF | Flame 1 | Yes | Yes |
| 4 | LYF | Flame 2 | No | Yes |
| 5 | LYF | Flame 3 | Yes | Yes |
| 6 | LYF | Flame 4 | Yes | Yes |
| 7 | LYF | Flame 5 | Yes | Yes |
| 8 | LYF | Flame 6 | Yes | Yes |
| 9 | LYF | Flame 7 | Yes | Yes |
| 10 | LYF | Flame 8 | Yes | Yes |
| 11 | LYF | Water 1 | Yes | Yes |
| 12 | LYF | Water 10 | Yes | Yes |
| 13 | LYF | Water 2 | Yes | Yes |
| 14 | LYF | Water 3 | Yes | Yes |
| 15 | LYF | Water 4 | Yes | Yes |
| 16 | LYF | Water 5 | Yes | Yes |
| 17 | LYF | Water 6 | Yes | Yes |
| 18 | LYF | Water 7 | Yes | Yes |
| 19 | LYF | Water 8 | Yes | Yes |
| 20 | LYF | Wind 1(16GB) | Yes | Yes |
| 21 | LYF | Wind 1(8GB) | Yes | Yes |
| 22 | LYF | Wind 2 | No | Yes |
| 23 | LYF | Wind 3 | Yes | Yes |
| 24 | LYF | Wind 4 | No | Yes |
| 25 | LYF | Wind 5 | Yes | Yes |
| 26 | LYF | Wind 6 | Yes | Yes |
| 27 | LYF | Wind 7 | Yes | Yes |
| 28 | Samsung | A8 VE (SM-A800I) | Yes | Yes |
| 29 | Samsung | Galaxy A5 (SM-A500G) | Yes | Yes |
| 30 | Samsung | Galaxy A5 (2016) (A510FD) | Yes | Yes |
| 31 | Samsung | Galaxy A7 (SM-A700FD) | Yes | Yes |
| 32 | Samsung | Galaxy A7 (2016) (A710FD) | Yes | Yes |
| 33 | Samsung | Galaxy A8 (SM-A800F) | Yes | Yes |
| 34 | Samsung | Galaxy Core Prime 4G (SM-G360FY) | Yes | Yes |
| 35 | Samsung | Galaxy J2 (2016) (SM-J210F) | Yes | Yes |
| 36 | Samsung | Galaxy J3 (2016) | Yes | Yes |
| 37 | Samsung | Galaxy J5 (SM-J500F) | Yes | Yes |
| 38 | Samsung | Galaxy J7 (SM-J700F) | Yes | Yes |
| 39 | Samsung | Galaxy Note 4 (SM-N910G) | Yes | Yes |
| 40 | Samsung | Galaxy Note 4 Edge (SM-N915G) | Yes | Yes |
| 41 | Samsung | Galaxy Note 5 (SM-N920G) | Yes | Yes |
| 42 | Samsung | Galaxy S6 (SM-G920I) | Yes | Yes |
| 43 | Samsung | Galaxy S6 Edge (SM-G925I) | Yes | Yes |
| 44 | Samsung | Galaxy S6 Edge Plus (SM-G928G) | Yes | Yes |
| 45 | Samsung | Galaxy-J2 (SM-J200G) | Yes | Yes |
| 46 | Samsung | J Max | Yes | Yes |
| 47 | Samsung | J5 (2016) (SM-J510F) | Yes | Yes |
| 48 | Samsung | J7 (2016) (SM-J710F) | Yes | Yes |
| 49 | Samsung | Note 5 Duos (SM-N9208) | Yes | Yes |
| 50 | Samsung | ON5 (SM-G550FY) | Yes | Yes |
| 51 | Samsung | ON5 Pro(SM-G550FY) | Yes | Yes |
| 52 | Samsung | ON7 (Mega On – SM-G600FY) | Yes | Yes |
| 53 | Samsung | ON7 Pro(SM-G600FY) | Yes | Yes |
| 54 | Samsung | S7 (SM-G930F) | Yes | Yes |
| 55 | Samsung | S7 Edge (SM-G935F) | Yes | Yes |
| 56 | Samsung | Galaxy J2 Pro | Yes | Yes |
| 57 | Samsung | Galaxy Note 7 | Yes | Yes |
| 58 | Samsung | Z2 | Yes | Yes |
| 59 | Alcatel | Pixi 4-5 inch (5045T) | Yes | Yes |
| 60 | Alcatel | Pop3 (5054T) | Yes | Yes |
| 61 | Alcatel | Pop 4(5051T) | Yes | Yes |
| 62 | Asus | Zenfone 3 Deluxe ZS570KL | Yes | Yes |
| 63 | Asus | Zenfone 3 Ultra (ZU680KL) | Yes | Yes |
| 64 | Asus | Zenfone 3 ZE552KL (Libra) | Yes | Yes |
| 65 | Asus | Zenfone 3 Laser ZC551KL (Scorpio) | Yes | Yes |
| 66 | Asus | Zenfone 3 ZE520KL (Leo) | Yes | Yes |
| 67 | BlackBerry | Priv (STV100-3) | Yes | No |
| 68 | Coolpad | Max | Yes | No |
| 69 | Coolpad | Mega 2.5D (Y83) | Yes | No |
| 70 | Gionee | F103 (2 GB) | No | Yes |
| 71 | Gionee | S Plus | No | Yes |
| 72 | Gionee | F103 (3 GB) | No | Yes |
| 73 | Gionee | Elife S6 | No | Yes |
| 74 | Gionee | M5 Plus | No | Yes |
| 75 | Gionee | P5L | No | Yes |
| 76 | Gionee | F103 pro | No | Yes |
| 77 | Gionee | S6s | No | Yes |
| 78 | Infocus | M370 | Yes | No |
| 79 | Infocus | M535 | No | No |
| 80 | Infocus | M680 | No | No |
| 81 | Infocus | M370I | Yes | No |
| 82 | Infocus | M535+ | No | No |
| 83 | Intex | Cloud String | Yes | No |
| 84 | Intex | Aqua Eco 4G | Yes | No |
| 85 | Intex | Aqua 4G | Yes | No |
| 86 | Intex | Aqua Ace 2 | No | No |
| 87 | Intex | Aqua Craze | No | No |
| 88 | Intex | Aqua Power 4G | No | No |
| 89 | Intex | Aqua S7 | No | No |
| 90 | Intex | Cloud String V2.0 | No | No |
| 91 | Intex | Aqua Ace Mini | No | No |
| 92 | Intex | Aqua Strong 5.1 | No | No |
| 93 | Intex | Aqua Raze | No | No |
| 94 | Intex | Aqua 4G Strong | No | No |
| 95 | Intex | Aqua Shine 4G | No | No |
| 96 | Intex | Aqua Music | No | No |
| 97 | Intex | Aqua Secure | No | No |
| 98 | Intex | Aqua View | No | No |
| 99 | Karbonn | Aura | Yes | Yes |
| 100 | Karbonn | Quattro L45 IPS | Yes | Yes |
| 101 | Karbonn | Quattro L55 HD | No | Yes |
| 102 | Karbonn | Aura Power | No | Yes |
| 103 | Lava | X10 | No | Yes |
| 104 | Lava | X28 | Yes | Yes |
| 105 | Lava | X81 | No | Yes |
| 106 | Lava | V5 | Yes | Yes |
| 107 | Lava | X50 | Yes | Yes |
| 108 | Lava | A71 | Yes | Yes |
| 109 | Lava | A72 | Yes | Yes |
| 110 | Lava | A88 | Yes | Yes |
| 111 | Lava | A76 | Yes | Yes |
| 112 | Lava | A89 | Yes | Yes |
| 113 | Lava | X46 | No | Yes |
| 114 | Lava | X38 | Yes | Yes |
| 115 | Lava | X38 (2GB) | No | Yes |
| 116 | Lava | X17 | Yes | Yes |
| 117 | Lava | X11 | Yes | Yes |
| 118 | LeEco | Le 2 | Yes | No |
| 119 | LeEco | Le Max 2 | Yes | No |
| 120 | Lenovo | Vibe Shot | Yes | No |
| 121 | LG | XCAM (K580i) | Yes | Yes |
| 122 | LG | X Screen (K500I) | Yes | Yes |
| 123 | LG | Google Nexus 5x (LG-H791) | No | Yes |
| 124 | LG | G4 Stylus 4G | No | Yes |
| 125 | LG | G5 | No | Yes |
| 126 | LG | Spirit 4G H442 | Yes | Yes |
| 127 | LG | K7 | Yes | Yes |
| 128 | LG | K10 | Yes | Yes |
| 129 | LG | Stylus 2 Plus | Yes | Yes |
| 130 | LG | K520 – Stylus 2 | Yes | Yes |
| 131 | Micromax | YU Yunique Plus | Yes | Yes |
| 132 | Micromax | YU Yunique YU4711 | Yes | Yes |
| 133 | Micromax | Canvas Sliver 5 (Q450) | Yes | Yes |
| 134 | Micromax | Canvas Amaze (Q491) | Yes | Yes |
| 135 | Micromax | Yu Yuphoria (YU5010A) | Yes | Yes |
| 136 | Micromax | Yu Note (YU6000) | No | Yes |
| 137 | Micromax | Canvas Mega 2 Q426 | Yes | Yes |
| 138 | Motorola | Moto G (3rd Gen) | No | No |
| 139 | Motorola | New Moto E (Moto E 2nd Gen) | No | No |
| 140 | Motorola | Moto X Play | No | No |
| 141 | Motorola | G Turbo | No | No |
| 142 | Motorola | G4 | No | No |
| 143 | Motorola | G4 Plus | No | No |
| 144 | Oneplus | Oneplus 3 | No | No |
| 145 | Onida | I4G1 | No | No |
| 146 | Oppo | F1 | No | No |
| 147 | Oppo | A37 | No | No |
| 148 | Oppo | F1 Plus | No | No |
| 149 | Oppo | F1S | No | No |
| 150 | Panasonic | P55 Novo 4G | No | Yes |
| 151 | Panasonic | Eluga Arc 2 | No | Yes |
| 152 | Panasonic | Eluga I2 (2gb) | No | Yes |
| 153 | Panasonic | Eluga I2 (3gb) | No | Yes |
| 154 | Panasonic | Eluga Arc | Yes | Yes |
| 155 | Panasonic | Eluga Icon 2 | Yes | Yes |
| 156 | Panasonic | Eluga I3 | No | Yes |
| 157 | Panasonic | Eluga A2 | No | Yes |
| 158 | Panasonic | Eluga Note | No | Yes |
| 159 | Sony | Xperia Z5 Dual (E6883) | No | No |
| 160 | Sony | Xperia Z5 Premium Dual | No | No |
| 161 | Sony | Xperia X (F5122) | Yes | No |
| 162 | TCL | TCL 560 | No | Yes |
| 163 | TCL | TCL 562 | No | Yes |
| 164 | Videocon | Krypton 3 V50JG | No | Yes |
| 165 | Videocon | Graphite 1 V45ED (4 Band) | No | Yes |
| 166 | Videocon | Graphite 1 V45ED (6 Band) | No | Yes |
| 167 | Videocon | Q1 | No | Yes |
| 168 | Vivo | Y21L | No | No |
| 169 | Vivo | V3 | No | No |
| 170 | Vivo | V3 Max | No | No |
| 171 | Xiaomi | Redmi 2 Prime (H2X) | Yes | No |
| 172 | Xiaomi | Redmi Note 3 (H3A) | Yes | No |
| 173 | Xiaomi | Mi5 | Yes | No |
| 174 | Xiaomi | Mi Max | Yes | No |
| 175 | Xiaomi | Redmi 3s | Yes | No |
| 176 | Xiaomi | Redmi 3s Prime | Yes | No |
| 177 | Xolo | Era 4G | Yes | Yes |
LTE / 4G Devices That Work on JIO Network for Data:
| No. | Brand | Model No. | LTE Data only | Jio Offer applicability |
| --- | --- | --- | --- | --- |
| 1 | Acer | Liquid Jade 2 | Yes | No |
| 2 | Acer | Liquid Jade Primo | Yes | No |
| 3 | Acer | Liquid Z530 | Yes | No |
| 4 | Alcatel | OneTouch X1 | Yes | Yes |
| 5 | Alcatel | POP 4+ | Yes | Yes |
| 6 | Alcatel | Pop star | Yes | Yes |
| 7 | Asus | Zenfone 2 (ZE550ML) | Yes | Yes |
| 8 | Asus | Zenfone 2 (ZE551ML) | Yes | Yes |
| 9 | Asus | ZenFone 2 Laser (ZE550KL) | Yes | Yes |
| 10 | Asus | Zenfone 2 Laser (ZE601KL) | Yes | Yes |
| 11 | Asus | Zenfone 2 Laser 5.0  (ZE500KL) | Yes | Yes |
| 12 | Asus | Zenfone Go 5.0 LTE (T500) | Yes | Yes |
| 13 | Asus | Zenfone Max (ZC550KL) | Yes | Yes |
| 14 | Asus | Zenfone Max Z010D | Yes | Yes |
| 15 | Asus | Zenfone Pegasus 3 | Yes | Yes |
| 16 | Asus | Zenfone Selfie( ZD551KL) | Yes | Yes |
| 17 | Asus | Zenfone Zoom(ZX551ML ) | Yes | Yes |
| 18 | Benq | T3 | Yes | No |
| 19 | BlackBerry | Classic Q20 | Yes | No |
| 20 | BlackBerry | Dtek 50 | Yes | No |
| 21 | BlackBerry | Leap | Yes | No |
| 22 | Blackberry | Passport | Yes | No |
| 23 | BlackBerry | Porsche P9982 | Yes | No |
| 24 | BlackBerry | Porsche P9983 | Yes | No |
| 25 | BLU | Life Mark | Yes | No |
| 26 | BLU | Studio One | Yes | No |
| 27 | Coolpad | Note 3 (8676i02) | Yes | No |
| 28 | Coolpad | Note 3 Lite | Yes | No |
| 29 | Coolpad | Note 3 Plus | Yes | No |
| 30 | Elephone | P7000 | Yes | No |
| 31 | Elephone | S2 Plus | Yes | No |
| 32 | Gionee | CTRL V6L LTE | Yes | No |
| 33 | Gionee | Elife E8 | Yes | Yes |
| 34 | Gionee | Elife S7 | Yes | Yes |
| 35 | Gionee | F105 | Yes | Yes |
| 36 | Gionee | Marathon M4 | Yes | Yes |
| 37 | Gionee | Marathon M5 | Yes | Yes |
| 38 | Gionee | Marathon M5 Lite | Yes | Yes |
| 39 | Gionee | P7 Max | Yes | Yes |
| 40 | Gionee | S6pro | Yes | Yes |
| 41 | HTC | Desire 626 | Yes | No |
| 42 | HTC | Desire 626 dual Sim | Yes | No |
| 43 | HTC | Desire 628 | Yes | No |
| 44 | HTC | Desire 630 | Yes | No |
| 45 | HTC | Desire 728 Dual SIM | Yes | No |
| 46 | HTC | Desire 820 | Yes | No |
| 47 | HTC | Desire 820Q | Yes | No |
| 48 | HTC | Desire 820S Dual Sim | Yes | No |
| 49 | HTC | Desire 825 | Yes | No |
| 50 | HTC | Desire 826 | Yes | No |
| 51 | HTC | Desire 826 DS | Yes | No |
| 52 | HTC | Desire 828 DS | Yes | No |
| 53 | HTC | Desire 830 | Yes | No |
| 54 | HTC | Desire Eye | Yes | No |
| 55 | HTC | HTC 10 | Yes | No |
| 56 | HTC | HTC 10 Life style | Yes | No |
| 57 | HTC | One A9 | Yes | No |
| 58 | HTC | One E9 S dual sim | Yes | No |
| 59 | HTC | One E9+ Dual Sim | Yes | No |
| 60 | HTC | One M8 | Yes | No |
| 61 | HTC | One M8 Eye | Yes | No |
| 62 | HTC | One M9 Plus | Yes | No |
| 63 | HTC | One M9e | Yes | No |
| 64 | HTC | One ME Dual Sim | Yes | No |
| 65 | HTC | One X9 | Yes | No |
| 66 | HTC | E36 | Yes | No |
| 67 | HTC | A56 | Yes | No |
| 68 | HTC | S1 | Yes | No |
| 69 | HTC | M1 | Yes | No |
| 70 | Huawei | Ascend P1 LTE | Yes | No |
| 71 | Huawei | Ascend P2 | Yes | No |
| 72 | Huawei | Enjoy 5 | Yes | No |
| 73 | Huawei | G620S | Yes | No |
| 74 | Huawei | G7 Plus | Yes | No |
| 75 | Huawei | G8 | Yes | No |
| 76 | Huawei | Honor 4x | Yes | No |
| 77 | Huawei | Honor 5C | Yes | No |
| 78 | Huawei | Honor 5x | Yes | No |
| 79 | Huawei | Honor 6 | Yes | No |
| 80 | Huawei | Honor 6 Plus | Yes | No |
| 81 | Huawei | Honor 7 | Yes | No |
| 82 | Huawei | Honor 7i | Yes | No |
| 83 | Huawei | Honor Holly 2 Plus | Yes | No |
| 84 | Huawei | Mate 8 | Yes | No |
| 85 | Huawei | Nexus 6P(32 GB) | Yes | No |
| 86 | Huawei | Nexus 6P(64GB) | Yes | No |
| 87 | Huawei | P8 | Yes | No |
| 88 | Huawei | P9 | Yes | No |
| 89 | iBall | Cobalt 5.5F Youva | Yes | No |
| 90 | iBall | Cobalt Solus 4G | Yes | No |
| 91 | Iberry | Auxus Prime P8000 | Yes | No |
| 92 | Iberry | Auxus Stunner | Yes | No |
| 93 | Infocus | M2 4G | Yes | No |
| 94 | Infocus | M350 | Yes | No |
| 95 | Infocus | M425 | Yes | No |
| 96 | Infocus | M430 | Yes | No |
| 97 | Infocus | M460 | Yes | No |
| 98 | Infocus | M808 | Yes | No |
| 99 | Infocus | M808I | Yes | No |
| 100 | Infocus | M810 | Yes | No |
| 101 | Infocus | M812I | Yes | No |
| 102 | Intex | Aqua 4G Star | Yes | No |
| 103 | Intex | Aqua 4G+ | Yes | No |
| 104 | Intex | Aqua Ace | Yes | No |
| 105 | Intex | Aqua GenX | Yes | No |
| 106 | Intex | Aqua Super | Yes | No |
| 107 | Intex | Aqua Trend | Yes | No |
| 108 | Intex | Aqua Turbo 4G | Yes | No |
| 109 | Intex | Aqua Wing | Yes | No |
| 110 | Intex | Cloud 4G Glory | Yes | No |
| 111 | Intex | Cloud 4G Smart | Yes | No |
| 112 | Intex | Cloud 4G Star | Yes | No |
| 113 | Intex | Cloud Crystal 2.5D | Yes | No |
| 114 | Intex | Cloud Fame 4G | Yes | No |
| 115 | Intex | Cloud Flash | Yes | No |
| 116 | Intex | Cloud Jewel | Yes | No |
| 117 | Intex | Cloud Swift | Yes | No |
| 118 | Itel | IT1411 | Yes | No |
| 119 | Itel | IT1512 | Yes | No |
| 120 | Itel | it1520 | Yes | No |
| 121 | Itel | SelfiePro it1511 | Yes | No |
| 122 | Karbonn | Quattro L51 | Yes | Yes |
| 123 | Karbonn | Quattro L52 VR | Yes | Yes |
| 124 | Lava | A97 | Yes | Yes |
| 125 | Lava | X12 | Yes | Yes |
| 126 | Lava | X28 | Yes | Yes |
| 127 | Lava | Iris X10 | Yes | Yes |
| 128 | Lava | Ivory s 4G | Yes | Yes |
| 129 | Lava | Pixel V2 | Yes | Yes |
| 130 | Lava | V2(3gb) | Yes | Yes |
| 131 | Lava | V2S | Yes | Yes |
| 132 | Lava | X41 | Yes | Yes |
| 133 | Lava | X41+ | Yes | Yes |
| 134 | Lava | X50+ | Yes | Yes |
| 135 | Lava | X81 | Yes | Yes |
| 136 | Lava | Xolo 76 plus | Yes | Yes |
| 137 | Lava | Xolo Black 1X | Yes | Yes |
| 138 | Lava | Xolo Era 4K | Yes | Yes |
| 139 | Lava | Xolo Era note | Yes | Yes |
| 140 | Lava | Xolo Era X | Yes | Yes |
| 141 | LeEco | Le 1s | Yes | No |
| 142 | LeEco | Le 2 Pro | Yes | No |
| 143 | LeEco | Letv Le Max | Yes | No |
| 144 | Lenovo | Phab | Yes | No |
| 145 | Lenovo | Vibe X3 Lite | Yes | No |
| 146 | Lenovo | A2010 | Yes | No |
| 147 | Lenovo | A6000 | Yes | No |
| 148 | Lenovo | A6000 Plus | Yes | No |
| 149 | Lenovo | A6000 Shot | Yes | No |
| 150 | Lenovo | A6010 | Yes | No |
| 151 | Lenovo | A7000 | Yes | No |
| 152 | Lenovo | A7000 Turbo | Yes | No |
| 153 | Lenovo | A7010 | Yes | No |
| 154 | Lenovo | K3 | Yes | No |
| 155 | Lenovo | K3 Note | Yes | No |
| 156 | Lenovo | K3 Note Music | Yes | No |
| 157 | Lenovo | K4 Note | Yes | No |
| 158 | Lenovo | K5 Note | Yes | No |
| 159 | Lenovo | P70 | Yes | No |
| 160 | Lenovo | Phab 2 Pro | Yes | No |
| 161 | Lenovo | Phab Plus | Yes | No |
| 162 | Lenovo | S60 | Yes | No |
| 163 | Lenovo | S90 | Yes | No |
| 164 | Lenovo | Vibe K5 | Yes | No |
| 165 | Lenovo | Vibe K5 Plus | Yes | No |
| 166 | Lenovo | Vibe P1 | Yes | No |
| 167 | Lenovo | Vibe P1m | Yes | No |
| 168 | Lenovo | Vibe S1 | Yes | No |
| 169 | Lenovo | Vibe X2 | Yes | No |
| 170 | Lenovo | Vibe X3 | Yes | No |
| 171 | Lenovo | Zuk Z2 | Yes | No |
| 172 | Meizu | M3 Note | Yes | No |
| 173 | Micromax | Bolt Ninja 4G(Q4201) | Yes | Yes |
| 174 | Micromax | Bolt Selfie (Q424) | Yes | Yes |
| 175 | Micromax | Bolt Supreme 6 (Q409) | Yes | Yes |
| 176 | Micromax | Canavas 6(E485) | Yes | Yes |
| 177 | Micromax | Canvas 5 (E481) | Yes | Yes |
| 178 | Micromax | Canvas 5 lite special edition( Q463 ) | Yes | Yes |
| 179 | Micromax | Canvas 5 Lite( Q462 ) | Yes | Yes |
| 180 | Micromax | Canvas 6 Pro (E484) | Yes | Yes |
| 181 | Micromax | Canvas Blaze 4G (Q400) | Yes | Yes |
| 182 | Micromax | Canvas Evok (E483) | Yes | Yes |
| 183 | Micromax | Canvas Fire 4G (Q411) | Yes | Yes |
| 184 | Micromax | Canvas Fire 4G+ (Q412) | Yes | Yes |
| 185 | Micromax | Canvas Knight 2 4G (E471) | Yes | Yes |
| 186 | Micromax | Canvas Mega 4G (Q417) | Yes | Yes |
| 187 | Micromax | Canvas Nitro 3  4G (E455) | Yes | Yes |
| 188 | Micromax | Canvas Pace 4G (Q415) | Yes | Yes |
| 189 | Micromax | Canvas Pace 4G (Q416) | Yes | Yes |
| 190 | Micromax | Canvas Play 4G (Q469) | Yes | Yes |
| 191 | Micromax | Canvas Tab (P702) | Yes | Yes |
| 192 | Micromax | Canvas Unite 4 Lite (Q465 Lite) | Yes | Yes |
| 193 | Micromax | Canvas Unite 4 Plus | Yes | Yes |
| 194 | Micromax | Canvas Unite 4( Q427 ) | Yes | Yes |
| 195 | Micromax | Canvas Xpress 4G (Q413) | Yes | Yes |
| 196 | Micromax | E458 | Yes | Yes |
| 197 | Micromax | JUICE 4G (Q461) | Yes | Yes |
| 198 | Micromax | Pulse 4G (E451) | Yes | Yes |
| 199 | Micromax | Q4001 | Yes | Yes |
| 200 | Micromax | Unite 4 Pro (Q465) | Yes | Yes |
| 201 | Micromax | YU 5251 | Yes | Yes |
| 202 | Micromax | YU Yunicorn (YU5530) | Yes | Yes |
| 203 | Micromax | Yu Yuphoria (YU5010) | Yes | Yes |
| 204 | Micromax | Yu Yureka ( YU5510) | Yes | Yes |
| 205 | Micromax | Yu Yureka Plus (YU5510A) | Yes | Yes |
| 206 | Micromax | Yu Yutopia(YU5050) | Yes | Yes |
| 207 | Micromax | Yureka S (YU5200) – Caster | Yes | Yes |
| 208 | Microsoft | Lumia 640 XL LTE Dual Sim | Yes | No |
| 209 | Microsoft | Lumia 650 DS | Yes | No |
| 210 | Microsoft | Lumia 950 Dual SIM | Yes | No |
| 211 | Microsoft | Lumia 950 XL Dual SIM | Yes | No |
| 212 | Motorola | Moto G4 Play | Yes | No |
| 213 | Motorola | Moto Turbo | Yes | No |
| 214 | Motorola | Moto X (2016) | Yes | No |
| 215 | Motorola | Moto X (2nd Gen) | Yes | No |
| 216 | Motorola | Moto X Force | Yes | No |
| 217 | Motorola | Moto X Style | Yes | No |
| 218 | Oneplus | One plus One | Yes | No |
| 219 | Oneplus | Oneplus 2 | Yes | No |
| 220 | Oneplus | X | Yes | No |
| 221 | Oppo | N3 (N2506) | Yes | No |
| 222 | Oppo | Neo7 | Yes | No |
| 223 | Oppo | R5 | Yes | No |
| 224 | Oppo | R5s | Yes | No |
| 225 | Oppo | R7 Lite | Yes | No |
| 226 | Oppo | R7 Plus | Yes | No |
| 227 | Panasonic | Eluga Icon | Yes | Yes |
| 228 | Panasonic | Eluga L2 | Yes | Yes |
| 229 | Panasonic | Eluga Turbo | Yes | Yes |
| 230 | Panasonic | Mark | Yes | Yes |
| 231 | Panasonic | P77 | Yes | Yes |
| 232 | Panasonic | Switch | Yes | Yes |
| 233 | Panasonic | T45 | Yes | Yes |
| 234 | Pepsi | P1 | Yes | No |
| 235 | Phicomm | Energy 653 | Yes | No |
| 236 | Philips | Sapphire S616 | Yes | No |
| 237 | Qiku | N4 | Yes | No |
| 238 | Samsung | Galaxy J1 4G (SM-J100G) | Yes | No |
| 239 | Samsung | Galaxy S 5 Plus (SM-G901F) | Yes | Yes |
| 240 | Samsung | Galaxy S5 Neo | Yes | Yes |
| 241 | Samsung | Grand Prime 4G | Yes | Yes |
| 242 | Samsung | Galaxy A9 | Yes | Yes |
| 243 | Samsung | Galaxy A9 Pro | Yes | Yes |
| 244 | Sony | E4g Dual(E2043) | Yes | No |
| 245 | Sony | Xperia A4 | Yes | No |
| 246 | Sony | Xperia C4 Dual(E5363) | Yes | No |
| 247 | Sony | Xperia C5 Ultra (E5563) | Yes | No |
| 248 | Sony | Xperia M4 Aqua Dual (E2363) | Yes | No |
| 249 | Sony | Xperia M5 (E5663) | Yes | No |
| 250 | Sony | Xperia M5 Dual (E5663) | Yes | No |
| 251 | Sony | Xperia X A | Yes | No |
| 252 | Sony | Xperia X A Ultra | Yes | No |
| 253 | Sony | Xperia Z1 Compact(D5503) | Yes | No |
| 254 | Sony | Xperia Z3 Compact(D5833) | Yes | No |
| 255 | Sony | Xperia Z3 Plus(E6553) | Yes | No |
| 256 | Sony | Xperia Z3(D6653) | Yes | No |
| 257 | Swipe | Elite 2 | Yes | No |
| 258 | Swipe | Elite Note | Yes | No |
| 259 | Swipe | Elite Plus | Yes | No |
| 260 | TCL | P561U(fit 5.5) | Yes | Yes |
| 261 | TCL | Pride T500L | Yes | Yes |
| 262 | TP-LINK | Neffos C5 Max (TP702B) | Yes | No |
| 263 | TP-LINK | Neffos C5L(TP601B) | Yes | No |
| 264 | Videocon | EB50S | Yes | No |
| 265 | Videocon | FD45S | Yes | No |
| 266 | Videocon | Infinium Z55 Krypton (V50FA3) 16GB | Yes | No |
| 267 | Videocon | Infinium Z55 Krypton(V50FA3) 8GB | Yes | No |
| 268 | Videocon | V45GD | Yes | No |
| 269 | Videocon | V50FG6 | Yes | No |
| 270 | Videocon | V50JL | Yes | No |
| 271 | Videocon | V50KJ | Yes | No |
| 272 | Videocon | V50LL | Yes | No |
| 273 | Videocon | V50NL | Yes | No |
| 274 | Videocon | V50OK | Yes | No |
| 275 | Vivo | V1 | Yes | No |
| 276 | Vivo | V1 Max | Yes | No |
| 277 | Vivo | Vivo PD1612F_EX | Yes | No |
| 278 | Vivo | X5 Max | Yes | No |
| 279 | Vivo | X5 Pro | Yes | No |
| 280 | Vivo | Y27L | Yes | No |
| 281 | Vivo | Y51L | Yes | No |
| 282 | Wibridge | BLEU WI 208 | Yes | No |
| 283 | Wickedleak |  Wammy Note 5 | Yes | No |
| 284 | Wor(l)d | Space Phone 5GS | Yes | No |
| 285 | Xiaomi | Mi4i | Yes | No |
| 286 | Xiaomi | Redmi 2 (HM2_LTE_IN) | Yes | No |
| 287 | Xiaomi | Redmi 2A | Yes | No |
| 288 | Xiaomi | Redmi Note 4G (HM_Note_1_LTE) | Yes | No |
| 289 | Xiaomi | Redmi Note 4G Prime (HM_Note_1S_LTE) | Yes | No |
| 290 | Xolo | Xolo Era 1x | Yes | Yes |
| 291 | Xolo | Xolo Era 2x | Yes | Yes |
| 292 | Zopo | Speed 8 | Yes | No |
| 293 | ZTE | Blade Q Lux 4G | Yes | No |
| 294 | ZTE | Grand X Max Plus | Yes | No |
| 295 | ZTE | Nubia Z7 Mini | Yes | No |