OnePlus 3 is one of the best flagship phones available in the market. The flagship has been upgraded in many departments as compared to its predecessors. It has got a 5.5-inch display, powered by the Snapdragon 820 and paired with 6GB of RAM which makes it a beast at performance. Also it sports a stunning full metal design unlike it's predecessors. We have picked some very cool accessories for your OnePlus 3, make sure to save your budget for some of these.
OnePlus 3 Protective Case
These cases has got got a unique look and feel and is crafted exclusively for the OnePlus 3.The cases are light, thin, and don't add any unnecessary bulk or weight to your OnePlus 3. They're available in Sandstone, Karbon, Black Apricot, Bamboo, and Rosewood. All the cases are made from the actual material they're named for, as well as PC or kevlar for additional strength and durability.
Want to read more about the amazing OnePlus 3? Read here
OnePlus 3 Flip Covers
These are the official flip covers from OnePlus itself. It's a great-looking case and is made of soft, supple PU leather that's made to last. It also has a room for a credit card or even a few folded bills on the inside of the front cover. The flip cover will automatically put your display to sleep when you close it, which is helpful to save battery. It comes in black, gray, or the sand tone color options.
APLUS Desktop Dock
This is a dock which comes from the brand name APLUS. This desktop dock which has a connector in the centre (USB Type-C) to charge the OnePlus 3. Although you are stuck to use the device in portrait mode, instead of having the option to use in landscape.
Anker USB-C to Micro USB Adapter
If you are the one who is surrounded with micro-USB chargers but forgets to carry his own charger then these adapters can be pretty helpful in such situations. It will allow you to use your existing Micro USB cable or charger with the OnePlus 3's USB Type-C port. It comes in a pair in each pack and are definitely worth picking up.
Love Ying Flexible TPU Case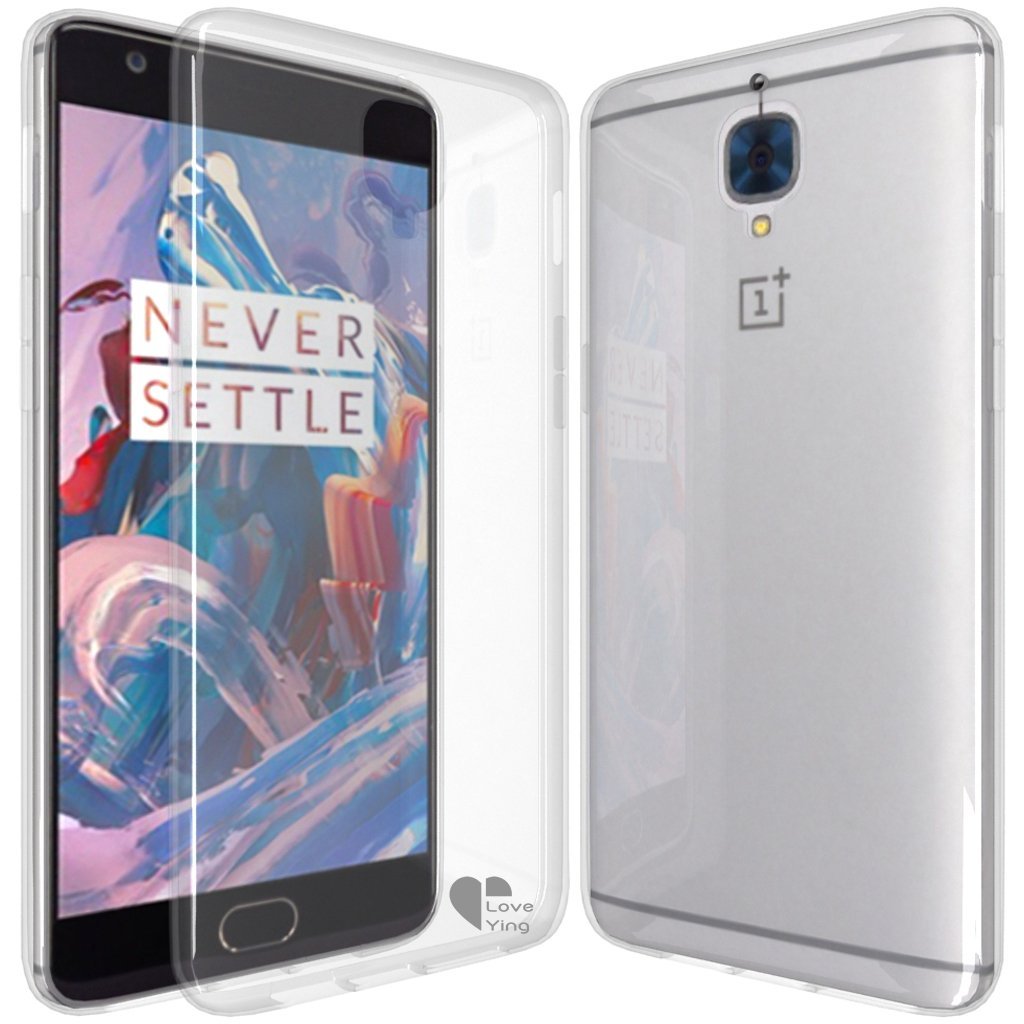 If you want to protect your OnePlus 3, but without spoiling the beauty of this phone, then this TPU case is the one for you. This flexible TPU offers excellent shock and bump protection in spite of its minimalist design. It is also available in Mint, Purple and Pink colours.
Orzly Grip-Pro case
If you're the one who often drops his phone or is pretty careless with their phone, then this is the case is definitely for you. It has got a shock-proof internal skin and hard rubberised exterior protect against bumps and drops, and also got precise cutouts for speakers, buttons, as well as a raised edge around the camera to keep the lens safe.
APLUS Tempered Glass Screen Protector
Screen protectors can sometimes feel a bit plasticky and not that pleasant to use everyday. But tempered glass screen protectors make it feel more natural, while still protecting your display from scratches and such. APLUS has one available here for the OnePlus 3, that's definitely worth checking out, if you want to protect that display.
Asmart Tempered Glass Screen Protector
Here is an another great tempered glass screen protector from Asmart. This is something that's definitely worth installing on your OnePlus 3, especially if you're scared of getting the display scratched or even shattered. This is a clear, and bubble-free screen protector for the OnePlus 3.
OnePlus 10000 mAh Power Bank
If you are the one who uses his phone very frequently for playing games or browsing pages then you are recommended to get a power bank. These are official OnePlus power bank with 10,000 mAh lithium-polymer batteries. The OnePlus Power Bank is very nicely designed. Slim and lightweight, it'll feel just like a smartphone when slipped into a pocket. It comes in sandstone black and silk white colour option.
Type-C USB 3.1 OTG Cable
Sometimes we need to access the data of our pen drive but again plugging it to PC and then copying back to the phone takes a quite bit of time. So in such cases these OTG cables come in handy and makes things quite easier for us. We just need to plug it into the Type-C port and you are good to access your paen drive data
Suggestion-
If you love your OnePlus and want to add a little fashion to it, you can always go for Dbrand skins. I am sure you will love it.