When it comes to buying a smartphone which can cater to your versatile requirements, each price segment has an ample number of options to make you confuse. If you are looking to buy a phone which is approximately around INR 25,000 and a particular brand is not a restraint for you then Lenovo Moto Z Play is a competent option in the market. Since its launch, the phone has gain a significant attention from the customers and here are some factors which will make you consider Lenovo Moto Z Play for your next pick.
Extraordinary Battery Life
Yes, in an era where long battery life in a smartphone is a myth, the Chinese manufacturer has literally done a great job in this area. If battery life is your top priority then Lenovo Moto Z Play is the best in the segment, as this smartphone's battery can last "up to two days" on a single charge. Moto Z Play is equipped with 3510 mAh battery which is capable of delivering 45 hours of mixed usage, accompanied with a TurboPower charger, a 15 minutes charge is good to deliver 8 hours of battery life. The company has done this very smartly, used a big battery with a mid-range Qualcomm processor, a 1080p screen, and 3GB of Ram. All these factors together give a decent output without gasping battery at very fast pace.
Moto Mods
If accessories that improve the experience in various aspects attracts you, then Moto Z Play has a lot to offer. At the back of the phone, 16-dot connector interface is given to connect different Moto Mods. The different compatible accessories include JBL Soundboost (Rs 5,999), Moto Insta-Share Projector (Rs 15,999), Hasselblad Tru Zoom (Rs 14,999), Incipio offGRID Power Packs (Rs 4,999), Wood and Ballistic Nylon Motorola Style Shell (Rs 899) and Leather Style Shell (Rs 1299), the pricing mentioned is discounted and applicable when purchased with the Phone.
Premium Build And Design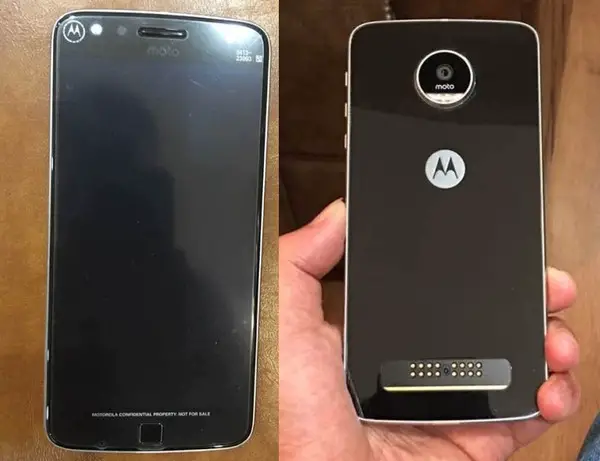 Though it is not the slimmest phone in the segment but, it is next to it, giving a plush feel. The foundation of Moto Z play is just like its pricier siblings, a combination of glass and aluminum with a splash-proof coating. The phone is 6.99 mm thick has a USB-C jack on the bottom with a headphone jack and this is the reason of the thicker proportions of the phone, which are not awkward but handy. The volume and power buttons on the side are clicky and feel nice just like on the other Z series phone. The glass on the front is classier which gives the Z Play its unique feel and make it worth its pricing.
Upbeat Performance
Yes, this term is suitable for a phone which gives you a battery life of two days. With a Qualcomm Snapdragon 625 processor, there is hardly any specific performance issue which you will encounter. Unlike Snapdragon 617 processor, it is quite brisk in performing various tasks seamlessly and with Stock Android OS, you get rid of unwanted manufacturer loaded apps which fill your storage by getting automatically updated, makes your phone more responsive and will get the Android updates pretty quick from the rest.
Good Resale Value
Moto phones have received a significant response in past few years. Due to their potential hardware, up to the mark performance and quality picture quality, these phones easily get a good re-sale value. So, after having Moto Z Play and using it for a while, when you will reach in a situation when you will be looking to upgrade your phone, Z Play will assist you in getting some good financial aid for the new one depending on the year of use and the way you have maintained it.
Conclusion
So for a price bracket closing around Rs 25K, Lenovo Moto Z Play has quite impressive capabilities which surely include impressive battery backup. If all the above-mentioned factors do find some place in your priority checklist then this phone should be your everyday companion and you won't be regretting your decision for the performance of this Smartphone.