At Gadgets To Use, we strive to safeguard our users from falling into the trap to various cyber traps. Last night we did a video on Whatsapp spam, which has received good response from our users. In this article, I'm going to reveal the facts about the scams going on on Olx and Quikr.
Olx And Quikr Scam
If you are selling an expensive electronic item (phone or laptop) on Olx or Quikr, don't be surprised if you receive a message from a foreigner that he/she is interested in buying it. In most cases, the real intention is to cheat you and get the item for free. Below are the steps they follow to gain trust and finally cheat the seller.
Firstly, they start the conversation that they are very much interested in buying the item to make sure seller think they are prospective buyers. They don't even negotiate a penny.
And then, they provide some humanitarian reasons on why they need the item. In few cases that came to our notice, the reasons given were a gift for a daughter, a gift for a mother, for donation to an orphanage, etc.
They also proactively say that they will bear shipping charges. Interestingly, everyone quotes ten thousand rupees irrespective of the shipping destination.
Finally, they ask seller's email id and bank account number to transfer the amount.
And the drama culminates with an email from Bank of America or Citi Bank. The email states that the bank has received the amount from the buyer, and the amount will be released to seller's account after seller ships the item.
If you think it is a fair deal and ship the item, you are looted with no way to recover the money. The catch behind the email with payment details is that no bank is actually involved in the transaction. The email is fabricated by the buyer to deceive the seller.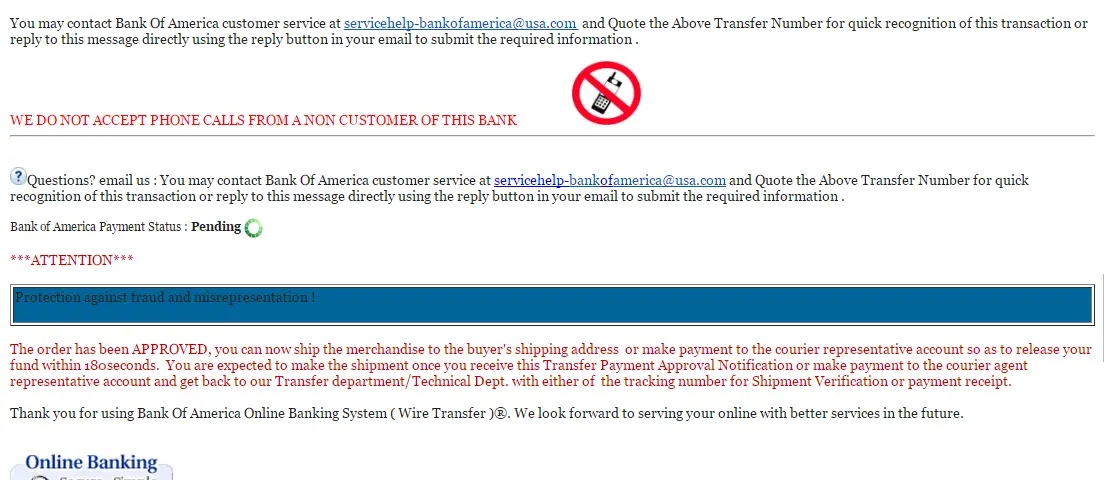 What we suggest
We request our users to be cautious about these type of offers you get while selling on Olx or Quikr. Also, report it to Olx to make sure other who don't read this article will not fall into the trap. Please share the post so that everyone will get to know about this cyber racquet.