Reliance Jio announced today that its subscribers – existing and new – can continue to enjoy its free 4G services up to March 31 2017. The upcoming service provider made the announcement during Reliance Industries' special event. Reliance Jio has named it as the Jio Happy New Year Offer, giving its users unlimited 4G LTE data, video, voice and access to its Jio branded apps for free.
Reliance Jio Happy New Year Offer Applicability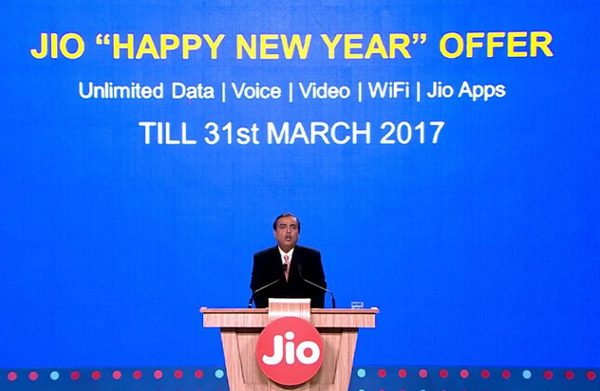 The Jio Happy New Year Offer will be applicable to all new users signing up for the service from 4th December 2016. These new users will be offered access to unlimited 4G LTE data, video, voice and the Jio range of apps for free up to 31st March 2017.
Reliance Jio also announced that all its existing users who are currently on the Jio Welcome Offer will be migrated to the new Jio Happy New Year Offer on 1st January, 2017.
Reliance Jio Happy New Year Offer Details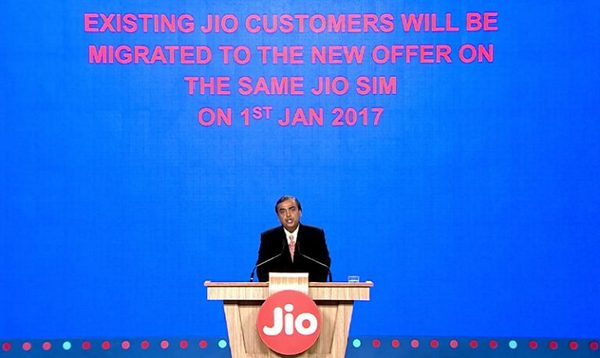 Under the new offer, Jio will offer its users 1 GB of high speed 4G LTE data per day. After exhausting the 1 GB limit, users will be downgraded to 128 Kbps speeds. This limit will be refreshed on a daily basis, so you can effectively use about 30 GB of high speed 4G LTE data per month.
Existing users under the Jio Welcome Offer enjoy a daily cap of 4 GB 4G LTE data. This limit will be reduced to 1 GB per day starting on 1st January, 2017. That date is when existing Jio Welcome Offer users will be migrated to the Jio Happy New Year Offer.
All other offerings like unlimited voice, video, 100 SMS per day and unlimited access to Jio apps have been continued as is.
Jio Commercial Launch Delayed
The new offer announcement by Jio shows that the company has pushed its commercial launch by 3 more months. This is quite necessary as well – the Jio network is not ready for consumers yet. Over the last few months, the company has been working on improving its speeds and reliability.
At the same time, Jio has also reached an agreement with other leading service providers for providing more interconnection points. This has reduced the call blocks from over 90% to 20% as of yesterday, as pointed out by the Chairman of the company. The company also noted that so far, over 900 crore voice calls have been blocked by the three biggest service providers. However, going forward, this problem will be solved as the company gains more interconnection points and works on improving its network technology.
Other Reliance Jio Announcements
During the announcement, Mukesh Ambani, the Chairman, revealed several other details as well.
According to Reliance Jio's metrics, the company is witnessing consumer data usage that is 30 times of all other service providers combined.
Reliance Jio now has more than 52 Million subscribers in 83 days.
Reliance Jio subscribers consume 25 times more data on an average compared to broadband users.
Reliance Jio eKYC outlets currently stand at 2 Lakh across India. Jio will expand these eKYC outlets to 4 Lakh by 31st March 2017.
Jio offers Mobile Number Portability (MNP) to let you port your existing number to the Jio network.
Call block rate has been reduced from 90% to 20% as of yesterday, according to the company.
If you haven't subscribed to Reliance Jio yet, you can download the MyJio app from the Google Play Store or Apple App Store for free. In select cities, Jio also offers home delivery of its SIM cards with eKYC (Aadhaar based) activation facility to onboard you onto its network in just 5 minutes.