This October, Lenovo launched its Yoga 510 laptop along with the Yoga 710 in India. The former is a mid-range notebook, while the latter is a premium one. Recently, we got to use the Lenovo Yoga 510 and found it quite handy at its price. Today we present you with a short term review and features overview of the portable computer.
Lenovo Yoga 510: Specs
Display: 14-inch Full HD (1080 x 1920) IPS Anti-glare LCD touchscreen
Processor: Intel 7th Generation Core i5 7200 CPU (2.5 GHz up to 3.1 GHz with Turbo Boost)
Graphics: AMD Radeon R16M M1 30 (2 GB DDR3)
RAM: 4 GB DDR4 2133 MHz
Hard Disk: 1 TB 5400RPM
Operating System: Windows 10 Home (Pre-installed)
Camera: 720p HD with inbuilt microphone
Connectivity: 1 x USB 2.0, 2 x USB 3.0, 4-in-1 Card Reader, Dual-band Wi-Fi (2.4 GHz + 5 GHz), Bluetooth 4.0.
Battery: 2-cell 39 Watt-hour (up to 5 hours)
Dimensions: 33.6 cm X 23.2 cm x 2.1 cm
Weight: 1.73 Kg.
Price: Rs. 60,390 with pre-bundled ADP (Accidental Damage Protection)
Design and Build
Lenovo Yoga 510 is a pretty well-built laptop. The convertible is made of high-quality materials and has its own premium appeal. The construction is sturdy and feels good in hands. Just like the Yoga series notebooks, this too features a 360-degree rotatable hinge. The 2-in-1 portable can be used both as a laptop or a tablet.
Coming to the dimensions, the notebook features a thinness of 2.1 cm and weighs just around 1.73 Kg. Thus, it quite travels friendly, and you can carry it ease.
Display
The 14-inch Full HD touchscreen of the Yoga 510 is quite good. Being an IPS display, it offers excellent viewing angle and looks almost same when seen from any direction. With a brightness of 250 nits combined with the anti-glare coating, the screen offers outstanding outdoor visibility. The touch sensitivity is good too, and you can seamlessly use the notebook as a tablet device.
Performance
Coming to performance, Lenovo has done a great job here. The 7th Generation Intel Core i5 inside the Yoga 510 handles day to day tasks with ease. With the additional 2 GB DDR3 AMD Radeon R16M M1 30 GPU, the 2-in-1 breezes through entry level gaming. 4K video playback is really smooth. Speaking of memory, the laptop sports 4 GB of DDR4 RAM along with 1 TB hard disk. Speaking of the operating system, the notebook comes with Windows 10 Home pre-loaded.
The laptop performed pretty well on our usage, although an SSD would have indeed made it class leading.
Keyboard and Touchpad
Being a 14-inch laptop, the Yoga 510 comes with a compact keyboard without the additional number keys. The keyboard itself is pretty robustly built and sports a nice matte finish. The keys are perfectly placed to the right among of spaces in-between.
The trackpad is fairly large and very smooth to operate. The quality of material used by Lenovo is splendid and typing and using the laptop is indeed a pleasure.
Ports and Connectivity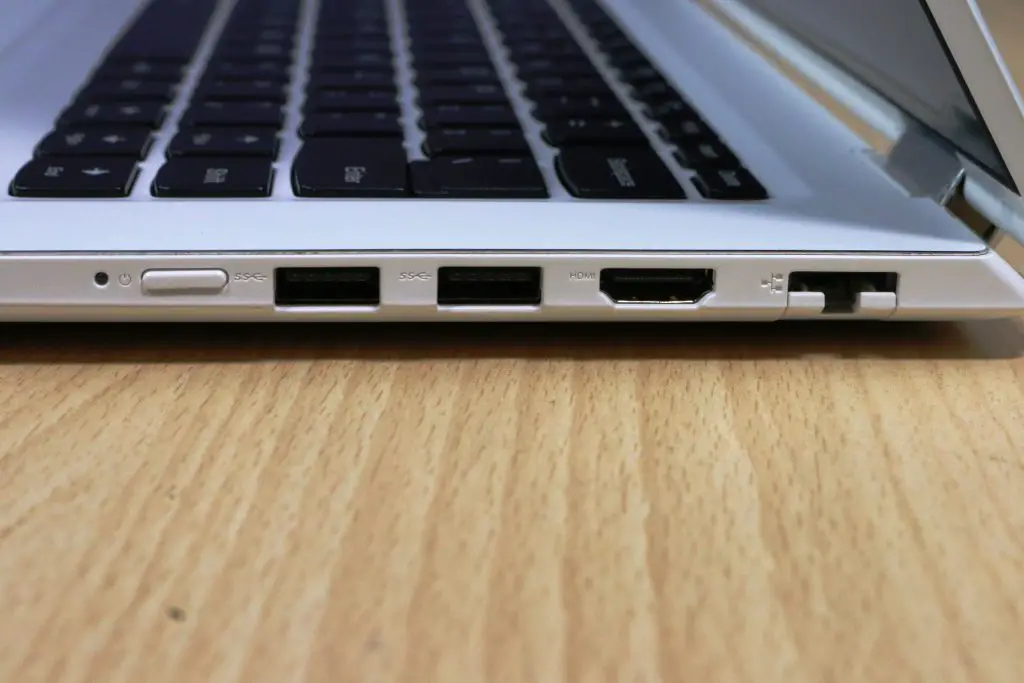 The Lenovo Yoga 510 packs three USB ports, out of which two are USB 3.0 while one is USB 2.0. There is also a 4-in-1 card reader which supports SD, SDHC, SDXC and MMC chips. The laptop rocks dual band Wi-Fi (2.4 GHz + 5 GHz) and Bluetooth 4.0, thanks to the Intel 3165 chip inside it. HDMI, gigabit LAN, and audio combo ports are present too. However, there is no optical drive which is quite evident from the compactness of the machine.
Camera and Sound
A HD 720p webcam sits at the front of the Yoga 510. Although this is a somewhat a low resolution, it will be mostly sufficient for casual video chatting. The laptop features inbuilt array microphone. Coming to the sound, the notebook rocks some serious hardware. It comes with stereo speakers powered by Harman. This results in exceptional sound output and the Yoga 510 is capable of producing crisp and crystal clear acoustics.
Battery
A two-cell 39 watt-hour battery juices up the Yoga 510. The seemingly small cell is capable of delivering up to 5 hours of power backup. Lenovo has equipped the laptop with some kind of fast charging tech which makes recharging quicker than its competitors.
Pros
Snappy performance
Premium build quality
Exceptional sound output
Gorgeous display
Cons
No SSD
Inferior battery
Expensive
Below average camera
Photo Gallery
Conclusion
The Lenovo Yoga 510 performs quite well under normal usage but somewhat struggles during some high-level activities. The main USP of this laptop is its 360-degree foldable design which looks and works extremely good. The speakers are quite good, and the notebook rocks excellent sound performance. The battery life of the PC is a let-down as the two cell unit can is not a match to other laptops in its category.
Considering its price of around Rs. 60,000, the Yoga 510 is a decent offering and should never fill you with regrets after buying it. The display is class leading, and the hardware is more than enough for almost all of our day to day computing.