Sony launched their budget oriented MDR-XB50BS Extra Bass Sports Wireless in-ear headphones back in October. It focuses on heavy bass lovers and is also sports oriented when it comes to design related aspects. It is available for purchase on Amazon.in for Rs. 4905 only.
I have been using MDR-XB50BS Extra Bass Sports Wireless from the day of its launch and this is what I think about the headphones.
Sony MDR-XB50BS Extra Bass Sports Wireless Pros
Good amount of Bass
Fits well
Good battery life
Decent range
Sweat resistant
Splash proof
Clear audio
Great low frequency performance
Sony MDR-XB50BS Extra Bass Sports Wireless Cons
Chunky design
Mids are not impressive
Sony MDR-XB50BS Extra Bass Sports Wireless Features
Bluetooth Connectivity
Music controls on the headset
In-ear design
Built-in mic
Splash proof
Design and Build Quality
MDR XB50BS comes with a elongated rectangular design with rounded edges with rubber earplugs. At first, it looks a little chunky for your ears but it is not as heavy as it looks. Despite of the chunks, it manages itself to keep fixed to your ears even if you are running or dancing. You will find different sized silicone plugs included in the box, also there are 3 sizes of stabilizer fins to get a better support and comfort.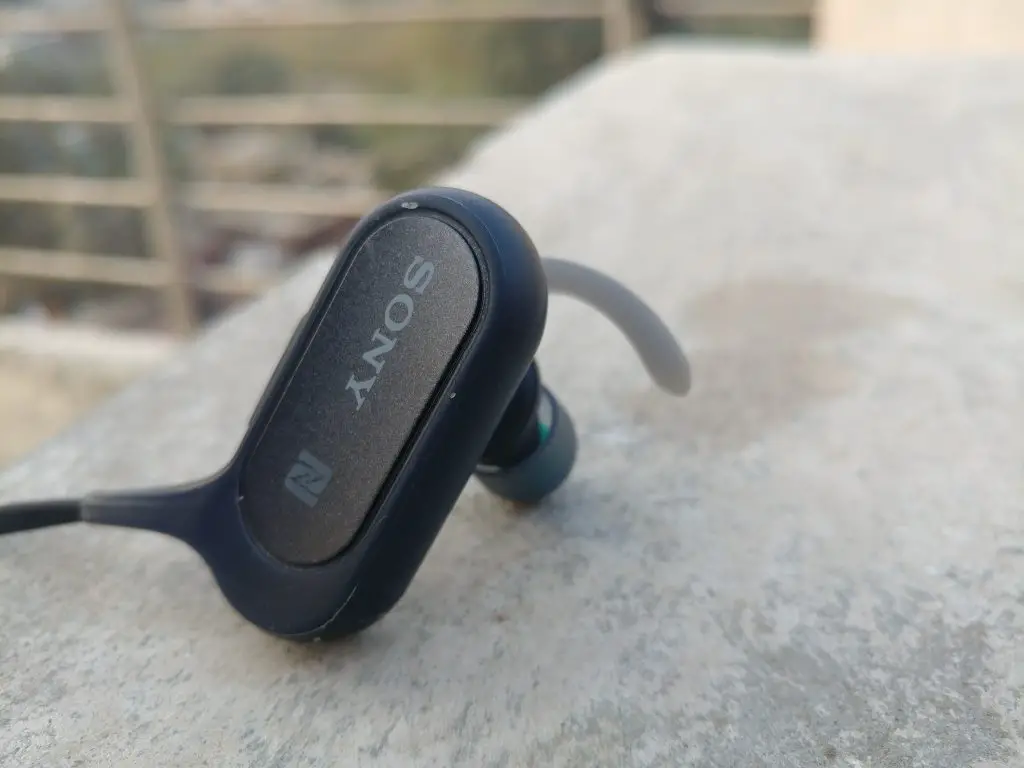 The left earpiece has the audio driver unit whereas the right earpiece has power button, volume keys, notification light and microphone. The build is totally plastic but does not feel cheap at all. There is also a flap which hides the microUSB port for charging on the left earpiece. The power button also acts as a play and pause button, and the volume buttons can be used to change tracks. The buttons are nicely placed, well raised and very convenient to use.
As you know that the earphones are wireless, there is just one wire that connects both he earpieces. You can easily hang it around your neck if you are not using the headphones.
Moreover, it is a IPX4 certified device, which makes it splash proof to keep safe from accidental water damage. Do not that it is water resistant, not waterproof. It is available in black, blue and orange colours.
Sony MDR-XB50BS Extra Bass Sports Wireless Photo Gallery
Sound Quality and Performance
Sony has always been impressive when it comes to consumer-grade audio performance. With these headphones, I was able to hear deep bass but still did not very heavy or uncomfortable. The treble is matched perfectly and did not sound too airy.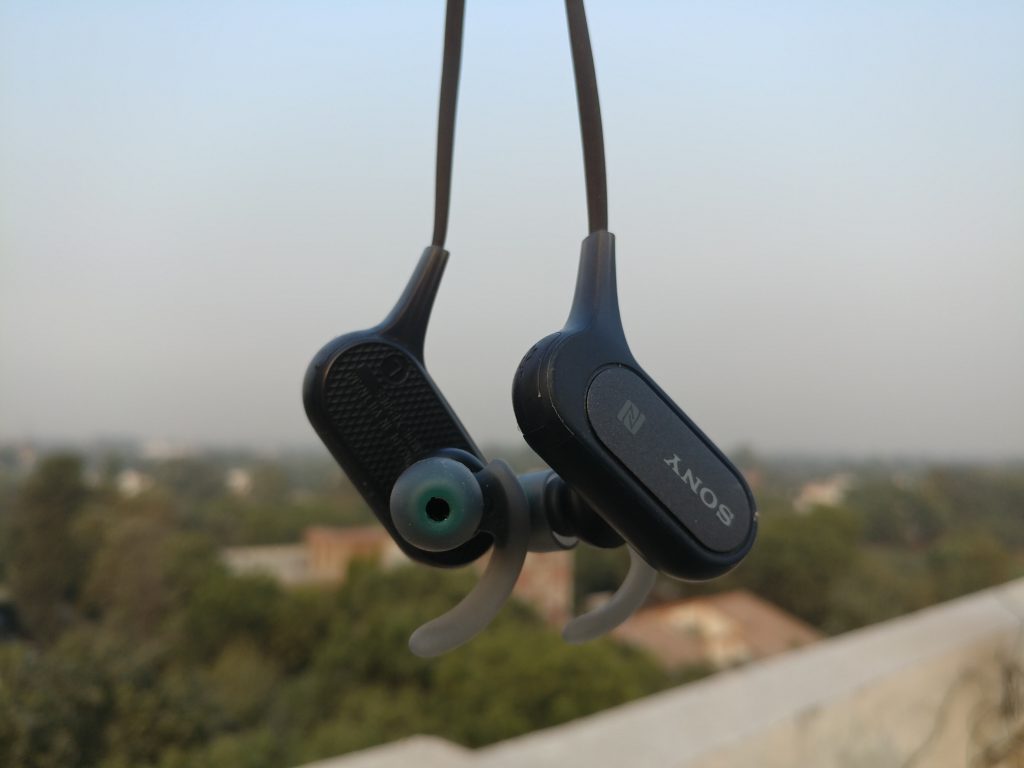 It is nicely tuned for outdoors, and during active workouts. The highs- are clear and soft which works in favor and makes the tones sweet and warm to hear. The mids suffer in some cases because of the low frequency performance. It might be unnoticeable to most of us but still you can notice the mids losing the plot in selected instrumental sounds.
The overall sound is well balanced and there is a good sense of consistency that does feel good to ear. The loudness is more on the softer side and the clarity is impressive, which make it a great activity oriented headphones. If you like bass over anything else, these are the best wireless earphones you can consider in this price range.
Connectivity
For connectivity options, Sony MDR XB50BS offers Bluetooth and NFC. The connectivity is pretty stable and did not trouble even when I was more than 20 feet away from the source.
Battery Life
Sony claims up to 8.5 hours of battery backup on these earphones. During my usage, I noted almost 7 hours of backup on a single charge. It takes around 45-50 minutes to charge from 0-100%, which is quite impressive.
Microphone Quality
The microphone is decently sensitive and works well in indoors. You may need to speak louder than usual in some cases though. For outdoors, you can keep your palm over your mouth and cover the microphone with the same palm to use the mic.
Conclusion
The Sony MDS-XB50BS Extra Bass Sports Wireless gave did not gave me a chance to complain. If you are into hardcore music, then you might need to give it a second thought but for a fitness enthusiast, it is surely a useful accessory. For bass lovers, it's one of the best budget wireless earphone. We cannot ignore the fact that Sony has been pretty consistent when it comes to quality audio devices, and same is the case with these earphones.