Lenovo has officially announced that all of its K-Series smartphones launched in 2016 will soon support VoLTE (Voice over LTE) calls. The forthcoming functionality shall be rolled out via an OTA update. The handsets which are entitled to receive this update include the Lenovo K4 Note, Vibe K5, Vibe K5 Plus and the Vibe K5 Note. Unfortunately, there are no words on the availability of this functionality for the older Vibe X3 smartphone.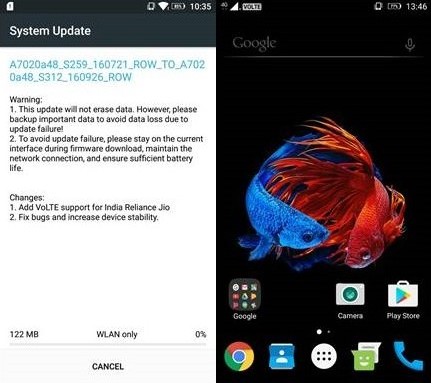 With the advent of Reliance Jio, VoLTE-support has suddenly become a very important criterion for every new handset. The free unlimited voice calling offer of Jio has changed the mindset of Indian smartphone buyers. No one is unwilling to pay some extra bucks for the advanced calling functionality. Even though Jio has a dedicated application to enable voice calling on any 4G phone without VoLTE support, it is not as seamless as with the native compatibility.
Almost every smartphone manufacturer in India is now enabling the VoLTE support in their devices. The service which was practically non-existent in the country has suddenly become mandatory. Lenovo's newly launched K6 Power and K6 Note support VoLTE calling right out of the box. The upcoming update to enable VoLTE on the Lenovo K4 Note, Vibe K5, Vibe K5 Plus and the Vibe K5 Note will surely add up to the selling point of the mobiles.
Lenovo hasn't yet mentioned any specific timeline to roll out the OTA (On the Air) update to enable VoLTE. However, we presume that it will start pretty soon as the company surely wants to grab the market while Jio continues to offer the free benefits. Do let us know about your queries below in the comment section.