Facebook has just launched one of the most craved for feature in its Messenger app. The new Group Video Chat capability takes Facebook Messenger way ahead of its rivals like Snapchat, Google Duo, and Apple FaceTime. This puts it in line with enterprise networking applications like Microsoft Skype and Google Hangout. Group Video Chat has already gone live in the latest version of the Messenger app for Android, iOS as well as desktop.
The newly unveiled feature lets up to fifty people join a group video chat at the same time. However, all the participants can see each other only if the number of individuals is equal to or less than six. Once the number of active partakers exceeds six, only the dominating speaker is shown in the video feed. So, in a large group, only the individual who is speaking or sound the loudest will be visible to every other participant.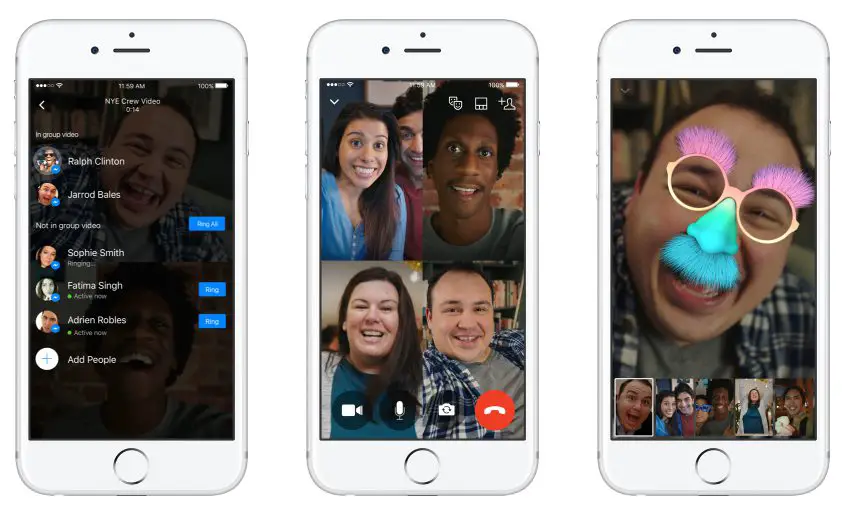 To start a group video chat, the first thing you need to do is to update the Messenger app. Then, you may just move into an ongoing group conversation or build a new one altogether. Finally, click on the video icon present at the upper right of the display to begin a video chat. This will notify every member of the group who can jump into the video conversation when they are ready just with a single tap. Additionally, you may even directly ring a few individuals or the entire group for a better notification.
Facebook has officially announced that the group video chat feature has already started to roll out worldwide for Android and iOS users via an app update. The social media giant has assured that all the current functions of the Messenger application will remain intact. This means you will go on sending texts, animations, stickers, etc. while in a video chat. The iOS version will moreover support live masks similar to Snapchat filters.