Qualcomm today announced the Snapdragon 835 SoC after numerous leaks and reports. The latest flagship SoC from Qualcomm comes with a Kryo architecture and features 8 CPU cores and Adreno 540 GPU. With the Snapdragon 835, Qualcomm is turning its focus to improving efficiency, thermal control and VR. Additionally, Qualcomm has also set its sights on running full blown Windows 10 on mobile devices (tablets as well as phones).
Qualcomm Snapdragon 835 Specs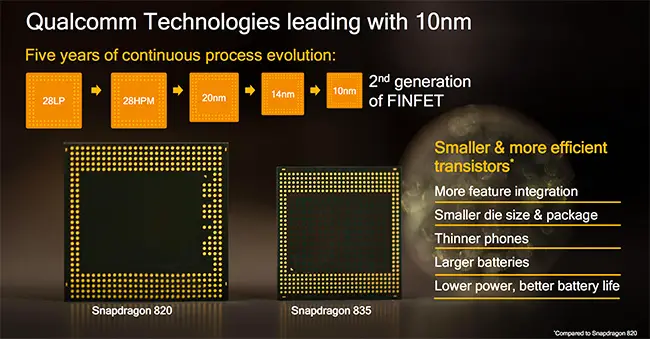 The Qualcomm Snapdragon 835 SoC features an octa-core processor. This new SoC comes with the same Kryo 280 architecture, although this time around we get an octa-core setup instead of quad-core. Built on a 10nm FinFET process, it features 4 performance cores clocked at 2.45 GHz each and 4 power efficient cores clocked at 1.9 GHz each. Qualcomm has also claimed that you should see about 25% less power consumption with the Snapdragon 825 compared to previous generation SoCs.
The Snapdragon 835 SoC also brings a new Adreno 540 GPU. It supports OpenGL ES 3.2, OpenCL 2.0, Vulkan API, and DirectX 12. Of all, DirextX 12 support is the most interesting point, fitting in well with the aim to bring Windows 10 devices with ARM architecture.
In terms of graphics and video recording, Snapdragon 835 supports 4K video recording at 30FPS, with 4K video playback at 60 FPS. Daydream VR support is also present, complementing the company's aims to focus on VR this time.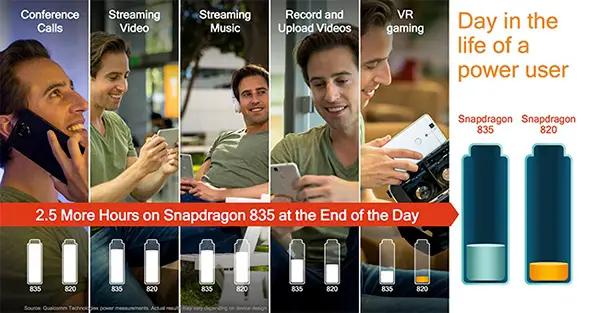 Coming to charging, the Snapdragon 835 comes with Quick Charge 4.0. With USB C Power Delivery compliance finally taken care of, you can see more and more devices bundling USB Type C and Quick Charge 4.0 instead of proprietary fast charging methods. Users can expect 20% faster charging and 30% more power efficiency compared to Quick Charge 3.0.
When Can We See Snapdragon 835 In Phones?
The most important question here is of course when can you expect to see Snapdragon 835 in phones.
The quick answer to this is that you can see the next generation of flagship smartphones using Snapdragon 835. Every major OEM that makes high end flagships will be using the Snapdragon 835. LG, Samsung, HTC, Sony, OnePlus, Xiaomi will all be using the Snapdragon 835 over the next few months.