In the present trend, smartphones are the alien devices running our lives from the morning till night. But, what runs these smartphones? 'Batteries'. Our topic of interest for today is targeting the technologies which are exceptionally made to improve the charging style of smartphones.
Fast charging has taken over the running trend of conventional chargers. What exactly is this fast charging and technologies related to it? Should you buy a fast charger for your smartphone? Does your phone possess fast charging technology? Let's get into its details.
Fast Charging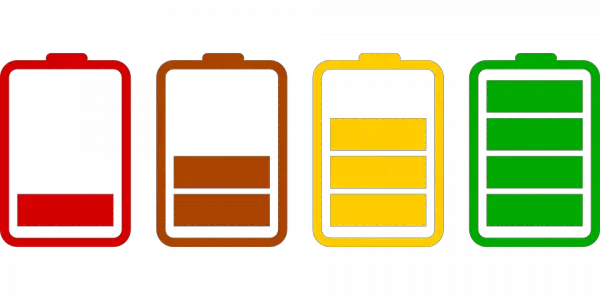 The fast charging technology basically charges your phone faster than a conventional charger would do. You normal charger will charge your phone at a specific amount of voltage and current that it can take load of. This specific amount of voltage and current then passes from your charger through the phone circuit to charge your phone's battery.
Fast charging is different and better as compared to conventional chargers. Fast charging enables the current to fluctuate as per your phones needs. It's a process of supplying the current demand to acquire a better charging speed.
Charging Technologies
Quick Charge
Quick charge technology is brought to you by Qualcomm. Quick Charge 1.0 was first introduced in 2013 which was able to charge your phone 40% faster than the usual phones. This was then deployed and used in all the Snapdragon based devices. As at present we have reached an advanced version of Quick Charge Technologies, let's hop onto to its newer versions.
Quick Charge 2.0
Explaining Quick Charge 2.0 in simpler words; it lets more power to enter and do the charging honors without harming your battery or phone's charging circuit with its power controlling regulator. With the use of 9 volt, 2 amp of power it will take your battery from 0% to 60% in 30 minutes.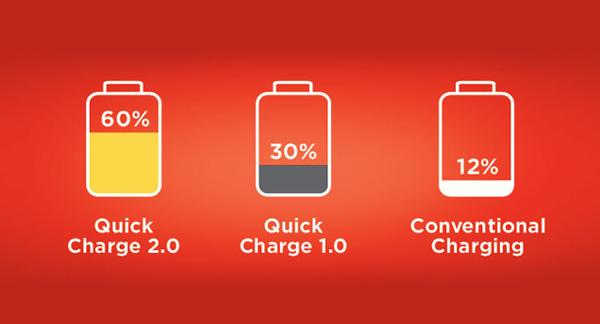 Quick Charge 3.0
Although it doesn't differ from what is offered in 2.0 but, the criteria is applied again. It regulates and manages to push in more power than the older version. Which means Quick Charge 3.0 can choose between wider ranges of voltage with its Intelligent Negotiation for Optimum Voltage (INOV). This allows 3.0 to charge faster for an efficient battery run, taking your battery levels from 0% to 70% in 30 minutes.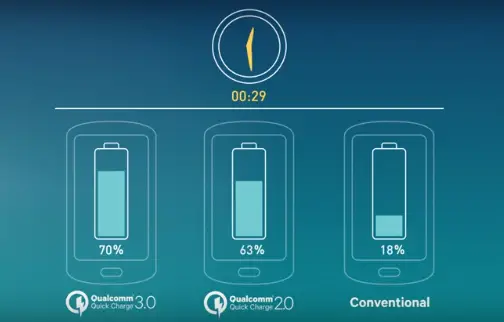 Quick Charge 4.0
Qualcomm has now introduced it latest flagship Snapdragon 835 which is packed with features along with Quick Charge 4.0. It is 20% faster and 30% efficient. With Intelligent Negotiation for Optimum Voltage (INOV) it also has real-time thermal management helping the power supply to stay cooler for safe battery charging performance.
It has the capacity and dynamic to take your battery from 0% to 50% in just 15 minutes. Qualcomm has quoted its new release by saying it as 5 for 5, which means 5 hours of battery life in 5 minutes. It doesn't stop here, the innovation in the newer version; Quick Charge 4.0 goes on and on.
It's 'The Name Game'
Smartphone companies like Samsung, Motorola and more, use their own patented names for Quick Charge technology so that they can sell the related accessories to their consumers. For example: Samsung calls it as Adaptive Fast Charging, Motorola calls it as Turbo charging. There is a marketing strategy involved in this process. This is quite understandable and doesn't harm any of the entity.
Other Fast Charging Technologies
Just like Qualcomm has Quick charge, Mediatek uses Pump Express charging and OPPO uses VOOC fast charging, so that their consumers can experience a faster charging technology. Just like the above, OnePlus incorporates its own technology known as Dash Charge. It is capable of taking your battery from 0% to 60% in 30 minutes. As a current example, Dash Charge charges the OnePlus 3/OnePlus 3T from 0-100% in 90 minutes.
Should You Buy A Fast Charger?
You can buy a fast charger if you know the technology used in it is compatible with your phone. If your charger has quick charge technology and your phone doesn't, it will heat up your phone and can harm the current passing chip located in your device. All of this can slowly damage you battery performance and your phone as well.
In a potential phone, normal charger won't harm the battery or phone but it won't affect the charging speed as well. If you want to know if your phone supports Quick charge technology or not, you can consult Qualcomm's website, click here!
Things To Consider Before Buying A Fast Charger
Make sure your phone is compatible Quick Charge (Check here)
Go for a company certified charger. Below are some recommendations.
Good quality charger USB cable is always recommended.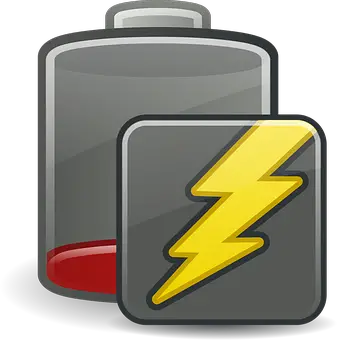 It should have strong circuit hardware along with high quality cable. A Poor quality charger with poor quality cable will not charge your phone efficiently and will only harm the phone circuits and the battery life.
Warranty
Make sure you get the best warranty offers for what you are paying. It helps in getting your charger repaired or replaced in case of accidents.
Reviews and Feedback of the charger
Read reviews and consumer feedback of the charger you think is right for you to buy.
Conclusion
Fast charging technology is a blessing to smartphone world. As we see more and more features being added to smartphones, charging facility is also being developed alongside. Fast charging has definitely added up to fast and efficient use of chargers and phone batteries. It also has developed a new era which is enabling the travelling time period less dependent on power banks and power supplies. You can spend less time on a charging station and can have hours of battery life to use while travelling.