Flipkart acquired the payment start-up, PhonePe, in April 2016. PhonePe is basically a UPI based app and it is powered by YES Bank. Through this you can link your bank accounts and make instant bank to bank transfers by using using a mobile number or unique payment identity – Virtual Payment Address(VPA).
In addition to that, it also provides you with a digital mobile wallet for wallet to wallet transfers and faster refunds, cashbacks from their merchant partners. You can also withdraw your wallet balance into your linked bank account(s).
ICICI Blocks PhonePe Transactions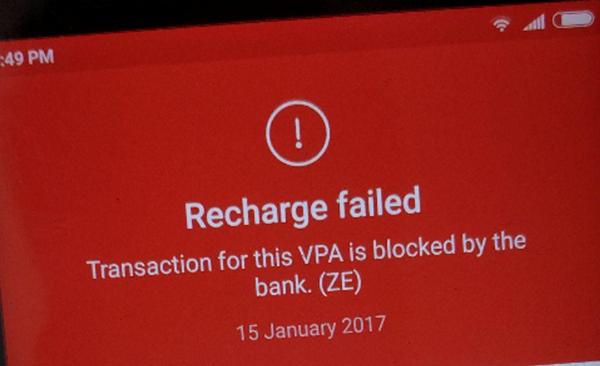 ICICI Bank has, since Friday, blocked transactions on Flipkart's payment app PhonePe citing security concerns. PhonePe CEO, Sameer Nigam, has expressed his disappointment on this step on Twitter.
But ICICI Bank has said in a statement:
"This entity (PhonePe) is following restrictive practices allowing users to make payments with only its UPI handle, which is in contravention to the UPI guidelines of interoperability and choice that empowers a customer to choose any app to make payments through UPI. Pending resolution of these concerns, we have temporarily declined to undertake UPI transactions originating from this entity."
We hope that National Payment Corporation of India (NPCI), which is the regulatory body for United Payment Inerface, will soon find a solution to this problem.
PhonePe Key Features
Send and request money from other wallet users.
Recharge any prepaid Mobile/Datacard/DTH, pay postpaid Landline, Datacard and mobile bills, Pay utilities bill.
Shop on Flipkart, Myntra, Jabong and other online retailers.
For Wallet transactions: Monthly wallet top-ups to Rs. 20,000 and a maximum per transaction limit of Rs. 20,000.
For Bank account transactions (UPI): Limit Rs.1 Lakh per transaction.
For Credit/ Debit card transactions: Same limits as that enforced by your card issuer/ bank.
For wallet balance withdrawal: You can withdraw upto Rs. 5000 from your wallet balance into your bank account per transaction.PhonePe app consists of multiple payment options, each having its own different limits.