Reliance Jio has disrupted the Indian telecom market with its unrealistic plans. For more than six months, the company has been providing free unlimited data, SMS, voice/video calls and access to premium apps. This has taken a grave toll on other service providers like Airtel, Vodafone, Aircel, Idea, etc. While Reliance Jio went on to add more than 100 million subscribers, others experienced a drastic drop in their revenue.
The free benefits that Jio has been providing are going to end on 31st March 2017. However, the company has come up with an ingenious plan. It introduced the Jio Prime membership, using which, users can continue to get all the unlimited benefits for another year. Of course, this time, it is not free. First, a customer needs to become a member of Jio Prime by paying Rs. 99. After that, he or she have to pay Rs. 303 per month to get all the unlimited benefits as now. Other plans are available too; starting from Rs. 149 per month only with lesser 4G data.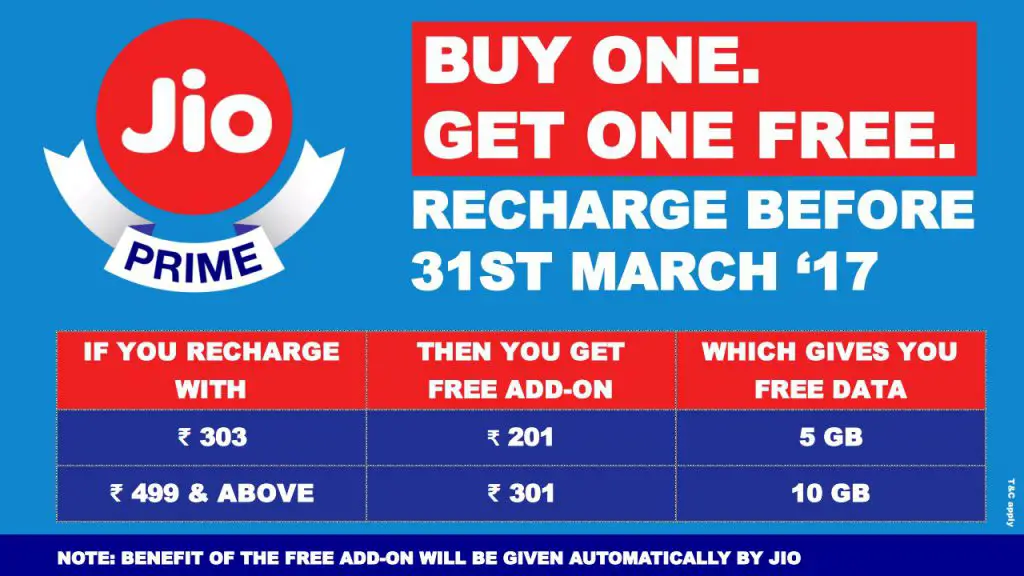 Now, the company has announced a new 'Buy One Get One' offer for the Jio Prime members. As per the offer, you will get 5 GB of additional high-speed data worth Rs. 201, if you recharge with Rs. 303 before 31st March 2017. The same will become 10 GB if you recharge for Rs. 499 instead of Rs. 303. Do note that you must buy the Jio Prime membership before you recharge with any of these packs.
The extra data will be credited for the first month only i.e. April 2017. You will have to use the data within 30th April 2017 itself. Reliance Jio has apparently notified that no promo code is required to avail this offer and it will be automatically applied to every eligible customer.
This surely does not sound like a 'Buy One Get One' offer, as the free product you are receiving is different than the one you are buying. The proposal seems more like an additional Jio Prime membership is being offered for free. Still, the benefits are quite lucrative considering the cost of 4G data in present days.