After so much of speculations and leaked images surfacing online, HTC U Ultra has finally been launched. The HTC U Ultra is a good and solid looking smartphone and comes with a lot of features. HTC U Ultra has glass finish at the back, which gives it a smooth touch and the curved edges around the corners give it a soft and firm hold.
We have seen dual display in Samsung and LG devices and for the first time, HTC has featured a dual display mode in the HTC U Ultra. It features a 5.7 inch Quad HD panel, with a pixel density of 515 PPI, Android 7.0 Nougat and Qualcomm Snapdragon 821 SoC coupled with 4GB of RAM. Here's a full review of HTC U Ultra for the better understanding of the phone performance, features and build.
HTC U Ultra Full Specifications
[table id=793 /]
HTC U Ultra Coverage
Performance
The HTC U Ultra comes with a Qualcomm Snapdragon 821 Quad-core chipset clocked at 2.16 GHz coupled with 4GB/6GB of RAM. The device comes with 64GB/128GB of internal storage which can be further expanded up to 256GB.
App Launch Speed
The app launch speed is very quick on this handset and it takes minimal time to open the heaviest of apps.
Multitasking and RAM Management
The Qualcomm Snapdragon 821 SoC in HTC U Ultra works well. Multitasking on this phone is easy and fast. It has 4GB of RAM and hence, handles multiple tasks at once without giving you a chance to complain.
Scrolling Speed
Scrolling speed is good in the HTC U Ultra. It didn't show lags while browsing through heavy web pages.
Benchmark Scores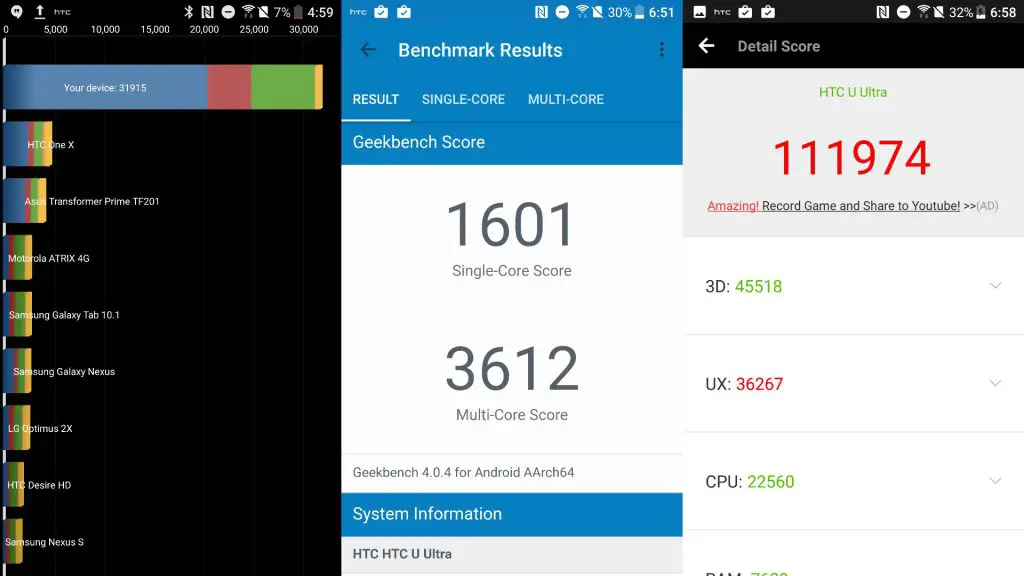 Camera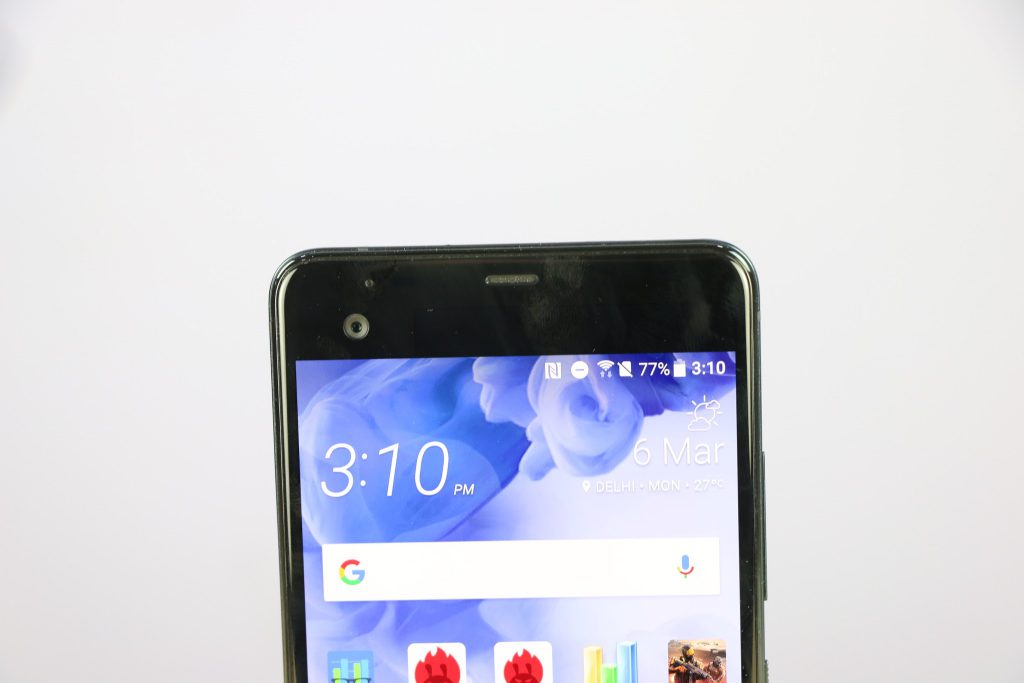 It has a 12 MP rear camera with f/1.8 aperture and a 16MP front camera. It comes with full HD video recording and auto-HDR capabilities from both front and rear camera.
Camera Performance
Camera performed really well in the HTC U Ultra and undoubtedly the pictures taken in daylight shines exceptionally compared to low light and artificial light images. It has a great camera for the price, but you can't call it as the best in the price segment. Auto-focus and image processing speed was appreciable in daylight conditions. Image processing is fast in all three light conditions. For a better idea of how HTC U Ultra clicked images, you can check out the camera samples below.
Camera Gallery
Battery Performance
HTC U Ultra is backed by a 3000mAh battery which is enough for a phone with such specifications but not below what is offered in the price segment. But, Qualcomm Snapdragon 821 processor is a good processor that handles battery at an average level.
Charging Time
We were able to charge the HTC U Ultra from 0-100% in 1 hour 30 minutes.
Looks and Design
The HTC Ultra looks perfect with its metal and glass unibody design. It comes packed in a glass shell on the back and metal frame. It has a a big 5.7 inch display and weighs 170gms, which is okay for the size and build. Phone looks different with the classy blue color and glass at the back. It has thin bezels on sides, with almost no black border, which is a good thing. You can have a feel of a good solid phone in hand.
Quality of Material
The HTC Ultra sports a glass back which feels elegant and premium at the same time. It has metal frame and minimal camera protrusion. All this altogether hike the looks of the phone.
Ergonomics
The HTC Ultra has a glass and metal body and display size of 5.7 inches. It weighs 170 grams and its dimensions are 162.4 x 79.8 x 8 mm. It is above an average sized phone.
Display Clarity, Colors and Viewing Angles
The HTC Ultra features 5.7 inch display with a screen resolution of 1440 x 2560 pixels with 513 pixel density. It is a beautiful looking display with crisp details and bright colors. The viewing angles on the device are very good.
Outdoor Visibility (Full Brightness)
Outdoor visibility is good, but the colors don't look dull when the brightness is not full.
Custom User Interface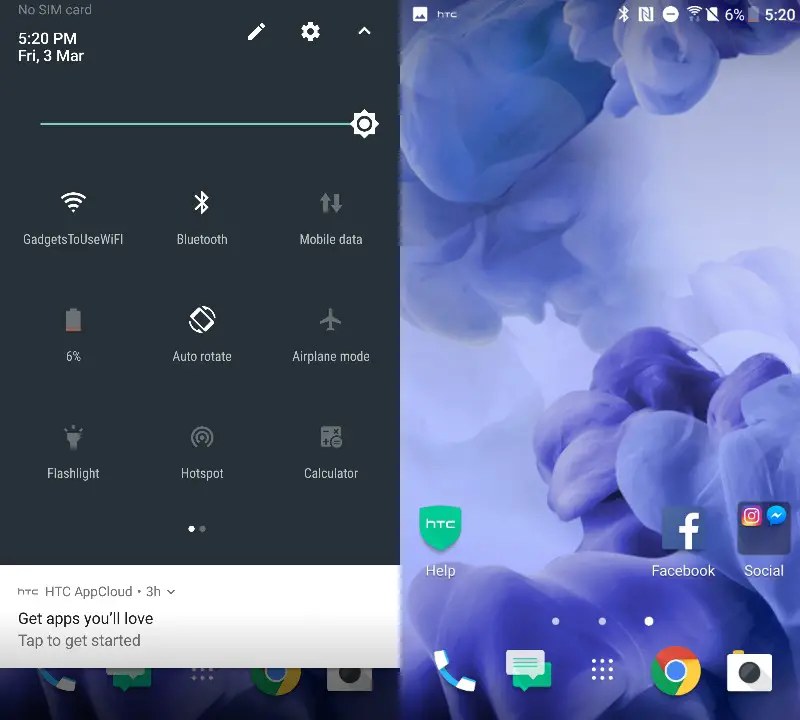 The HTC Ultra runs on Android 7.0 Nougat HTC custom skin on top. The HTC calls it as Sense Companion. It comes with an AI, making it a smart skin, so to say. It was said that it works as per your usage and suggests with the same. The real life usage made it evident that it works the way it was told. However, for the better understanding of it, we have to use the phone for a longer period of time so as to come up with a firm decision on it.
Sound Quality
The loudspeaker on this phone is placed at the bottom and the sound quality is pretty good. You can have a great sound experience while playing games in a silent room but a full volume capacity can touch your drums like a sharp treble. But, it surely gives a decent sound output in terms of call ringtones in outdoors.
Call Quality
Call quality is good. Network reception is great and the microphone and speakers work really well.
Gaming Performance
We played Modern combat 5 on the HTC U Ultra to test its gaming performance. The Qualcomm MSM8996 Snapdragon 821 does a good job in handling graphic intensive games. Although we faced some minimal heating issues but it was still playable.
I played the same game for about 30 mints and battery dropped around 14% and the phone got quite warm but allover heating was under control. The battery drop was decent and looking at the battery capacity, the drop was expected keeping the intensive graphic management in mind.
Game Lag & Heating
We did not face any major issue while playing Modern combat 5. The worst I could notice is the phone got a little warm. Heating was well under control, it did not heat up even after excessive gaming.
Verdict
HTC U Ultra is a decent phone offering decent features, however the phone is a bit on the pricey side. The highlight according to our usage is its camera in daylight conditions. The hardware on the phone is quite good. Plus, if you want a good looking phone that delivers on your expectations for good build and feel in a phone, the HTC U Ultra is a decent option to go with.
The HTC U Ultra is priced at Rs. 59,990 and is available in Brilliant Black, Cosmetic Pink, Ice White, Sapphire Blue color options. Along with HTC U Ultra, HTC U Play has been priced at Rs. 39,990. HTC is offering a lot of offers that comes as you buy the two devices, which include; all customers who purchase HTC U Ultra and HTC U Play smartphone will get assured free insurance, attractive cashback offer and exchange program.
Offer Details:
Cover plus Insurance bundling- HTC U Play and HTC U Ultra comes with a one-year insurance that covers liquid damage and any physical damage to the phones. Plus, the Customer is not required to register for insurance.
Cash back program- Standard Chartered Debit and Credit card holders * can avail 10%* cash back on the MOP value of both the phones. Maximum value of cash back Rs.  5,990 on U Ultra and Rs. 3,990 on U Play. Offer valid from 6th March – 31st May'17.
Exchange program- Exchange the device under HTC Buyback scheme at retail stores.