Qualcomm Snapdragon 660 was leaked last year with some promising specifications. Now, we have got our hands on its benchmark scores. The screenshot of the result of an AnTuTu test of the future midrange chipset has just surfaced on the internet. The benchmark score indicates that the SD 660 is going to be a beast regarding performance.
Snapdragon 660 Benchmark Scores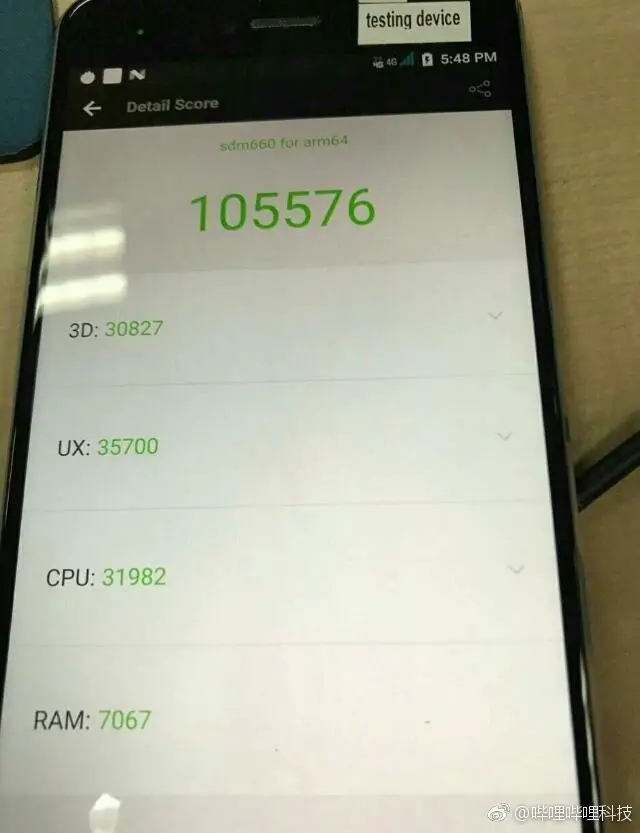 In the AnTuTu benchmark, the Snapdragon 660 has scored 105576. This is certainly an excellent score for a midrange chip. Detailed analysis of the score shows that the upcoming SoC has scored 30827 in the 3D test, 35700 in UX, 31982 in CPU, and lastly 7067 in RAM. This makes the SD 660 about 30 to 35 percent slower than the flagship – Snapdragon 820.
Speaking of the specifications, the Snapdragon 660 is going to rock an octa-core setup with four Cortex A73 CPUs and four Cortex A53 ones. Just like the current Snapdragon 625, the SD 660 is expected to be made using Samsung's 14 nm FinFET process. This will not only improve its power backup but also rule out any chance of overheating.
Coming to the upgrades, the new chip will support dual channel LPDDR4X RAM running at up to 1866 MHz, UFS 2.1 memory, up to 24 MP dual camera, and more. All of these would surely make the Snapdragon 660 a worthy successor to the Snapdragon 652 and 653. If speculations are to be believed, we might see the SD 660 chipset first in one of Xiaomi's upcoming Redmi devices. Other manufacturers like OPPO and Vivo are on the line too.
The leaking of these benchmarks only indicates that the release date of the Snapdragon 660 is near. As per previous rumors, the SoC is due to launch at the end of Q2 2017. Smartphone manufacturers may start to use the chip a few months later.