In order to maintain its cutting edge in the digital wallet segment, Paytm has come up with a new feature to attract the already existing and new users to use the app. Paytm has introduced a new insurance cover to protect the money in the user's Paytm Wallet in case of theft, loss of device or unauthorised access. Tagged as Wallet Insurance, all Paytm users with balance in their wallets are covered by this insurance.
Interestingly, Paytm will not charge anything for its Wallet Insurance feature. If a user has lost its device then one needs to immediately report the loss at paytm.com/care or by calling company's Customer Care number +91 9643 979797. After this, the user needs to file an FIR with police about loss of device. The details of the FIR should be shared with Paytm within 24 hours. The Wallet Insurance will cover the loss of Paytm Wallet balance up to Rs 20,000, which is due to fraudulent transactions as a consequence of theft, burglary or loss of phone.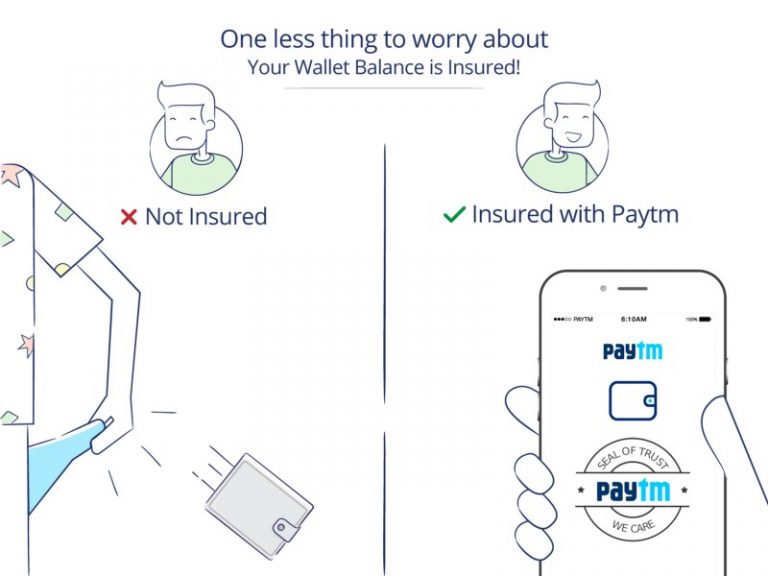 What will be covered?
Loss of Paytm Wallet balance up to Rs. 20,000 due to fraudulent transactions as a result of theft, burglary or loss of mobile phone/device.
Loss of Paytm Wallet balance by unauthorized fraudulent transactions if the user's log in credentials weren't shared.
Paytm will block the wallet within 2 hrs of an incident being reported to the customer care and it will only be usable after company unblocks the account and offers a new password. Paytm will then execute its verification process and after this, the company will settle your account within 5 working days. The user must bring the loss of device or any sort of fraudulent into the notice of the company within 12 hrs of the incident to claim the reimbursement.
It should be noted that the reimbursement amount will be equal to the user's Paytm Wallet balance at the time of incident or Rs 20,000, whichever is lower. Only one incident of claim is applicable per user within a period of 12 months. This feature will surely get some more users to Paytm which is being used by 200 million users with 8.5 million transactions every day. The feature is not provided by any other company and this will bring more security and peace of mind to the users of digital wallet.
What are the events not covered under this scheme?
Any loss occurring in case the user details/device were shared/misplaced/acquired due to user's negligence.
Any fraud due to misuse of credit card/debit card/bank account information through the Paytm Platform.
Any loss arising out of negligence on the part of the user (e.g. typing a wrong number to send money).
Any loss arising due to user not upgrading/adopting the latest security features released by Paytm.
Let's see how other wallet companies respond to this new feature and bring any effective feature.