ACT Fibernet today announced the launch of its Gigabit broadband services in Hyderabad. The company today revealed its first Gigabit broadband services for customers, starting at a price of Rs. 5,999. This launch makes it the first company in India to make Gigabit broadband services available for customers.
The 1Gbps broadband service will be available for customers at a monthly rental of Rs. 5,999. This gigabit broadband plan comes with a fair usage policy of 1TB, after which your speeds will be reduced to 10 Mbps. The plan comes with installation charges of Rs. 5,000.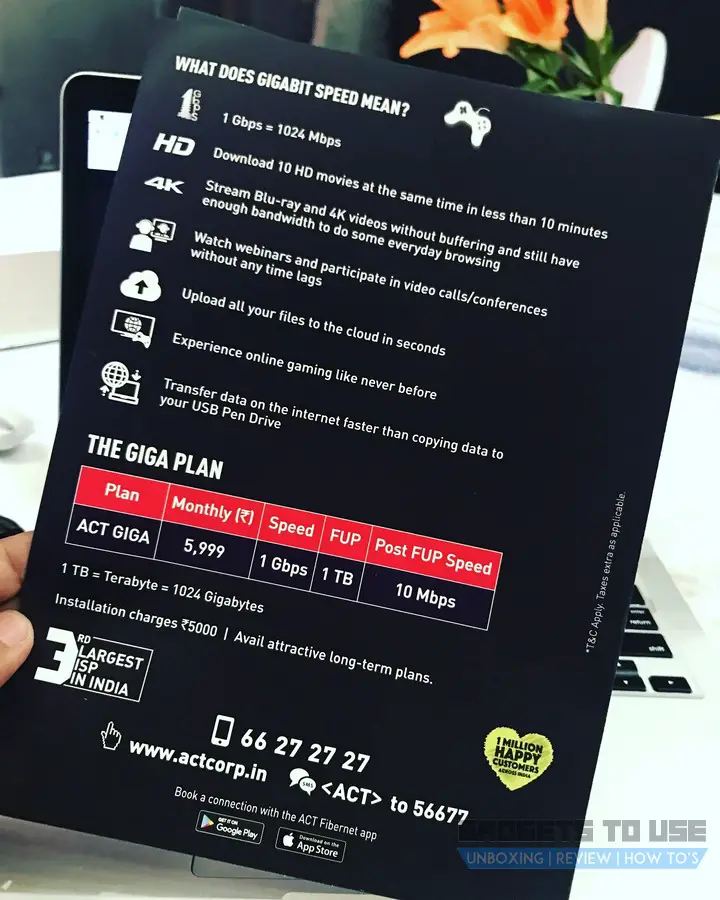 ACT Fibernet is the leading Internet Service Provider in the twin cities of Hyderabad and Secunderabad. Revealing at the event, the company said that it has over 65% of the market share in the two cities. Its market growth driven by extremely competitive plans, ACT Fibernet is now the 3rd largest Internet Service Provider in the wired broadband category in the country.
ACT has also revealed that its Gigabit broadband service will soon be available in the other 10 cities it is currently operating in, apart from Hyderabad. Additionally, ACT also announced that it will set up 3000 Wi-Fi Hotspots in Hyderabad.
Speaking at the launch, Mr. Bala Malladi, CEO, ACT Fibernet said
"With our citizens and the government moving towards the Digital India movement, high speed internet is the need of the hour. With the launch of our 1 Gbps broadband internet service, it gives me immense pride to turn this dream into reality. The city of Hyderabad is apt for our maiden launch as it has some of the best technology brands, educational institutions and a vibrant economy."